Lodging Reservations: You need to get this done ahead of time. Check out Glacier Park Inc for this. Your itinerary has you either staying a night in the lodge and camping at a nearby campground in case they are booked for your dates.
Avoiding Bears: Be sure to know how to hike through Grizzly Bear Habitat. If you are smart, you will be safe.
---
Day 1 – Getting to the Park & Enjoying Your Time There
Option 1
Lodging – Camp at Avalanche Lake Campground or Apgar Village Campground. Both are only a few miles into the park, allowing you to claim a prime campground early in the day.
Activities – Hike Avalanche Lake trail. Avalanche Lake is a half-day hike from Avalanche Creek Trailhead to Avalanche Lake. Round trip it is 6 miles and gains 505 feet. Very easy, but very rewarding. Pack a lunch and make a picnic out of it.
In the evening, watch the sunset over Lake McDonald from the back of the lodge. Sunsets can be breathtaking from Lake McDonald and it is a perfect, romantic way to end your first day in the park.
For dinner, either cook something at your campsite or head over to Jammer Joe's across the street from Lake McDonald Lodge.
If you are in the mood for dessert, try some ice cream at Apgar Village.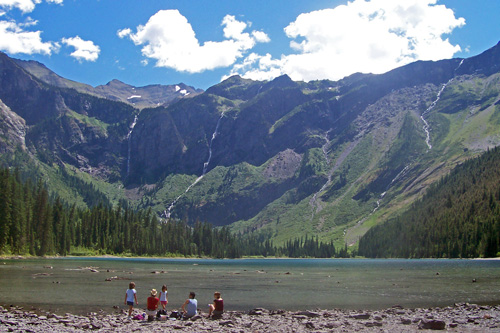 Avalanche Lake
Option 2
Lodging – Spend the evening at Village Inn at Apgar. Offers stunning views of Lake McDonald
Activities – Avalanche Lake. You must hike this trail while visiting. Unless you live at high elevation, you will need time to become acclimated to the altitude here. This is a perfect, short hike designed to do just that.
---
<font="+1″>Day 2
Rise and shine! Hopefully you are well rested and ready to explore more of Glacier National Park. Today you will drive Going to the Sun Road and see what this park is really made of!
Option 1
Lodging – I'd recommend staying another night at the campground you stayed at last night, either Avalanche or Apgar. No reason to spend extra energy packing up and moving. Your time could be better spent exploring.
Activities – Wake up early. Eat breakfast at your campsite or drive to Apgar for breakfast.
Then, hop in your car and drive into the heart of the park, up Going to the Sun Road!
This is an all morning activity. Enjoy the pulloffs, take plenty of pictures along the way. It is beautiful.
You will arrive at the Visitors Center at Logan Pass before long.
From there, Hike Hidden Lake Trail. Be sure to go to the Lake, not just the overlook. It is 6 miles roundtrip and similar difficulty to Avalanche Lake.
It can get crowded, so be sure to arrive early. Pack a lunch and make a picnic out of it.
Spend the afternoon exploring Going to the Sun. Wildflowers will light up the meadows and you are bound to see mountain goats and big horn sheep. If you hang out until dusk, you will likely see a black bear or grizzly on the road around Siyeh Bend Trailhead.
For dinner, return to your campground and eat there, or stop by Apgar again.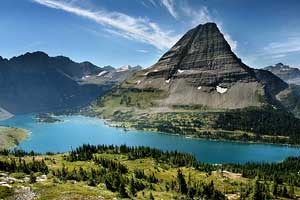 Hidden Lake
Option 2
Lodging – Again, stay where you are. No reason to expend all the extra energy moving around if you do not have to. If you stayed in Apgar Village Lodge, stay there again–or camp out if you decide to.
Activities – Don't feel like driving after such a long drive? Let someone else do it for you!
The Red Jammer Bus Tour is a great activity. They begin at Lake McDonald Lodge and offer a guided tour of Going to the Sun Road, allowing you to soak up the views rather than worry about the drive.
I highly recommend this tour. Everything will be taken care of regarding activities and food for your day with this.
---
<font="+1″>Day 3
Pack up, move out, we're going to Many Glacier.
Option 1
Lodging Camp at Many Glacier Campground or St. Mary, whichever you prefer. They are both located very close to each other and both offer LAUNDRY and SHOWERS.
Activities Get going early to avoid the crowds on Going to the Sun Road. Also, if you were unable to get reservations ahead of time, you need to get to a campsite early to make sure you have a spot for the evening.
If camping, set up camp–If staying in a Lodge, check in. Then, pack a lunch and for the afternoon you will be hiking one of my favorite hikes, Iceberg Lake.
Iceberg Lake begins at the Swiftcurrent Inn and is a moderate hike that is 10 miles roundtrip and gains 2,000 feet.
Bears are abundant in this area of the park, so be certain you order Bear Spray
ahead of time. Bring it on ALL your hikes, especially Iceberg Lake.
It's better to order Bear Spray
online than buying it in the park. You will save about 40 dollars.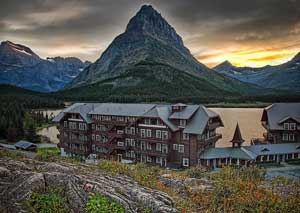 Sunset behind Many Glacier Lodge
Option 2
Lodging – Get a room at Many Glacier Lodge and relax.
Activities – If you are tired from all the driving, you can do a nice, easy hike and see two gorgeous waterfalls.
The hike is St. Mary and Virginia Falls. They begin on Going-to-the-Sun road and it's 4 miles round trip with only gaining 250 feet.
---
Day 4
Today you will be hiking my favorite day hike in Glacier National Park – Siyeh Pass.
Option 1
Lodging – Keep your campground, if you like it. If not, you can always move to another site at Two Medicine, Many Glacier or Swiftcurrent. All are fantastic campgrounds.
Or, keep your room in the lodge, if you have one.
Activities – Pack a lunch, bring water. Today will be long, but fun.
Drive Going-to-the-Sun toward Logan Pass. Park your car at Siyeh Bend. You will be hiking 10.3 miles, gaining 2,240 feet and losing 3,440 feet.
By now you should be acclimated to the alititude, so it shouldn't be too terrible. This hike is gorgeous. Do not pass it up.
The trail drops you off about a mile down Going to the Sun from your car. Just stick your thumb out and hitchhike back. Hitching is safe and easy in Glacier.
For Dinner, drive into St. Mary and eat at the Park Cafe. Best restaurant around Glacier. Don't miss out on a slice of their homemade pie! Yummmmmy!!
Option 2
Lodging Go to St. Mary and sleep there for the night. Lodging is relatively inexpensive for a roof over your head
Activities Any of the last three hikes I have recommended should be done. Iceberg, Siyeh or St. Mary Waterfall.
Day 5
Option 1
Lodging – Again, I recommend staying in your current campground and saving yourself energy and time.
Activities – Wake up early today and get to Goose Island on Going to the Sun. Sunrise is beautiful here and this is prime location for photographers.
In the afternoon, head to Two Medicine and hike to Scenic Point.
The trailhead's at Two Medicine Road and the hike's 3.1 miles with a 2,200 foot elevation gain.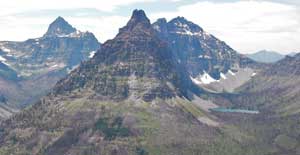 Two Medicine Pass
Option 2
Lodging Try staying at a campground you haven't been to yet, but are interested in.
Activities Hike to Gunsight Lake and Florence Falls.
Pack a lunch and bring the camera.
Trailhead starts at Jackson Glacier Overlook and goes approximately 6 miles to Gunsight Lake (plus another 6 back). Don't forget about the Florence Falls overlook, which adds another 2 miles onto the trip but is well worth it.
Elevataion gain is 3,200 feet.
Day 6
For the tailend of your trip, we're going to get you into the Two Medicine Region. It's off the beaten path, so you'll be sure to avoid tourists.
Option 1
Lodging If you want to stay in a lodge, you have to stay in East Glacier Lodge, which I think is one of the least desirable lodging locations. Campgrounds here are some of the most magnificent around, so I'd recommend that.
Or, you can stay in the St. Mary Lodge, which is about the same distance away as East Glacier Lodge is.
Activities – Dawson-Pitamakan. A moderately strenuous loop that begins at Two Medicine campground. 16.3 miles and an elevation gain/loss of around 3,000 feet. After a week in Glacier, your lungs should be adjusted and bodies ready for this amazing hike.
Pack a lunch. Bring a water filter. And prepare yourself for this beautiful trip.
For dinner, head over to the Park Cafe to get your second round of pie!
Option 2
Lodging – Follow option 1's advice.
Activities – Cobalt Lake to Two Medicine Pass. Round trip = 15 miles. Elevation gain of 1,400 feet.
This hike is one of my favorites. You can check out my hiking videos page to see the view. Pack a lunch and water filter.
Day 7
Lodging – Stay where you're at.
Activities – Do whatever you didn't do the day before. Both hikes are must-see, must-do for those fit enough to handle them.
Recommended Equipment
Here are my recommendations for equipment that suits your itinerary:
Down Sleeping Bag: Go Lite Adrenaline
Bear Spray: Bear Spray
is a must for any Glacier trip. Order it ahead of time and save about 40 dollars.
Daypack: Osprey Talon
. Lightweight and affordable.
Tent: An awesome option is the Eureka 2 Person Spitfire
. I use this tent and love it (plus, it's WAY cheaper than MSR's).
Water Filter: You need one of these if you plan to do the longer hikes that I recommended. My choice is the SteriPen Water Filter
. My girlfriend bought us one last year and they are super lightweight and REALLY cool.
Hope this itinerary helps you have an amazing trip!
If you have any questions, feel free to contact me.
Best regards,
Perry