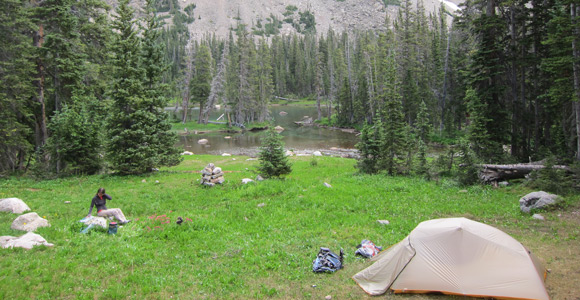 Backpacking tents are designed to be ultralight, easy to pitch and have large enough vestibules for you to store your gear (But not too large that the extra material weighs you down).
All the top outdoor equipment brands, from REI, to MSR, to GoLite, to Mountain Hardwear design ultralight tents–but nowhere can you find a comprehensive list of tent reviews and ratings besides this site.
If you want to become an ultralight backpacker and need a lightweight backpacking tent, start here.
To begin with, what constitutes an ultralight camping tent?
In my opinion, the backpacking tent must meet three requirements: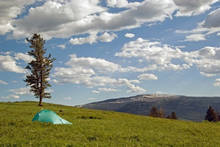 Camping in Yellowstone's Backcountry
Ultralight – This means an average packed weight of 3.5 pounds or less
3 Season – Pointless to drop 300 dollars on a summer-only camping tent
Pole Material – You want carbon fiber tent poles, aluminum tent poles, or for true minamalists, even using your own trekking poles as a pole material
See How Outside 2013's Top Backpacking Tent Stacks Up Against Our Top Choice
Backpacking Tent Reviews & Ratings
So long as your tent meets those qualifications, you are investing in a quality, lightweight tent. And of course, all the below tent reviews, except the REI Dome, adhere to the above, ultralight tent rating checklist.
The list below consists entirely of 2 person tents. But that doesn't mean that you can't go backpacking with a 3 person tent. And if that sounds like you, then click here and learn about the best 3 person backpacking tents.
Mountain Hardwear LightWedge 2 Tent Review
The LightWedge 2 is Mountain Hardwear's ultralight 2 person backpacking tent.
It isn't the lightest of the bunch, but it's made from high quality fabric, ultralight poles, and is thoroughly tested to withstand any onslaught of rain from Spring through Fall (Mountain Hardwear tests their tents in their 'Rain Room').
If you're going ultralight, you won't have the conveniences of a car camping tent and the LightWedge is designed to be functional and lightweight, not luxurious.
My favorite part: It has a dry vestibule entry so you can keep mud, debris, dirt & snow out of your tent.
Also, with the rainfly off, you have plenty of ventilation, which is a huge plus when considering a backpacking tent. The interior height is 43 inches, so you'll have to watch your head, but all ultralight tents are made so Hobbits can stand up straight, not Humans.
Benefits include:
9 square foot vestibule
35 square feet of floor space
4 pounds, 14 ounces
Excellent ventilation
Lifetime warranty
Where to Buy
Big Agnes Seedhouse SL2 Tent
vs Big Agnes Copper Spur 2 Tent
Big Agnes tents are fantastic. In my opinion, Big Agnes makes two of the best backpacking tents on the market. Even better, you have a choice between an ultralight tent, the Big Agnes Seedhouse SL2 Tent, and a lightweight tent, the Big Agnes Copper Spur 2 Tent.
Upon closer inspection though, it's clear that the Seedhouse is supreme. The Big Agnes Seedhouse is lighter, costs less, and only a few inches smaller than the Copper Spur 2.
Let's compare them side by side:
Weight – Seedhouse 2 = 3 lbs, 6 oz. vs Copper Spur 2 = 3 lbs, 13 oz
Floor Area – Seedhouse 2 = 28 square feet vs Copper Spur 2 = 29 square feet
Packed Size – Seedhouse 2 = 6.5 x 16 inches vs Copper Spur 2 = 7.5 x 10 inches
Cost – Seedhouse 2 = $320 vs Copper Spur 2 = $400
Basically, the one advantage of the Big Agnes Copper Spur 2 is the extra square foot of space. However, it weighs more, takes up extra room in your backpack, and costs an extra 80 bucks.
Is it worth it? No. The Big Agnes Seedhouse SL2 Tent is a far superior, ultralight backpacking tent. However, it is cramped. You really need to be comfortable with your backpacking partner, or you may be miserable through the night.
Want to Learn MORE About Ultralight Backpacking? Click HERE for My Guide to Ultralight Backpacking
Black Diamond Beta Light Ultralight Tent
If you're not hardcore, steer clear.
If you hike with trekking poles and want one of the lightest shelters on the market, then keep reading.
The Black Diamond Beta Light tent isn't exactly a tent. It's more of a high quality tarp.
You erect the Beta Light and keep it standing with your hiking poles and can then camp anywhere.
It is the King of Ultralight Backpacking Tents.
Special Features:
Weighs less than a bivy sack but offers 34.7 square feet of space
How light is it? 19 ounces. That's a few feathers.
It is a 2 person backpacking tent for 9.5 ounces per person!
Has some of the best reviews of any tent ever made
If you're hardcore, I highly recommend checking out this tent. You won't regret it.
Personally, it's a little too hardcore for me, but I can see why many are attracted to it.
Where to Buy
REI Quarter Dome 2 Person Tent – Rating & Review
The REI Quarter Dome T2 Tent
does not meet the ultralight camping tent regulations. In fact, it weighs a whopping 4lbs 7 oz. Still, it costs $319 and has received only 5 star reviews as of May 2012.
While not ultralight, it does provide nearly 30 square feet of space, can be assembled with only 1 pole, and is a relatively cheap backpacking tent.
A lightweight 2 person tent is a long term investment. When purchasing one, the goal is to be comfortable and cut down your pack weight. I believe you are better off purchasing a lighter model, but since it has received rave reviews, it is worth mentioning.
Learn more about the REI Quarter Dome T2 Tent at REI.com
More Ultralight Backpacking Gear Information
Ultralight Backpacking Gear – General information on Ultralight Backpacking Gear. Start here if you don't know where to begin.
Backpacking Tents 2009-2011 – Here are my reviews from 2009-2011 of the top backpacking tents
Update – While I still think this is the best page for researching tents for backpacking, my friends over at camping-tent-reviews.com released their own list of backpacking tents. I'd recommend checking it out, too, before making a purchase.
Return home to
Glacier National Park Travel Guide