Hardcore ultralight backpacks sacrifice comfort for weight.
Luckily, technological advances have allowed companies to create backpacking packs that are both lightweight AND comfortable.
After all, what's the point in shedding weight if you cannot fully enjoy your time hiking?
Are you on the lookout for a new ultralight backpack? In general, decent backpacks should last you a good many years–there's no need to replace them all the time.
But every once in a while–even if it isn't fatally damaged–it's a good idea to think about changing your pack.
ALSO AWESOME: Buying Guide to Ultralight Backpacking
A backpack that's on its way to the great outdoor equipment store in the sky will make your life miserable, especially if it wears down over time instead of just falling apart altogether.
If it looks like your pack is heading out the back door, then you'll want to start keeping your eyes open for good replacements.
Fortunately for you, the 2012-2013 season is absolutely phenomenal when it comes to ultralight backpacks. Seriously. I've said that every year since 2010, but it only keeps getting better! There are still some winners from 2 years ago that I've left on this page, as they are still available to buy and are awesome backpacks.
It seems like every major outdoor gear manufacturer has got a winner coming out this season, but some of them are better than others.
This year it's no surprise that Osprey, Granite, and GoLite have the best lightweight backpacks on the shelves.
If it's time to make the trade, or if you're looking for your first ever backpack, then take a few minutes and see just what makes a good ultralight backpack good, and why the three models listed below take the top prize for ultralight backpacks of the year.
Determining the Best Backpack for Your Hiking Needs
Updated October 2014.
Wanna skip all this and go straight to the reviews? Alright!
Like buying any outdoor equipment, buying a backpack is not something to take lightly. Backpacks (especially ultralight backpacks!) are super expensive and you need to make sure you're getting the backpack that will suit your needs the best before you lay down hundreds of your hard-earned dollars.
Personally, I spent about 6 months researching, and researching, and researching before finally deciding on buying the Osprey Exos.
And I've been backpacking for years now. So, I have a pretty good understanding of the gear, hiker needs etc.
ALSO AWESOME: ULA Equipment Circuit Backpack Video Review
So, like I mentioned, whenever I buy a new piece of outdoor gear, I take loads of time to do all the research:
I compare features & figure out which ones are marketing fluff and which are necessary
I know how the technical specifications add up
And most importantly, I read what people have been saying about it.
These are not impulse buys; they have to be very carefully chosen if you want the most beneficial experience. Especially cause I used to be dirt poor! Buying my Osprey Exos from REI was 2 months of savings that I socked away!
So let's talk about a few things that you should be thinking about when you're heading out to buy a new backpack, whether it's ultralight or not.
Size vs. Weight— There are two things you can always count on finding: heavy packs with plenty of room and light packs that are tiny. But the real trick is in finding a backpack that is both lightweight and roomy–that's the good stuff.
Storage Options— You want a backpack that not only stores all your camping goods well and tight in the main compartment, but also provides ample storage on the exterior of the pack. With plenty of pockets around the outside, you'll be able to get access to maps, compasses, snacks, and other goodies without emptying your entire pack.
Sleeping Bag Compartment— Some backpacks have sleeping bag compartments. You don't necessarily need these, but if you're camping out for multiple nights, you'll certainly want to think about it. A sleeping bag compartment adds extra weight, so if you aren't going to be carting around your bag all the time, you may want to think about a pack without one. I personally don't care for one, but my wife loves hers on her Osprey Aether.
Frame or No Frame— If you're camping for any good length of time or distance, then you'll want a pack with a frame. A frame will help support the weight you carry and keep you balanced. You can find both external and internal frames, though external frames are getting harder and harder to find as they become more obsolete. You can also find specialized frame-less backpacks that offer necessary support but with a much lighter product weight.
Your Gear— Newer backpacks are made for newer gear. With the advancement of manufacturing technologies, outdoor equipment is becoming smaller and lighter… and so are the backpacks. If you have older gear, it might not all fit in a more modern pack. Either choose a pack with a large volume capacity or think about updating your gear.
Naturally, there are some other factors to take into consideration when finding your ultralight backpack–not the least of which is PRICE–but these are the most important. Take care of these, and everything else should fall right into place.
But if you still want a little nudge in the right direction, I'd be happy to oblige. Here's a look at my top three four for the best ultralight backpacks available in 2012-2013.
Osprey Exos Review
2 years ago I upgraded from a bulky Kelty Coyote pack that weighs upwards of 6 pounds to a lightweight backpack. I had a number of qualifications for my backpack in order for it to meet my needs:
Lightweight – Should be around 2-2.5 pounds
Carrying Capacity – I sometimes bring my dSLR camera into the backcountry, so I needed a lightweight backpack that could handle a load of 20-35 pounds
Size – I needed a pack that was approximately 3000 cubic inches or 50 liters
Accessibility – Top-loading packs may be the lightest of packs, but are a hassle
In the end, I found that the Osprey Exos 58
best met my needs for an ultralight backpack.
Straight up, this pack is amazing. I am a small dude, so the small size fit me and weighs a whopping 2 pounds 8 ounces!!
By using the lightest of all ultralight materials, Osprey created a lightweight backpack that does not skimp on comfort nor handy features for hikers that enjoy a few extra perks. These include: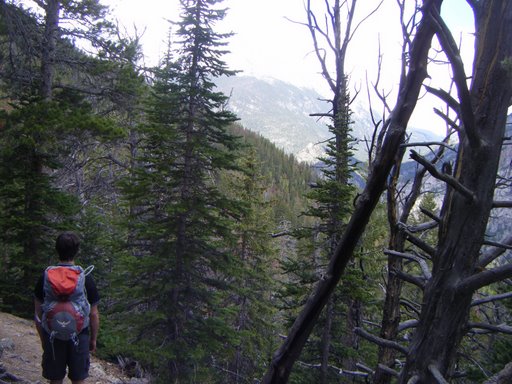 Wearing my Osprey Exxos, the best lightweight backpack
Hipbelt Pockets – Store an energy bar here and access it with ease
Ventilated Suspension – Keeps your back cool and dry
Trekking Pole Attachment – Stow-on-the-go, as Osprey says. No need to take your pack off when you want to put your trekking poles away
Plenty of pockets – Keep your pack organized with 2 front pockets and 2 side mesh pockets – none of this top-loading annoyance
Bottom line is this: I love my Osprey Exos 58
.
Recommended Personalities – Hikers entering the world of ultralight backpacking and wishing to enjoy the perks associated with heavier backpacks
Learn more about the Osprey Exos
Osprey Hornet Backpack Review
Surprise, surprise! Here's Osprey with the #2 spot.
And this may be one of my favorite packs out there. It's a super light backpack that has amazing versatility, even though a lot of the previous seasons' special features were removed for this edition.
You can find this model in two sizes: 24 and 46 liter. If you have some older equipment, you may want to go with the larger pack. And if you do, don't worry, it's still a measly 18 ounces.
Some of the Hornet's best features include:
BioStretch harness
ErgoPull cinches
Modified frameless design with two Delrin rods for side support
And plenty of fantastic storage, both inside and out.
You can find the Osprey Hornet at:
Granite Gear Blaze Backpack Review
This may look like a super simple pack, but don't be fooled–it's actually quite sophisticated. Even though my top pick is still the Osprey, the Granite Gear Blaze got the best reviews from consumers who've purchased and used it.
This was also a winner of Backpacker's 2011 Editor's Choice Award for best-in-class suspension.
A few of this model's most noteworthy features include:
AirCurrent suspension
Hydration sleeve
Lineloc compression cords to keep your gear packed tightly
And a super comfy padded hip belt (you don't normally associate comfy hip belts with ultralight backpacks)
And customers like:
Great storage space
Rigid but extraordinarily light
Incredibly comfortable
And you can find the Granite Gear Blaze Ultralight Backpack at:
GoLite Jam Backpack Review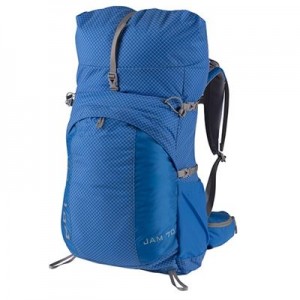 The GoLite Jam 70L Pack is recognized for being a particularly durable lightweight pack thanks to Dyneema® and Ripstop Nylon.
The pack was named Backpacker Magazine's 2012 Best All-Around Ultralight Pack
Some of its noteworthy features include:
Removable foam back pad

 Easy to use anchor/strap system that reduces volume


Double-Wishbone™ hipbelt with quick-access zippered stretch pockets
Most innovative feature: Pliable backpanel made of high-density closed-cell foam, which offers rigid support, as well as comfort and flex.
Something to keep in mind: GoLite Jam retails for only $129.99. It can be hard to find an award-winning pack that is also one of the most affordable on the market!
Where to buy:
REI Flash: The Cheap, Ultralight Backpack
My final recommendation is the REI Flash
.
Personally, for backpacking purposes, this baby just wasn't for me. We do own the daypack version though and think it rocks!
Here's why I don't like it for backpacking: Although it's ultralight, this pack sacrifices hip comfort. That's an area that I just would not venture into.
While it is the cheapest of all options and weighs at the very least approximately 2 pounds, an uncomfortable hip belt can ruin a backpacking trip.
Still, it does have benefits, including:
Side mesh pockets
Removable top pocket to cut down on weight or increase storage capacity
Water-resistant
Quick storage of trekking poles or ice axes, like the Osprey Exxos
Recommended Personalities Budget oriented individuals looking to enter the world of ultralight backpacks
Learn more about the REI Flash
.
And that about does it!
More Ultralight Gear Information
Ultralight Backpacking Gear – General information on Ultralight Backpacking Gear.
Return home to
Glacier National Park Travel Guide