If serenity's what you need, escape to Bowman Lake on the North Fork of the Flathead River for a few nights.
Its calm waters mirror the big sky and snowcapped peaks of the Whitefish and Livingston Montana mountain ranges, while the only motors you'll hear are those of an occasional, distant car, as motor boats aren't permitted.
Everything I Know About the Bowman Lake Area
While traveling here is difficult and way-off the beaten path, those who do are well rewarded.
You can either take the North Fork Road, which begins in the town of Columbia Falls, or travel north from Lake McDonald until meeting up with the bumpy, pothole, dusty road that delivers you to Bowman Lake campground.
The Polebridge Mercantile is the only nearby store, so stock up on your camping supplies there.
From The Merc, you have another seven miles of 'road', which is even more uncomfortable than the preceding twenty miles, until arriving at the head of this pristine, mountain lake.
Bowman Lake Camping Information
Approximately one mile wide and eight miles in length, this peaceful lake offers a front country campsite at its head and a backcountry one at its base.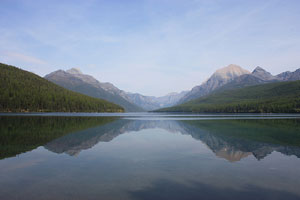 Montana Mountains reflecting on Bowman Lake
Photo by Sara Merry
Unlike Lake McDonald or the Many Glacier Lodge areas, you won't find large, tourist crowds here.
Few know about it and guidebooks discourage adventuring out.
However, no front country campground is better in Glacier National Park than Bowman's campground.
Wildlife Around Bowman Lake
Much of the wildlife is reflective of the forested valley surrounding the lake. White-tailed deer and elk are plentiful, while a handful of elusive lynx and mountain lion patrol the area.
If you're a fisherman, I'd recommend trying some other lakes in the park. Frankly, the frigid water prevents many fish from surviving. Outside of a rarely caught bull trout, fishermen are only likely to find small cutthroat and kokanee salmon.
For bird enthusiasts, the forests around the lake offer prime viewing opportunities for bald eagles, loons and ospreys.
Additionally, unlike anywhere else in Glacier National Park, Bowman Lake is gray wolf habitat.
Hearing a wolf howl while filtering water as the sun set behind the Whitefish & Livingston mountain ranges, is one of the most existential experiences of my life.
Bowman Lake Hiking
In terms of moderate day hikes that offer great rewards, this section of the park is not the most ideal.
Trails begin at a relatively low elevation and zigzag through heavily forested areas that surround the lake, offering limited vistas.
However, for the bold, Brown & Boulder Pass trailheads begin here, unquestionably one of the most beautiful Glacier Park backpacking trips.
This backpacking trip is an extended one, traversing around 35 miles and climbing approximately 4,000 feet. It requires solid backpacking equipment and a backcountry permit, but there's no wilderness like this in all of Glacier National Park.
I completed the trip in two days, but would recommend extending it over three to fully appreciate the beauty of this area.
For day hiking options, consider these trails:
| | | | |
| --- | --- | --- | --- |
| Trail | Length in Miles (roundtrip) | Difficulty | Description |
| Akokala Lake | 5.8 | Easy | A short, day hike, which begins at Bowman Campground, gains 1,105 feet and loses 400 feet |
| Numa Ridge Lookout | 5.6 | Moderately strenuous | Begins at Bowman Campground and rewards hikers with phenomenal views of Montana's Whitefish Range |
| Quartz Lakes Loop | 12.8 | Moderate | A longer day hike from Bowman Campground that swings between Quarts Lake and Lower Quartz Lake, hugging the former's eastern shore |
While the road out's rough, travelers hardy enough for the journey will be well rewarded in their visit to Bowman Lake, Glacier National Park's most wild and pristine area.
Additional Glacier National Park Hiking Info
Glacier Park Hiking – Return back to an overview on Glacier National Park Hiking
Or return back
Home