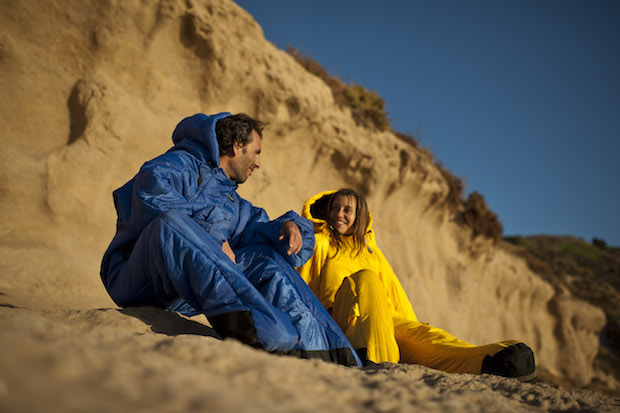 The Selk'bag Sleeping Bag
For every camping trip, you need both a sleeping bag or quilt and a warm jacket. Why waste time searching for both when you can just get the best of both worlds with the Selk'bag Sleeping Bag?  This "sleeping bag" is like the high-tech, grown up cousin of the Snuggie, and it is designed specifically for campers and outdoor adventurers. This wearable sleeping bag has already gained a cult following in the time since its debut a few years ago, and now, Selk'bag has upgraded their product to be even better.
The Selk'bag might be a little nerdy, much like the Snuggie, but it gets the job done in the outdoors, whether you are sleeping or just want a little bit of warmth at the campsite. While it works great as a sleeping bag, the Selk'bag also does an excellent job as a comfortable, puffy jacket that will keep you warm and toasty on those cool, crisp nights in the backcountry.
The Selk'bag is certified to withstand temperatures as low as 35 degrees Fahrenheit, so it is an excellent choice for three season camping.  Made of a blend of synthetic nylon and polyester, the Selk'bag is as durable as it is warm, and it will last you through all the rigors that the outdoors has to offer. At just over 4 pounds, the Selk'bag isn't the lightest jacket or sleeping bag that you can find, but for a casual camper, the bag/jacket is a nice way to combine two essentials into one. And while the early versions of the Selk'bag are still great, Selk'bag has announced its new line of sleeping bags, which are even more comfortable and loaded with nifty features.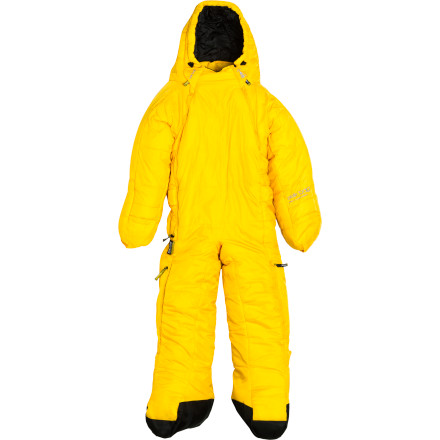 The new line of Selk'bags improves on the design of the initial bags, adding several new features in the process. Over the last few years, Selk'bags have already evolved; there are now models for kids, and even bags with superhero prints on them. However, with the new Selk'bags, more has changed than just color schemes, sizes, and patterns.
On the newest bags, you now get removable booties, allowing you to wear your own footwear while you're in the bag. In previous models, the Selk'bag came with attached booties, so you didn't have the choice of wearing your normal shoes while lounging around your campsite. Also, a redesigned hood and strengthened materials are made to provide extra warmth and comfort during cooler nights. The hood, which is also removable, has received extra layers and padding, keeping your brain warm and functioning optimally.
Selk'bag has also introduced the Selk'bag Lite line of products, which cut the weight of the original design by over ten percent. Despite cutting weight, these bags are still very warm, and are certified for use in temperatures as low as 45 degrees Fahrenheit. These bags also have the benefit of costing a little bit less than the original bags.
There are many options when it comes to sleeping bags and jackets for camping. But if you're a casual camper who values comfort, the Selk'bag is an awesome, innovative product that will keep you warm and cozy, both awake and asleep. Definitely check out this awesome sleeping bag line below!
Where to Buy
Help support Glacier National Park Travel Guide by purchasing the Selk'bag through one of our partners: