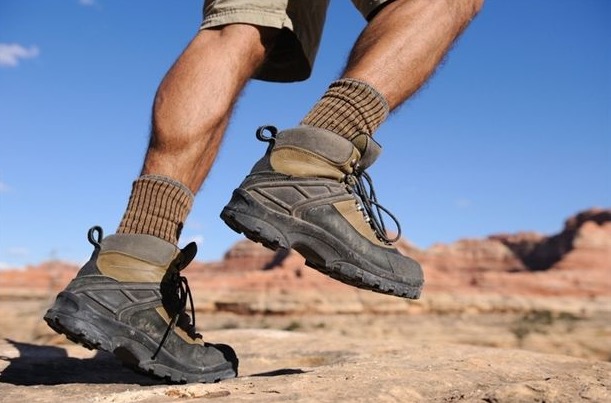 Best Hiking & Trail Shoes of 2015
As we continue to bring you all of the best gear available in 2015, today we will focus on hiking and trail shoes. Footwear is, of course, an essential part of every hiker and backpacker's equipment, and having the right shoes can mean the difference between relaxation and bloody, swollen feet at the end of a long day. When considering the best hiking and trail shoes, there are several factors you want to focus on.
First, you need to determine what purpose the shoes will fulfill. If you're a hiker, you'll need a different type of shoe than you will if you're an avid trail runner. Shoes cater to these specific pursuits, as hiking boots are usually larger and more durable than trail running shoes. Next, you'll need to decide what sort of versatility you need from your shoes. Do you need waterproof shoes to wade through streams, slush, and snow, or do you want shoes strictly for summertime use? Finally, you'll want to consider the obvious – weight, comfort, performance, and durability.
Once you have weighed all these factors, it's time to compare shoes. While there are a ton of hiking and trail shoes out there, we'll make your life a little easier by narrowing it down to our favorites from this year. Choose wisely!
Here are our picks for the best hiking and trail shoes of 2015.
Keen Durand Mid WP Hiking Boots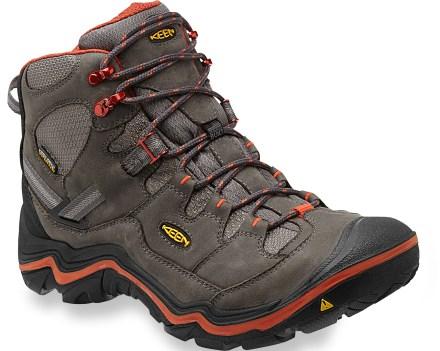 Keen is a name that is all but synonymous with excellent hiking and trail footwear. Keen makes everything from sandals to burly hiking boots, but their best products are usually somewhere in the middle of the spectrum, like the Keen Durand Mid WP Hiking Boots. These boots are designed for serious hikers and backpackers that are looking to conquer a wide range of trails in a wide range of conditions.
The Keen Durand Mid WP Hiking Boots are durable, waterproof, and capable of handling any terrain with their sturdy construction. However, the boots do not feel too heavy and burdensome, weighing just over one pound per shoe. The Durand boots are also supremely comfortable, with an extra long and wide toe box that allows your toes to move freely, and extra interior cushioning that keeps your feet from getting sore on long, brutal days.
Furthermore, the Keen Durand Mid WP Hiking Boots feature a breathable, waterproof membrane that keeps water out and releases heat and moisture from your feet simultaneously. Your feet will be incredibly comfortable and secure in these excellent hiking boots. Check them out here!
Arc'teryx Acrux FL Approach Shoe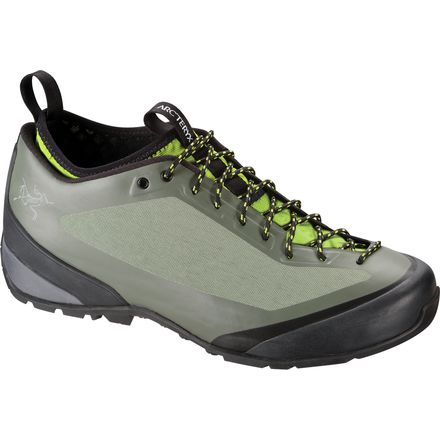 For hikers and trail athletes who want a little less bulk without sacrificing performance, the Arc'teryx Acrux FL Approach Shoe should be incredibly popular. Arc'teryx went all out with this shoe, going as minimalistic as possible while still packing in all the essential features of bigger, more traditional hiking shoes. The result? The Arc'teryx Acrux FL Approach Shoes are light, agile, and comfortable, all while giving you the ultimate in hiking performance.
The Arc'teryx Acrux FL Approach Shoe does away with a tongue, opting instead for a mesh-lined booty that protects your foot against any and all debris, all while keeping it snugly in place, no matter what crazy stunts you're pulling in the backcountry. The shoes utilize a one-piece, laminated upper, which means no seams, and no cracks for pebbles and dirt to find a way into your shoe. The Acrux FL Approach might be known best, though, for its excellent traction – these grippy, tough shoes are capable of scrambling up boulders and through scree fields with relative ease.
For all of these features, the Arc'teryx Acrux FL Approach Shoe is incredibly light and breathable. Each shoe weighs just 14 ounces, meaning that your feet won't have any added weight or discomfort during your hikes.
You can learn more about these excellent, ultralight trail shoes right here.
Chaco Holbuck Waterproof Hiking Boot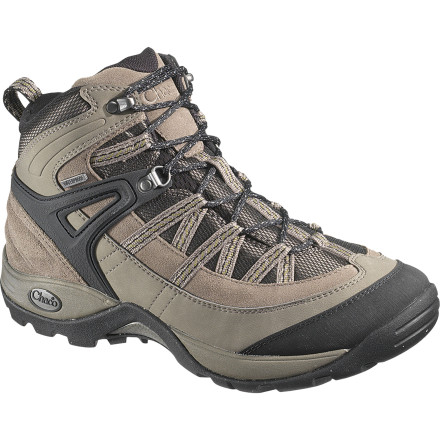 The Chaco Holbuck Waterproof Hiking Boot is another excellent hiking boot that can handle almost anything you wish to put it through. These versatile, durable boots will keep your feet protected and comfortable while you ford streams, climb boulders, and everything in between. At just 17 ounces per boot, you can be certain that, despite their rugged looks, these boots won't add any unnecessary weight to your feet, either.
These boots are constructed out of leather, water-resistant suede and polyurethane, and lined with mesh. That means that water stays out, and heat and moisture can escape through the breathable mesh membrane. This allows your feet to be nice and comfortable on both the hottest days and those rainy, wet hikes. The durable construction also ensures that they will hardly show a scuff or tear, even after longtime use.
The Chaco Holbuck Waterproof Hiking Boots also feature excellent arch support and a blister-free heel cup, making sure that your feet don't succumb to any number of unpleasant maladies during your hikes. The combination of comfort, durability, and lightweight performance gives the Chaco Holbuck Waterproof Hiking Boot a spot on our best of 2015 list.
You can buy the Chaco Holbuck Waterproof Hiking Boot here!
Salewa Speed Ascent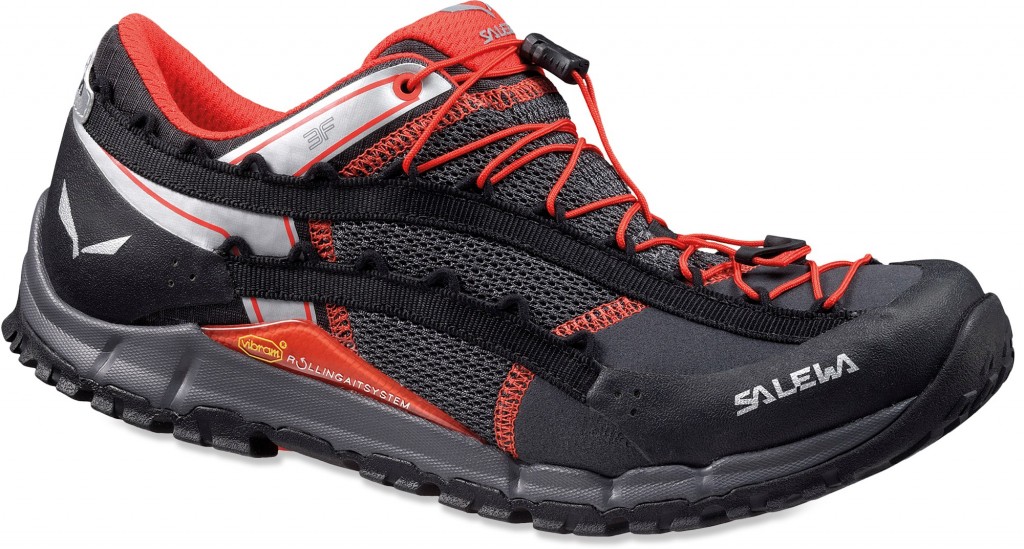 The Salewa Speed Ascent is an award-winning (including Outside Magazine's 2014 "Gear of the Year" Award"), versatile shoe that dances the line between trail running shoe and hiking boot flawlessly. At first glance, the Salewa Speed Ascent certainly looks more like a sneaker than a high-performance hiking shoe, but looks are deceiving – this lightweight shoe is one of the best footwear items around for hikers, backpackers, trail runners, and more.
Many hikers would worry about a low-profile shoe like the Salewa Speed Ascent, the thinking being that the low height isn't enough to offer solid ankle protection. However, Salewa defied that thinking with this shoe, constructing it in a way that insures ankle injuries are of almost no concern. The company accomplished this by building the Speed Ascent with a rockered Vibram sole, which quite literally rocks your foot forward, forcing you to climb with your calf and quad muscles, severely lightening the load on your injury-prone toes and ankles. In doing so, the Salewa Speed Ascent not only greatly reduces ankle impact, but it cuts down on joint injuries as a whole, making your gait and climbing more ergonomic and efficient.
This impact is obvious going both uphill and downhill, as the Vibram rocker, combined with the ultra-stable lugs and excellent traction, give you an extra nudge when going up a mountain, and increase your ability to brake and not overextend yourself when descending a peak. A double row of lacing ensures that your feet stay in place, and a rubberized toe bumper makes sure that no rocks ruin the fun of these ultralight shoes. And, oh yeah, the Salewa Speed Ascent shoes are very light, with each shoe weighing just over 12 ounces.
The shoes also are incredibly breathable, and Salewa has designed them to be completely blister-free, so you can rest assured that your feet will be comfortable in terms of temperature and friction in addition to the benefits of walking in a more efficient manner. All told, the Salewa Speed Ascent is one of the best hiking shoes in the world right now, and it is an excellent choice for all hikers and outdoor enthusiasts. Learn more here!