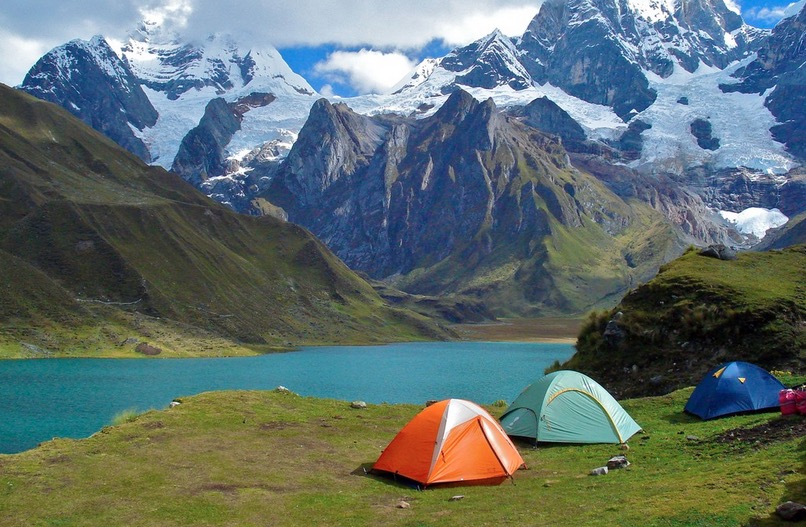 Best 4-Person Tents of 2015
While we've already covered the best 2-person tents of 2015, we recognize that many of our readers like to camping with a larger crowd. Whether you're planning on camping with your family or just a couple of buddies, there are many situations in which a 4-person tent is more suitable than a 2-person tent. If you're camping or backpacking with a larger group, having one large tent reduces the weight and bulk that is created by bringing along multiple tents, and that can make a huge difference, especially on longer outdoor excursions.
There are many factors to consider when searching for the perfect 4-person tent. First of all, you want to make sure that the tent you choose can actually accommodate four people in comfortable fashion. Many tents claim to house four people, but are actually quite cramped when you're trying to test the tent out for yourself. You want your tent to be spacious and comfortable, ensuring that everyone gets a good rest. With that said, you don't want your tent to sacrifice too much in its goal to be spacious, as large tents can be much heavier than smaller tents. Lightweight materials can do wonders for reducing weight while maximizing space, so much sure to know the specs on the tent you're buying.
Finally, as we mentioned in our 2-person tent feature, weather ratings are important to consider. Generally, you'll want a tent that can withstand at least three seasons, but if you plan on cold-weather camping as well, then a 4-season tent is of immense importance. Make sure to know the conditions your tent is suited for, and how it stacks up in comparison to your intended camping schedule.
With that said, let's get to it – here are the best 4-person tents of 2015!
Mountainsmith Genesee 4 Tent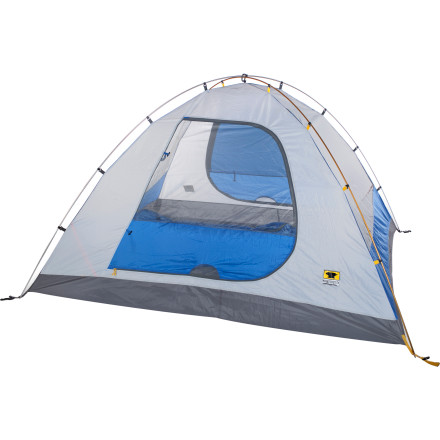 The Mountainsmith Genesee 4 Tent is the most affordable tent you'll find on this list, but that doesn't stop it from being an excellent 4-person tent that can suit the camping and backpacking needs of the vast majority of outdoorsmen and women. This tent is certified for 3-season use, so you'll want to leave it at home during the coldest months of the year, but it is perfectly suited for the rest of the year.
The Mountainsmith Genesee 4 Tent has plenty of space, with a vestibule providing 21 square feet of room, while the main interior takes up about 56 square feet of space. Those dimensions make sleeping 4 people a breeze, while the interior ceiling height of 52 inches ensures that you don't have to crouch too much when walking around. The Genesee also features a gear loft and plenty of pockets, making it a solid home away from home for your crew.
This isn't the lightest tent you can find, with a trail weight of 6 pounds, 9 ounces; however, that weight isn't too much of a problem when your group of four can take turns carrying it. If you're looking for a 4-person tent that provides excellent bang for your buck, you can't do much better than the Mountainsmith Genesee 4 Tent. Check it out here!
Marmot Tungsten 4p Tent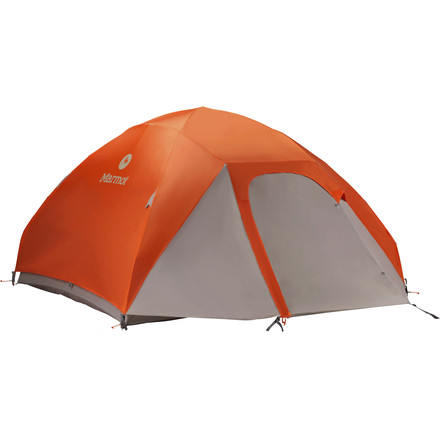 The Marmot Tungsten 4p Tent is a 4-person tent that is highly rated and is an excellent choice for 3-season use. Like the Genesee, this tent is not ideal for the middle of the winter, but it should keep you warm and comfortable for the rest of the year.
The Marmot Tungsten 4P Tent utilizes a spacious, volume-optimizing design that allows for specific sleeping zones and plenty of interior volume for livable space. This tent is easy to set up, and equally easy to enter and exit, as the vestibule areas and easy nylon zipper pulls make it easily accessible. Floor space measures 93 x 82 inches, with an additional 52 inches of height, giving you a roomy interior for four.
At 8 pounds, 5 ounces, the Marmot Tungsten 4P is a little heavier than some of your other choices, but that's mostly because it gives you a comfortable living area anywhere you go. You can learn more about the Marmot Tungsten 4p Tent here!
Big Agnes Gilpin Falls Powerhouse 4 mtnGlo Tent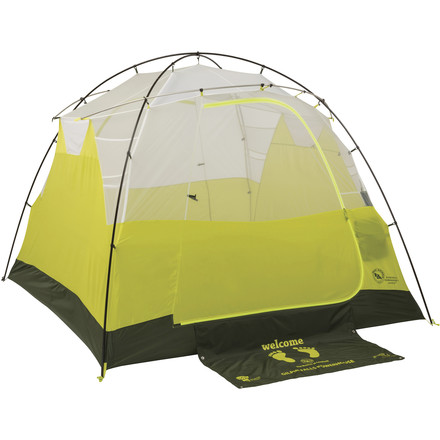 If you're a frequent reader of this site – or any outdoors-themed site, really – then you know that Big Agnes has been making plenty of headlines for their awesome new mtnGlo tent series. The tents are best-known for their signature LED lighting systems, which are truly a first of their kind; however, these tents offer excellent performance in addition to the nifty lighting features. The Big Agnes Gilpin Falls Powerhouse 4 mtnGlo Tent might just be our favorite of all from the mtnGlo series, and will suit the needs of almost any camper or backpacker.
The Big Agnes Gilpin Falls Powerhouse 4 mtnGlo Tent is pretty heaving for the typical ultralight backpacker, with a trail weight of about 12 pounds; however, while the Gilpin Falls Powerhouse adds some weight, it does so in the name of adding a ton of excellent features and extra space. Taller people will instantly appreciate the ceiling height of 5 feet, 8 inches, while floor space measuring 96 inches x 90 inches will provide everyone with plenty of room – especially when you consider the 19 square feet of vestibule space.
In addition to the spaciousness of this tent, the Big Agnes Gilpin Falls Powerhouse 4 mtnGlo Tent is certified for 3-season use, is windproof and waterproof, and comes with nifty features like built-in USB chargers to power your electronic devices. Big Agnes keeps winning awards for these tents, and it's high time you checked out the Big Agnes Gilpin Falls Powerhouse 4 mtnGlo Tent. Do so here.
The North Face Bastion Tent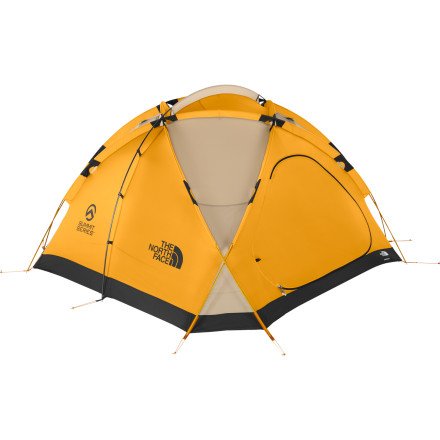 With The North Face Bastion Tent, we get into the echelon of hardcore, 4-season tents that are best for experienced mountaineers and backpackers who want to experience camping and trekking around in the harshest weather. Accordingly, tents like The North Face Bastion Tent tend to cost a lot more than more mild, 3-season tents, but if you're looking for a rugged tent that can handle anything, the Bastion might just be your answer.
The Bastion is designed specifically for mountaineers who are looking for a shelter that can take on the elements during extreme adventures. if you're into scaling high-altitude, snow-capped peaks, then this tent is one of the best options you'll find.  This tent is designed to withstand temperatures that dip into the negative degrees, and accordingly, it can handle any weather, with industry-leading rain and wind protection. However, if you wish to use the tent in less-extreme conditions, too, the Bastion features an excellent ventilation system that'll keep you from overheating on warmer nights.
This fortress of a tent weighs 13.7 pounds, so it's not ultralight by any means – but good luck finding an ultralight tent that can take the beating that the North Face Bastion can. With interior space of 62 square feet, this tent can comfortably accommodate four adults, come hell or high water. Check out the North Face Bastion Tent here!
MSR Storm King Tent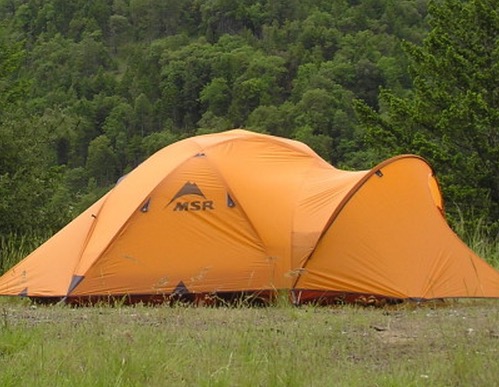 The MSR Storm King Tent is one tent that might be even burlier than the previously-discussed Bastion tent, and it represents the top-of-the-line for 4-person, 4-season tents (technically, the Storm King can fit up to five campers comfortably). This rugged, durable tent is ready to handle anything you put it through, as it is certified to be waterproof, windproof, and able to withstand subzero temperatures.
What sets the Storm King apart from the best competition is the fact that this tent offers 64 square feet of room, with an additional 9 square feet of space in the vestibule, along with a 5-foot, 5-inch interior ceiling. All of this space and performance takes up 12 pounds, which is certainly as manageable as any other tent in the same class. The Storm King can suit seasons other than winter, as well; it utilizes a revolutionary ventilation system that will regulate the temperature inside your tent according to the weather outside of your tent.
This tent will keep you and your camping companions warm, dry, and secure, no matter what is going outside the tent walls. The Storm King is truly a top-of-the-line tent that can be used for nearly any situation.
If this tent sounds like what you need, you can buy the MSR Storm King Tent here!