To the Blackfeet Indians, the mountains of the Two Medicine region were referred to as the Backbone of the World.
In addition to hunting, the Blackfeet would venture into the shadows of these massive mountains on vision quests.
Today, this area is just as breathtaking and vision inducing for the trekkers who explore the vast, well-worn and well-connected trails that meander from lake to wildflower meadow to woozy mountain pass.
About Two Medicine
Two Medicine borders East Glacier, Montana and is one of the lesser-explored regions of Glacier National Park.
But it's not because the area lacks beauty. Both upper and lower Two Medicine Lake make a perfect base camp, offering: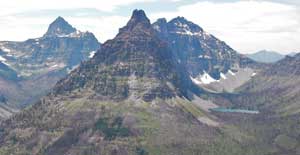 Two Medicine Pass in
Glacier National Park, Montana
Calm shorelines
Turquoise water that reflects the towering spires that jut from the earth
Numerous campground accommodations
A diverse selection of trails
The main reason Two Med's one of the lesser-explored areas of Glacier National Park is simply because itÂ's not a direct artery of Going To The Sun Road.
However, it's not as remote as areas like Polebridge, Montana, allowing visitors to explore the area without dedicating a few days.
The weather pattern here is unique to any area of the park. The Continental Divide cuts through the heart of Two Med, diverting most rain clouds.
Brief thunderstorms occur in the afternoon, causing this region to generally be dry. Thus, vegetationÂ's low to the ground, unlike the dense, lush forests in Western Glacier. This is splendid for hikers, allowing dizzying vistas from any altitude.
Camping in Two Medicine
Two Med Campground is the only front country site in this region. It's open from Late May to Late September, but primitive camping is allowed from 9/22 until 10/31, or until weather conditions permit.
ItÂ's located on the east side of Two Med Lake and provides 110 campsites, most shaded by trees and all offering awe-inspiring views of sheer cliffs, open valleys and the peaceful lake shore.
Potable water is accessible and there are restrooms with flush toilets and sinks with running water. Reservations are not accepted and sites cost $20 in the summer. ThereÂ's also a camp store for groceries just down the road.
This is one of the most peaceful, serene and family-oriented campgrounds in Glacier National Park.
If this campground is full, try Cut Bank Campground just a few miles north. It offers primitive camping (without restrooms and potable water, so be sure to have a portable water filter to treat your water with!) It's accessed from a 5 mile dirt road off of Highway 89.
Wildlife Around Two Medicine
Like all regions of Montana's Glacier National Park, the wildlife is reflective of the weather. With this drier climate, hikers are more likely to find Bighorn Sheep foraging grass at the higher altitudes than Mountain Goats.
Golden Eagles are also constantly spotted, soaring high above the grasslands that cascade against the bases of Montana's mountains.
Although rare, mountain lions are occasionally seen in this region. As such, you must take appropriate caution and keep your kids and pets close by. Mountain lion attacks in Glacier National Park are rare and as long as you take the proper precautions, you and your family will be safe.
Hiking Trails Near Two Medicine
This region of the park offers easy afternoon hikes, moderate day hikes, and long, strenuous backpacking treks.
Trail
Length in Miles (roundtrip)
Difficulty
Description
Upper Two
Medicine Lake
10.0
Easy
A day hike along the northern shore of Two Med Lake.Along the way you pass Twin Falls, a double waterfall that rushes down a mountain side, until you reach a backcountry campground at the head of Upper Two Med Lake.
Scenic Point
6.2
Moderate
An afternoon hike that begins at Two Med Road. You gain 2,242 feet until coming to the marvelous vistas of Scenic Point at 7,522 feet.On a clear day, you can see close to 100 miles!
Cobalt Lake
12.0
Moderate
A moderate day hike or backpack from the lower boat dock. Hikers gain 1,400 feet until coming to Cobalt Lake.ThereÂ's a backcountry campsite, allowing adventurous souls to spend the night before continuing on to Lake Isabel. Mosquitoes are plentiful here!View a hiking video I took from this area.
Dawson-Pitamakan
18.8
Strenuous
A long day hike or backpack from Two Med Campground. You climb 2,935 feet, trudge over two Montana mountain passes, and have some of the most immaculate views in the park.View a hiking video I took from this area.
Medicine Grizzly
Lake
12.0
Easy
A day hike from Cutbank Ranger Station to Medicine Grizzly Lake.
Due to the relative ease of access, sparser tourist crowds than areas of equal beauty, and non-primitive campgrounds, the Two Medicine region of Glacier National Park is ideal for most families and visitors.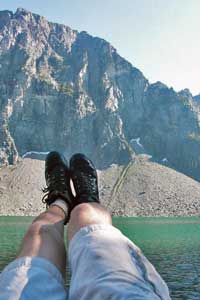 Mountains around Montana's Lake Isabel
Although there are not as many easy day hikes as regions like Many Glacier Lodge, I believe it's foolish to skip this region.
If I were to recommend two hikes, theyÂ'd be Upper Two Med Lake for the family and Dawson-Pitamakan for the adventurous souls.
Additional Glacier National Park Hiking Info
Glacier Park Hiking – Return back to an overview on Glacier National Park Hiking
Or return back
Home