If Glacier National Park is the 'Crown of the Continent', Logan Pass is it's most illustrious jewel.
Located on the Continental Divide at 6,646 feet, it's Visitors Center is the highest point on Going To The Sun Road. From this vantage point, two million visitors a year:
Everything You Need to Know About Logan Pass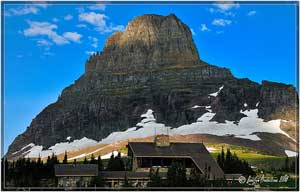 Logan Pass Visitors Center
Photo by Danielle
Gape at the dozens of craggy mountain peaks
Chat with Rangers about hiking trails
View big horn sheep and mountain goat
Have their senses overwhelmed by meadows bursting with wildflowers
However, if you're looking for famed Montana peace and quiet, the only time to find this here is during the evening hours. And I assure you, nothing is more romantic than setting up lawn chairs at Logan Pass and counting the number of shooting stars that gash open Montana's big sky.
Camping Near Logan Pass
Due to the high elevation, there are no front country campsites in this region. You need to either drive down into the St. Mary Valley, Many Glacier Lodge or Lake McDonald Lodge area.
Wildlife Around Logan Pass
Wildlife viewing opportunities in this region are unrivaled by anywhere else in Glacier. Within 100 meter radius around the Pass, you're going to see:
Big Horn Sheep
Mountain Goat
Marmot
Pikas
And even an occasional grizzly or brown bear!
The top four are a guarantee-they'e grown accustomed to human visitors. Plus, their habitat is along the bases of these towering mountains. Be sure to bring your best digital wildlife camera to capture them!
Logan Pass Hiking
Probably more so than any region in Montana's Glacier National Park, Logan Pass provides access to a wide range of day hikes, ranging from short and mild, to long and strenuous; from dirt trails along lake shores, to rock scrambling in an attempt summit Continental Divide mountains.
For day hiking options, please consider:
Trail
Length in Miles (roundtrip)
Difficulty
Description
Hidden Lake
3.0
Easy
Begins at the Visitors Center and takes hikers past wildflower meadows, under the veil of Mt. Clements and to an overlook where you can gaze at Hidden Lake, puported to contain gigantic cutthroat troat.
Garden Wall

23.2
Strenuous
An almost complete loop, which takes you past countless wildflower fields. Be sure to brush up on your wildflower identification skills, so you know how to tell the difference between Indian Paintbrush and Alpine Daisies
Gunsight Pass

10 to 20.9
Moderate to Strenuous
This trail can be done in numerous ways.You can hike seven miles to Gunsight Lake and return (stopping at the amazing Florence Falls along the way). Or you can turn it into an overnight trip by backpacking 10.9 miles to Lake Ellen Wilson Campground and hiking the remaining 10 miles the next day to Lake McDonald Lodge.

This is one of the most fantastic trails in all of Glacier National Park (check out a Photo Tour!).

Piegan Pass

9 to 12.8
Moderately Strenuous
Hike from Siyeh Bend (a few miles east of the Pass) to Piegan Pass. This is a 9 mile roundtrip option.Or you can extend it to 12.8 miles and hike to Many Glacier Lodge and take the shuttle back.
Siyeh Pass

10.3
Moderate
The Best Day Hike In Glacier National ParkBegins at Siyeh Bend and drops you off a few miles farther down Going To The Sun Road. Simple to hitchhike back to your car. You gain 2,240 feet and lose 3,440 feet.
Mt. Oberlin

–
Moderate
Talk to the Rangers in the Visitors Center about this.Begins as a moderate hike, which turns into a rock scramble as you summit a mountain one mile west of the pass.
Mt. Reynolds

–
Strenuous
Again, talk to the Rangers in the Visitors Center about this.It's a strenuous hike that turns into an even more strenuous climb. It doesn't require technical skills but can be frightening.
Logan Pass provides visitors who do not like strenuous hikes an opportunity to experience the jewels of Glacier National Park: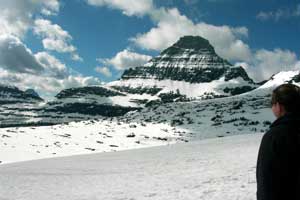 Mountains near Logan Pass
easy day hikes
abundant wildlife viewing opportunities
photogenic lakes
craggy mountains
and meadows of wildflowers.
It's no wonder that this Visitors Center parking lot fills early in the morning and doesn't empty until late in the afternoon. Spend a day exploring this area—you won't be disappointed.
Additional Glacier National Park Hiking Info
Glacier Park Hiking – Return back to an overview on Glacier National Park Hiking
Or return back
Home