Before We Begin…
Regarding bears, it is important that you understand the danger grizzly bears can pose.
Be certain to come prepared with a canister of Bear Spray
. Ordering ahead of time will save you 20-30 dollars.
Okay, on with the itinerary!
<font="+1″>Day 1
Welcome to Glacier! After lots of traveling, you will probably want to relax and enjoy your day, but be out of the car. Today is designed to do just that.
Option 1
Lodging – Camp at Avalanche Lake Campground or Apgar Village Campground. Both are only a few miles into the park, allowing you to claim a prime campground early in the day.
Activities – Hike Avalanche Lake trail. Avalanche Lake is a half-day hike from Avalanche Creek Trailhead to Avalanche Lake. Round trip it is 6 miles and gains 505 feet. Very easy, but very rewarding. Pack a lunch and make a picnic out of it.
In the evening, watch the sunset over Lake McDonald from the back of the lodge. Sunsets can be breathtaking from Lake McDonald and it is a perfect way to end your first day in the park.
For dinner, either cook something at your campsite or head over to Jammer Joe's across the street from Lake McDonald Lodge.
If you are in the mood for dessert, try some ice cream at Apgar Village.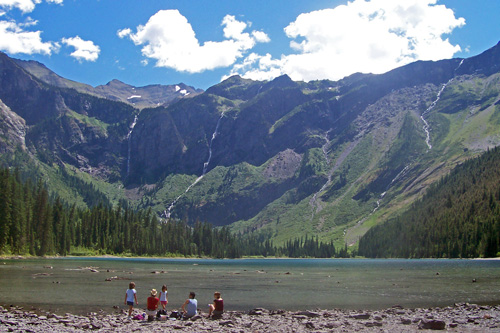 Avalanche Lake
Option 2
Lodging – Spend the evening at Village Inn at Apgar. Offers stunning views of Lake McDonald
Activities – Drive Going to the Sun Road to Hidden Lake and hike that nice, short hike. If you are feeling up to it, you can even do both Avalanche and Hidden Lake in the same day.
---
<font="+1″>Day 2
We're going to take you to a hidden section that few people go to–Polebridge. It will allow you to avoid most of the tourist crowds and let you escape into my favorite part of Glacier.
Wake up early. Eat breakfast and hit the road. You will be driving in the OPPOSITE direction from Logan Pass.
Drive past the West Glacier exit and continue on toward Polebridge.
Learn more about Polebridge from my Page on Polebridge
Option 1
Lodging – Camp at Bowman Lake
Bowman Lake is a beautiful, peaceful campground.
Learn more about it Here
Activities – Driving to Polebridge will take up much of your day. Stop off at the Polebridge Merc and enjoy some cinnamon rolls and stock up on supplies. Enjoy the evening around a campfire.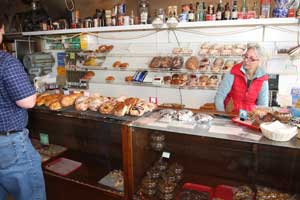 Polebridge Bakery/td>
Option 2
Lodging – Get a cabin at the Polebridge Merc, or rent a Teepee. It's really a sweet experience.
Activities – Explore the area
---
<font="+1″>Day 3
Option 1
Perfect time to go backpacking.
Make sure you have the gear you need
and get a permit from the Rangers at the Ranger station.
Lodging & Activities
Backpack from Kintla Lake to Upper Kintla Lake, a moderate hike without much elevation gain that takes you to a remote, beautiful area where you can hear wolves howl.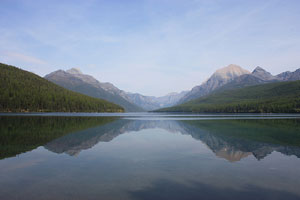 Bowman Lake
Option 2
Don't backpack and enjoy dayhikes.
Lodging – Keep your campground, or move to a campground if you stayed at Polebridge
Activities – Pack a lunch. This is going to be a long day.
If you are feeling adventurous, hike Numa Ridge Lookout. It's 12 miles roundtrip and gains 3,000 feet. The most beautiful lookout in all of Glacier.
Otherwise, hike Akokala Lake. About 6 miles but only gains 1,000 feet. Both begin at Bowman Lake and are incredible hikes.
---
<font="+1″>Day 4
Option 1 & 2
Lodging – Camp at Bowman Lake or Kintla Lake by your car. Or continue on a backpacking trip up to Boulder Pass **highly recommended**
Activities – If you are not backpacking, do either Numa Ridge or Akeokala Lake, whichever you did not do yesterday.
If you are backpacking, leave your tent put together and do a day hike up Boulder Pass.
This is a BEAUTIFUL hike. It gains 3,500 feet in about 5 miles and the views are breathtaking.
Then, return to your camp, pack it up, and move out to spend the night camping in the front country at Kintla Lake.
---
<font="+1″>Day 5
Regardless of whether you decided to backpack or do dayhikes, your itinerary will be the same for today. Pack up, move out, we're going to Many Glacier.
Option 1
Lodging Camp at St. Mary or Rising Sun Campground, whichever you prefer. They are both located very close to each other and both offer LAUNDRY and SHOWERS.
Activities You have a long drive ahead of you. Get going early.
Drive from Polebridge, over Logan Pass and to your campground. Along the way, you can stop for lunch at the Merc in Polebridge, Jammer Joe's, or just bring a lunch.
Set up camp and for the afternoon you will be hiking one of my favorite hikes, Iceberg Lake.
Iceberg Lake begins at the Swiftcurrent Inn and is a moderate hike that is 10 miles roundtrip and gains 2,000 feet.
Bears are abundant in this area of the park, so be certain you order Bear Spray
ahead of time. Bring it on ALL your hikes, especially Iceberg Lake.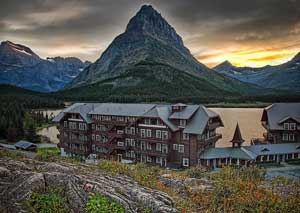 Sunset behind Many Glacier Lodge
Option 2
Lodging – Get a room at Many Glacier Lodge and relax.
Activities – If you are tired from all the driving, you can do a nice, easy hike and see two gorgeous waterfalls.
The hike is St. Mary and Virginia Falls. They begin on Going-to-the-Sun road and it's 4 miles round trip with only gaining 250 feet.
---
Day 6
Today you will be hiking my favorite day hike in Glacier National Park – Siyeh Pass.
Option 1
Lodging – Keep your campground, if you like it. If not, you can always move to another site at Two Medicine, Many Glacier or Swiftcurrent. All are fantastic campgrounds.
Activities – Pack a lunch, bring water. Today will be long, but fun.
Drive Going-to-the-Sun toward Logan Pass. Park your car at Siyeh Bend. You will be hiking 10.3 miles, gaining 2,240 feet and losing 3,440 feet.
This hike is gorgeous. Do not pass it up.
The trail drops you off about a mile down Going to the Sun from your car. Just stick your thumb out and hitchhike back. Hitching is safe and easy in Glacier.
For Dinner, drive into St. Mary and eat at the Park Cafe. Best restaurant around Glacier. Don't miss out on a slice of their homemade pie! Yummmmmy!!
Option 2
Lodging Go to St. Mary and sleep there for the night. Lodging is relatively inexpensive for a roof over your head
Activities Any of the last three hikes I have recommended should be done. Iceberg, Siyeh or St. Mary Waterfall.
If you are feeling a little lazy, you can always drive around and explore Two Medicine area.
Day 7
Option 1
Lodging – Again, stay at you're current location. No need to waste time packing up and moving, right?
Activities – Wake up early today and get to Goose Island on Going to the Sun. Sunrise is beautiful here and this is prime location for photography lovers.
In the afternoon, head to Two Medicine and hike to Scenic Point.
The trailhead's at Two Medicine Road and the hike's 3.1 miles with a 2,200 foot elevation gain.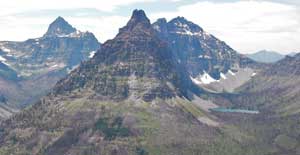 Two Medicine Pass
Option 2
Lodging Stay at Many Glacier.
Activities Hike to Gunsight Lake and Florence Falls.
Pack a lunch, your fishing poles and bring the camera.
Trailhead starts at Jackson Glacier Overlook and goes approximately 6 miles to Gunsight Lake (plus another 6 back). Don't forget about the Florence Falls overlook, which adds another 2 miles onto the trip but is well worth it.
Elevation gain is 3,200 feet.
IMPORTANT NOTE
If you want to bypass the Polebridge area completely, OR no backcountry permits are available for the trip I recommended, go to Two Medicine instead. Substitute backpacking either Dawson-Pitamakan or go to Cobalt-Lake and up to Two Medicine Pass.
I'd recommend backpacking to Cobalt Lake (6 miles) and a 2,500 foot elevation gain the first day. Then a day hike up to Two Med Pass and break down your campsite on the way back to your car.
Recommended Equipment
Here are my recommendations for hiking and camping equipment that suits your itinerary
Down Sleeping Bag: Go Lite Adrenaline
Bear Spray: Bear Spray
is a must for any Glacier trip. Order it ahead of time and save about 40 dollars.
Backpack: My girlfriend has this Osprey pack and I almost bought it, too (opted for their new, ultra light pack). Osprey Atmos 65
.
Tent: The MSR Hubba Bubba
. Another, cheaper option is the Eureka 2 Person Spitfire
. I use this tent and love it (plus, it's WAY cheaper than MSR's).
Hope this itinerary helps you have an amazing trip!.
If you have any questions, comments or concerns, don't hesitate to contact me
I'd love to hear how your trip went!.
Best regards,
Perry