Traveling to Glacier National Park on a budget? Love to hike? This Glacier National Park itinerary is for you!
Here's who this Glacier National Park tour is for:
Day hikers
Lots of flexibility
Fishing enthusiasts
Photo enthusiasts
Families on a budget
Here's a sample from the
'Budget Day Hiker' Glacier National Park tour:
Day 2
Rise and shine! Hopefully you are well rested and ready to explore more of Glacier National Park. Today you will drive Going to the Sun Road and see what this park is really made of!
Option 1
Lodging – I'd recommend staying another night at the hotel you chose last night. No reason to spend extra energy packing up and moving. Your time could be better spent exploring.
Alternately, if you chose to camp, don't take apart your tent. Stay another night.
Activities – Wake up early. Eat breakfast at Apgar Village Lodge or Lake McDonald Lodge.
Then, hop in your car and drive into the heart of the park, up Going to the Sun Road!
This is an all morning activity. Enjoy the pulloffs, take plenty of pictures along the way. It is beautiful.
You will arrive at the Visitors Center at Logan Pass before long.
From there, Hike Hidden Lake Trail. Be sure to go to the Lake, not just the overlook. It is 6 miles roundtrip and similar in difficulty to Avalanche Lake.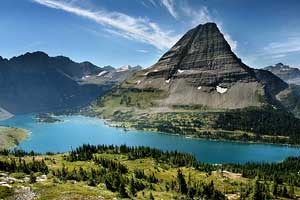 Hidden Lake
It can get crowded, so be sure to arrive early. Pack a lunch and make a picnic out of it.
Spend the afternoon exploring Going to the Sun. Wildflowers will light up the meadows and you are bound to see mountain goats and big horn sheep. If you hang out until dusk, you will likely see a black bear or grizzly on the road around Siyeh Bend Trailhead.
Perfect opportunity for photographs with your long lens 🙂
For dinner, return to your hotel and eat dinner inside Lake McDonald's lodging area. It can be a little pricey though, so you can always head to Apgar instead for dinner, which is more reasonable.
Option 2
Lodging – Again, stay where you are. No reason to expend all the extra energy moving around if you do not have to.
Activities – Let's go for a hike! And if you fish, be sure to bring your fishing pole, because this is one of the hikes for fishing in Glacier National Park.
Hike to Snyder Lakes, which is 8.8 miles round trip.
Begins at Snyder Creek Trailhead, which is directly across from Lake McDonald Lodge. Cutthroat trout are plentiful, so this is ideal for catching, photographing, and releasing.
It's a moderate hike that shouldn't be too troublesome.
Is This Itinerary For You?
Then become one of our dozens of happy customers and order the full itinerary for only $19.95
Order Your July Itinerary
Order Your August Itinerary
Custom Itinerary Designed for You
Want a more personalized itinerary?
We still offer 100% unique itineraries that are individually created for you.
Get a 7-Day trip itinerary designed to meet your specific needs for only $94.95 and get the most out of your Glacier National Park, Montana vacations.
Here's what people have to say about their travel itineraries:
"Hi Perry—Thanks for the itinerary—-helpful especially the hike suggestions… Good tip about getting overnight backpacking permit for the car—never would have thought about that"
– Jack
---
Interested in a trip itinerary?
Please fill out the form below (if you don't know the dates, just put an approximation).
I will then contact you to confirm your itinerary purchase follow-up with a series of questions in order to customize your itinerary. Then, I personally write your custom itinerary for your Montana vacation.
Payment is easily conducted through Google Checkout once your itinerary is complete.
Oops! We could not locate your form.
Don't think this itinerary is right for you? Check out previews of our other itineraries: