Are you the type that wants to go with the flow?
Do you like mild day hikes, adventurous day hikes, and/or backpacking trips into the wilderness?
This Glacier National Park Itinerary will give you a Glacier National Park tour that gives the outdoors type the option to do anything they want.
With two options everyday, you'll always have the room to bob and weave between mild day hikes, an extended backpacking trip, long day hikes, and sightseeing tours.
Here's a sample from the
'Day Hike & Backpacking' Glacier tour:
Day 2
We're going to take you to a hidden section that few people go to–Polebridge. It will allow you to avoid most of the tourist crowds and let you escape into my favorite part of Glacier.
Wake up early. Eat breakfast and hit the road. You will be driving in the OPPOSITE direction from Logan Pass.
Drive past the West Glacier exit and continue on toward Polebridge.
Option 1
Lodging – Camp at Bowman Lake
Bowman Lake is a beautiful, peaceful campground.
Activities – Driving to Polebridge will take up much of your day. Stop off at the Polebridge Merc and enjoy some cinnamon rolls and stock up on supplies. Enjoy the evening around a campfire.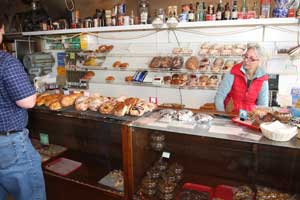 Polebridge Bakery
Option 2
Lodging – Get a cabin at the Polebridge Merc, or rent a Teepee. It's really a sweet experience.
Activities – Pack a lunch. This is going to be a long day.
If you are feeling adventurous, hike Numa Ridge Lookout. It's 12 miles roundtrip and gains 3,000 feet. The most beautiful lookout in all of Glacier.
Numa Ridge Lookout
Otherwise, hike Akokala Lake. About 6 miles but only gains 1,000 feet. Both begin at Bowman Lake and are incredible hikes.
Is This Itinerary For You?
Then become one of our dozens of happy customers and order the full itinerary for only $19.95
You can order either via PayPal or Google Checkout. Just select your month, complete the checkout process, and then you'll be redirected to the Itinerary URL.
Order Your July Itinerary
Order Your August Itinerary
Custom Itinerary Designed for You
Want a more personalized itinerary?
We still offer 100% unique itineraries that are individually created for you.
Get a 7-Day trip itinerary designed to meet your specific needs for only $94.95 and get the most out of your Glacier National Park, Montana vacations.
Here's what people have to say about their travel itineraries:
"Hi Perry—Thanks for the itinerary—-helpful especially the hike suggestions… Good tip about getting overnight backpacking permit for the car—never would have thought about that"
– Jack
---
Interested in a trip itinerary?
Please fill out the form below (if you don't know the dates, just put an approximation).
I will then contact you to confirm your itinerary purchase follow-up with a series of questions in order to customize your itinerary. Then, I personally write your custom itinerary for your Montana vacation.
Payment is easily conducted through Google Checkout once your itinerary is complete.
Oops! We could not locate your form.
Don't think this itinerary is right for you? Check out previews of our other itineraries: