Are you the type that likes to enjoy mild day hikes, view wildlife, take great photos, and soak up all Glacier National Park has to offer?
If so, this Glacier National Park tour is for you!
Here's a sample from the
Mild Day Hikes and Wildlife Viewing
Glacier National Park tour:
Day 4
Option 1
Lodging – Camp at Avalanche Lake Campground or stay at Apgar Village. Both are only a few miles into the park, allowing you to claim a prime campground early in the day or check into your room bright and early.
Activities – Hike Avalanche Lake trail. Avalanche Lake is a half-day hike from Avalanche Creek Trailhead to Avalanche Lake. Round trip it is 6 miles and gains 505 feet. Very easy, but very rewarding. Pack a lunch and make a picnic out of it.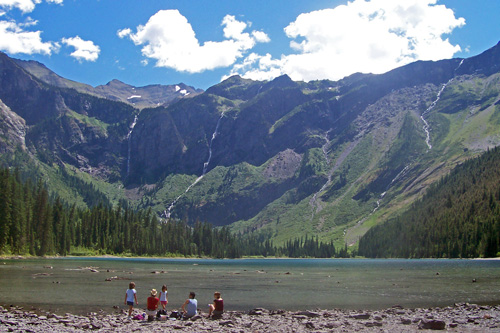 Avalanche Lake
In the evening, watch the sunset over Lake McDonald from the back of the lodge. Sunsets can be breathtaking from Lake McDonald and it is a perfect, romantic way to end your first day in the park.
For dinner, either cook something at your campsite or head over to Jammer Joe's across the street from Lake McDonald Lodge.
If you are in the mood for dessert, try some ice cream at Apgar Village.
Option 2
Lodging – Spend the evening at Village Inn at Apgar. Offers stunning views of Lake McDonald
Activities – Avalanche Lake. You must hike this trail while visiting. Since you are coming from Florida, you need time to get acclimated to the altitude. This is a perfect, short hike designed to do just that.
Is This Itinerary For You?
Then become one of our dozens of happy customers and order the full itinerary!
You can order either via PayPal or Google Checkout. Just select your month, complete the checkout process, and then you'll be redirected to the Itinerary URL.
Order Your July Itinerary
Order Your August Itinerary
Want a more personalized itinerary?
We still offer 100% unique itineraries that are individually created for you.
Get a 7-Day trip itinerary designed to meet your specific needs for only $94.95 and get the most out of your Glacier National Park, Montana vacations.
Here's what people have to say about their travel itineraries:
"Hi Perry—Thanks for the itinerary—-helpful especially the hike suggestions… Good tip about getting overnight backpacking permit for the car—never would have thought about that"
– Jack
---
Interested in a trip itinerary?
Please fill out the form below (if you don't know the dates, just put an approximation).
I will then contact you to confirm your itinerary purchase follow-up with a series of questions in order to customize your itinerary. Then, I personally write your custom itinerary for your Montana vacation.
Payment is easily conducted through Google Checkout once your itinerary is complete.
Oops! We could not locate your form.
Don't think this itinerary is right for you? Check out previews of our other itineraries: