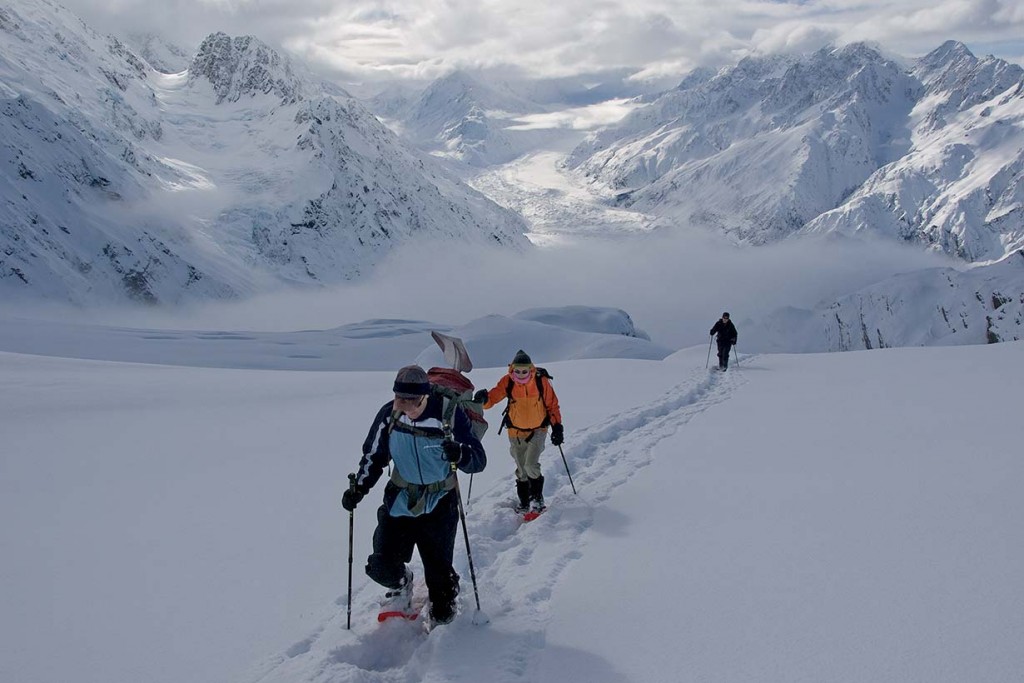 The Best Snowshoes for Your Next Winter Adventure
This winter might be winding down and coming to an end, but that doesn't mean there isn't still time to get out and play in the snow before the sun has turned your local winter wonderland into a melting springtime mess.
Without a doubt, one of the most enjoyable winter activities you can partake in in the great outdoors is snowshoeing. Whether you're into snowshoeing as a leisurely afternoon activity during the wintertime, or whether you have a necessity for snowshoes during extended backpacking trips in snowy terrain, snowshoes are an item which makes life in the snow easier and more enjoyable.
If you're planning on going hiking, camping, backpacking, or just looking for a good way to work out in the outdoors before this winter ends, a good pair of snowshoes is a great thing to have. However, many people lack experience with snowshoes and end up buying a pair of snowshoes that don't really suit their needs ideally.
When considering what kind of snowshoes to buy, you need to take several factors into account, including:
Your intended use of the snowshoes: Do you plan on using the snowshoes for leisurely hikes, or do you need a pair of snowshoes that will dig in deeply while you're traversing an icy mountain ridge?
The kind of terrain you will be snowshoeing: What is the snowpack like? Do you need something really light to float above deep, delicate snow, or do you need something tough and versatile?
How frequently you will use the snowshoes: There's no point in spending premium money on a pair of snowshoes you will only use once or twice a year. Be realistic.
These are just some of the factors to consider when comparing different snowshoes before settling on the perfect pair for you.
Of course, a lot of the deciding factors should come down to your personal preferences and needs. But in any case, here are five pairs of snowshoes that are reliable, durable, and that consistently get the job done, in my experience.
Without further ado, check out five of the best snowshoes that money can buy!
Easton Artica Hike Snowshoes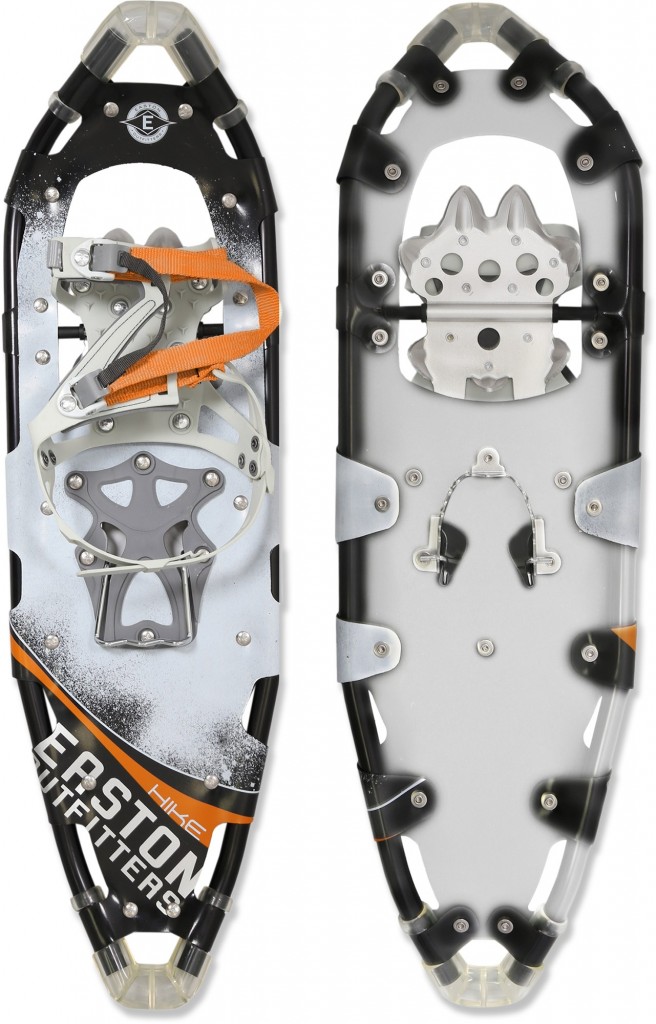 The Artica Hike Snowshoes from Easton provide great value for just $125, and will allow you to tackle pretty much any terrain you happen to be exploring in the great outdoors.
These snowshoes provide you with extra traction in any conditions, with their curved-toe crampon design, which allows you to really dig in to snow and ice alike. The snowshoes are also built to act as an extension of your feet, with the effect of giving you a natural, unburdened stride.
The Artica Hike Snowshoes are made of lightweight aluminum, constructed in a flexible 2-piece construction. They also feature a back crampon for extra traction, and the articulating frame absorbs torque and shock as you walk.
You can check out these great snowshoes at REI.
Garneau Transition 723 Snowshoes

The Garneau Transition 723 Snowshoes are perfect for working out in the outdoors and staying fit during the winter. These snowshoes are designed specifically with runners and cross-training athletes in mind, as they are incredibly lightweight and ergonomic.
However, if you're tackling some of the backcountry's most arduous terrain, you're probably going to want something a little more heavy-duty than these babies.
That's not to say that the Garneau Transition 723 Snowshoes aren't excellent snowshoes, though. If you are traversing mostly flat terrain, and especially if you need a pair of snowshoes that will let you run as fast as the conditions allow, you can't do much better than these excellent running snowshoes.
If the Garneau Transition 723 Snowshoes fit your needs, head over to REI to learn more!
Tubbs Mountaineer 25 Snowshoes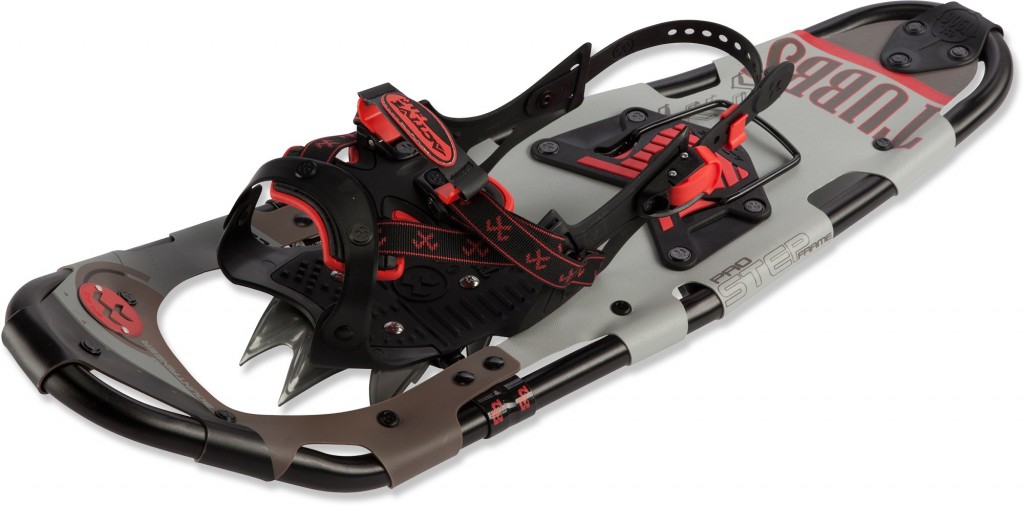 On the opposite end of the spectrum are the Tubbs Mountaineer 25 Snowshoes, which are designed for (as the name implies) hardcore mountaineering.
These durable, heavy-duty snowshoes are built to tackle everything from the ice of glaciers to feet of fresh snow and everything in between. The Tubbs Mountaineer 25 Snowshoes are constructed to provide incredible traction, lightweight floatation, and durable toughness.
Tubbs Mountaineer 25 Snowshoes are made of aluminum and carbon steel, allowing their lightweight design to be very sturdy as well. The recommended use for these snowshoes is trekking in the backcountry, but these versatile snowshoes will allow you to take on anything in your path.
Learn more about the Tubbs Mountaineer 25 Snowshoes here if they sound like the type of snowshoes you need for your next journey into the mountains!
Atlas Aspect Snowshoes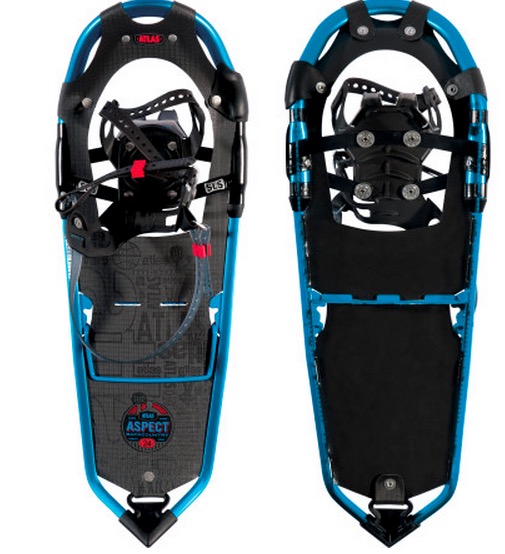 As we get into snowshoes that are a little more expensive, we come across snowshoes like the Atlas Aspect, which is truly one of the nicest pairs of snowshoes that money can buy.
The Atlas Aspect Snowshoes are designed for use in all outdoor conditions, and are lightweight despite their large size and durability. These snowshoes feature Atlas's signature Spring-Loaded Suspension, which uses offset webbing straps to allow natural side-to-side motion as you trek along.
Made out of lightweight aluminum frames and stainless steel crampons, the Aspect snowshoes are far fro cumbersome, while allowing you to dig in on the most difficult terrain. While the Aspect snowshoes are perfectly suited to backcountry hiking, these versatile bad boys will also allow you to take off running, with their lightweight ReactiV-Trac frame and saw-toothed perimeter traction, which allow for excellent floatation and grip.
If you want snowshoes that can handle any sort of activity you can possibly do, check out the Atlas Aspect Snowshoes.
MSR Lightning Ascent Snowshoes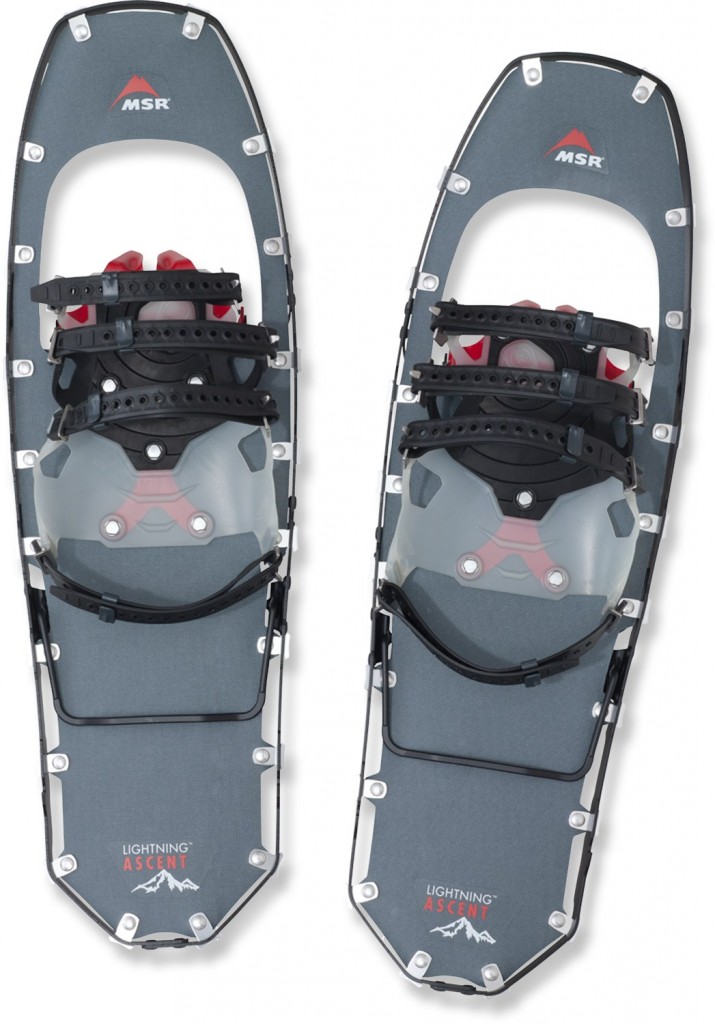 The most expensive snowshoes on this list are also the nicest, as you truly get what you pay for with the excellent MSR Lightning Ascent Snowshoes.
These snowshoes are ideal for every scenario imaginable, as they are built to stand tough in brutal conditions and provide lightweight buoyant comfort on less arduous terrain. The MSR Lightning Ascent Snowshoes are built with a solid foundation, providing traction and support that snowshoes with tubular frames (read: most of them) simply cannot.
The MSR Lightning Ascent Snowshoes are made with 7000-series aluminum frames and Urethane-impregnated nylon, giving them a lightweight, floatation-efficient base, and they dig into the snow with heavy-duty powder-coated steel crampons.
You can take the MSR Lightning Ascent Snowshoes into the most difficult terrain the outdoors has to offer, but these lightweight snowshoes are ideal for much milder trails as well.
Check out the MSR Lightning Ascent Snowshoes here!
No matter which pair of these snowshoes you decide best fits your needs, you will not be disappointed. Make sure to do ample comparison shopping and really take your needs into account before settling on a specific pair!
Now, get some quality snowshoes, and get out and enjoy the beauty of a Rocky Mountain winter before it ends this year!