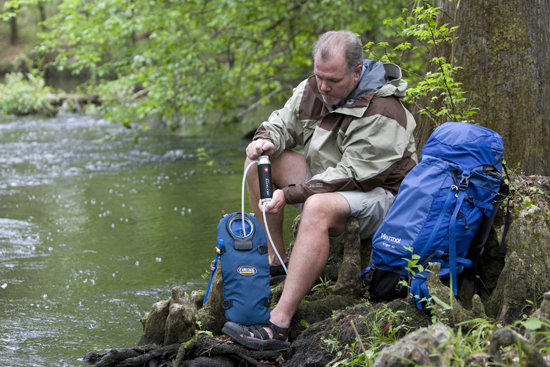 Heading up into the Rockies without a portable water filter is like going for drive without insurance. If you need it and don't have it on you, you're in big trouble, compadre.
Fortunately, a water filter is something you only have to pay for once. But just like buying car insurance, there are a whole lot of companies out there vying for your moolah.
So let's save ourselves some browsing stress and zero in on three of the most awesome microfilter models out there.
But first: do you really need a water filter???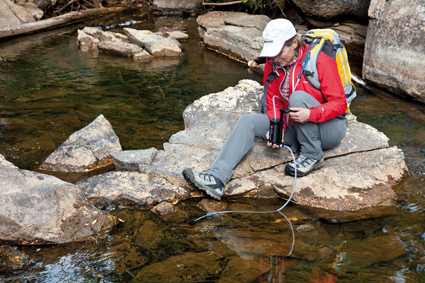 Umm… YES.
While mountain water certainly looks inviting–crystal clear, cold, sparkling diamond-glints of light in the afternoon sun, the truth is that unfiltered mountain water can do you some serious harm. It can carry viruses and bacteria that have the potential of making you very ill. Or worse.
Unless you have it on excellent authority that a found spring is safe to sip from, you'd better be ready to clean it before using it.
Water filters have come a long way since they first entered the market. These days, they're capable of inactivating up to 99.99% of water-bound undesirables like giardia, Cryptosporidium, salmonella and other sinister sickos.
Like I said, there are plenty of models to choose from, too. But if you have a bit of spending money, I recommend going for a microfilter. These guys are just as powerful as the big filters, but are much smaller and lighter, making them super easy to cart around.
We own 2 microfilters, as well as a UV water filter. My wife personally prefers our SteriPen. While it technically filters out more, it takes a long time to filter the water and it's rather boring. You just stir a wand in water. Yippee. I'd much rather pump my water, even after a long hike.
In any event, here are my top 3 favorite microfilters for backpacking. We own the first 2… The last one, ranked #1, I've just used with friends. And it freakin' rocks. But it's a little outside my budget…
Anyway, here we go!
Top 3 Microfilters
3. Katadyn Hiker Pro Water Microfilter ($84.95)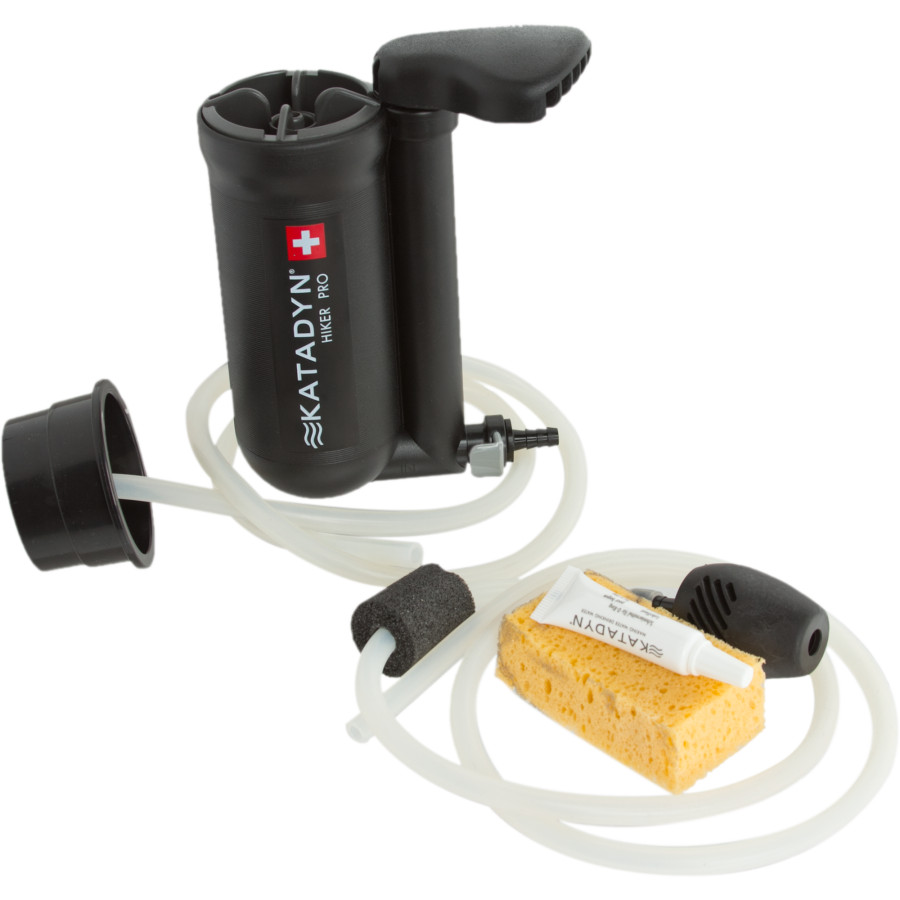 Easy to use, easy to clean, easy to carry and relatively easy to afford (certainly compared with microfilter in the top spot on this list!), the Katadyn Hiker Pro Water Microfilter is a great addition to the gear of a hiker who watches every ounce.
It comes with a field maintenance kit that, when used religiously, will extend the life of your filter beyond even some of the most expensive models out there.
If you can pump this filter 48 times in a 60 seconds (and that's actually pretty easy to do with this guy), then you'll be producing about one liter in every minute. And that's pretty darn great considering the slow output of a lot of microfilters out there.
Details:
Weight — 11 oz
Size — 6.5″ x 3″ x 2.4″
Casing Material — ABS Plastic
Production — 1 liter/minute
Where to Buy
2. MSR SweetWater Microfilter ($99.95)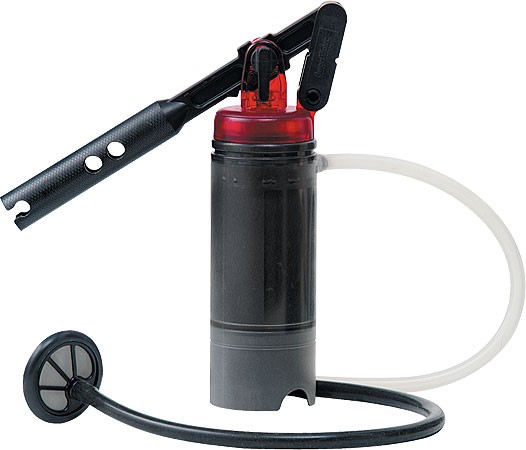 The MSR SweetWater Microfilter features both the natural filtration of the device along with MSR's excellent SweetWater Purifier Solution for some of the best tasting water you'll ever slurp down in the Rockies.
A really cool feature of this particular microfilter is the pump action itself. The SweetWater is able to purify on both the down and up strokes, making water-cleaning that much easier and faster.
And with the chlorine-based purifying system, you won't have to deal with that awful iodine-y taste found in a lot of other filters.
It's slightly more expensive than the Katadyn Hiker Pro, but it features a higher production rate. Kind of a toss up in my book, but what a great pair of products to be tossing up!
Details:
Weight — 14 oz
Size — 7.5″ x 2″
Casing Material — Copolyester
Production — More than 1 liter/minute
Where to Buy
1. Katadyn Pocket Water Microfilter ($369.95)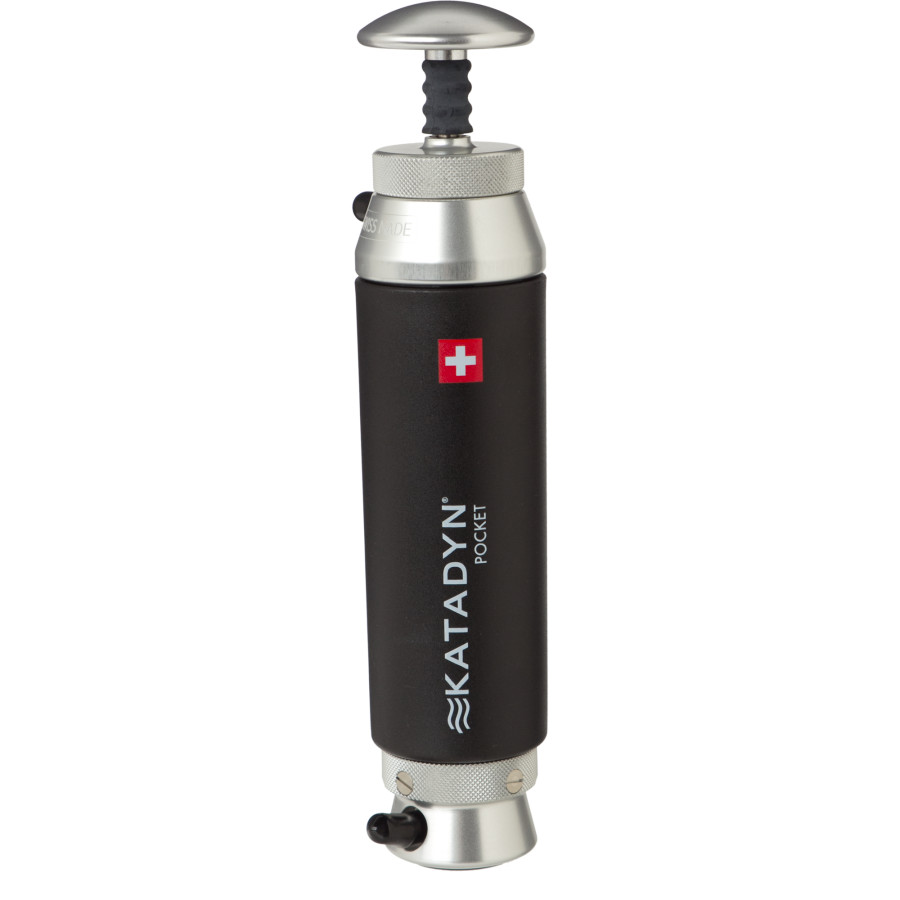 This, friends and neighbors, is the Cadillac of microfilters. Obviously it's a heck of a lot more expensive than the previous two entries in my short list, but it's absolutely worth every added penny.
The Katadyn Pocket Water Microfilter is super easy to operate and super tough, making it the perfect option for the hiker heading into extreme conditions of any kind. It's a ceramic filter covered in polypropylene and made to last a lifetime.
It's also capable of disinfecting your water of nasty bugs even smaller than most models (including the Hiker Pro and SweetWater). Generally, microfilters can remove bacteria, parasites, and protozoa larger than 0.3 microns. The Katadyn Pocket, though, will take care of those nasties larger than 0.2. That may not seem like a big deal, but it definitely is when you consider the damage those evil little critters can inflict.
Do I recommend that everyone get one of these? No, of course not. This is a huge investment, especially when you've got stuff like sleeping bags and tents and jackets to think about. But if you do have a few hundred in your budget, I say go for the Katadyn Pocket. If you don't have a few hundred bucks burning a hole in your pocket though, the other two models are great choices and you'll be plenty happy with them.
Details:
Weight — 1 lb, 3 oz
Size — 10″ x 2″
Casing Material — Polypropylene
Production — 0.86 liter/minute
Where to Buy
These are my top three microfilters, but what about yours? What do you use? What would you wish you used?