When it comes to camping, the sleeping bag is maybe the most important piece of gear. Definitely in the top three.
This is especially true for winter camping, when choosing the wrong bag has some very uncomfortable — sometimes even dangerous — consequences.
There have been some incredible advancements in sleeping bags over the past few years. They are lighter, warmer and generally higher quality. Low-temp bags in particular have seen some incredible innovation.
There are now so many options out there that it can be hard to determine the right low temp bag for your next winter camping or backpacking trip.
So, I've narrowed it down to six of my favorites in three categories: the best ultralight low-temp bags, the best synthetic options and the best bags for ultra low temperatures (temps as low as -40°F).
To clarify, by low temp in this article I mean temperatures 5°F and below.
Best Ultralight Low-Temp Backpacking Sleeping Bags
The same gear prep rules apply when planning for an early winter or fall backpacking trip as a spring or summer one — you want to keep your gear as lightweight as possible.
Low-temp sleeping bags are always heavier than summer ultralight bags, so factor in added weight.
However, some bags designed for winter camping are lower weight than others and you will thank yourself for taking the time — and spending the money — on a lighter version.
Western Mountaineering Antelope MF Three Season Sleeping Bag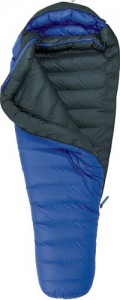 Weighing in at 2lbs 7oz, the Western Mountaineering Antelope MF Sleeping Bag is one of the lighter three season sleeping bags on the market. Designed for temperatures as low as 5°F, it will keep you comfortable on frigid winter nights on the trail.
Like most lightweight sleeping bags, the Western Mountaineering Antelope is comprised mainly of down material. The bag has a seven inch loft and 26 ounces of down fill in the body in addition to a 3-Dimensional down filled collar.
The bag's carefully designed hood keeps the user even warmer by sealing out wind and cold.
The bag stay so light weight thanks to both down and Western Mountaineering's MicoroLite XP fabric.
Additional Features:
Shape: Mummy
Size: Ranges from 5'6"-6'6"
Stuff Size: 8 x 17″
Shoulder/Foot Girth: 62″
Price: $574.95-$614.95
Mountain Hardwear Phantom Lightweight Down Sleeping Bag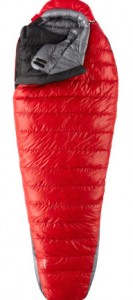 The Mountain Hardwear Phantom Down bag's water-repellent down insulation and weight just over 2.5lbs makes it one of the most efficient, lightest bags.
The bag's weight stays down thanks to filament weave nylon and lightweight down.
The Q.Shield 800-fill down insulation provides warmth from temps as low as 0°F. A water-repellent treatment protects the down from moisture.
A six chamber hood and ergonomic draft collar, which seals heat inside the bag with internal drawcords, adds even more warmth innovation.
The bag stuffs down to 8 x 13 inches, making it one of the more compressed low-temp bags.
Additional features:
Shape: Mummy
Size: Regular 78″ Long 84″
Stuff Size: 8 x 13″
Weight: Regular 2lbs 11oz, Long 2lbs 14oz
Shoulder/Foot Girth: Regular 60″, Long 62″
Price: $574.95-$614.95
Best Synthetic Low-Temp Sleeping Bags
Some campers prefer synthetic insulation to down. A major reason is that synthetic material works better in wet conditions.
Thankfully, innovation in the production of synthetic materials has yielded impressive results and synthetic sleeping bags are becoming as warm — if not warmer in some cases — than their down competitors.
The downside to synthetic sleeping bags is the added weight from the materials. But, if you are planning for casual car camping or a short one night in-and-out backpacking trip, then a heavier synthetic bag should be no problem.
Cascade Designs Centari 0F Syntheric Low-Temp Sleeping Bag

The Cascade Designs Centari Thermarest 0 Synthetic Bag is designed to keep you warm and dry no matter what you come across in the outdoors.
The bag's EraLoft synthetic insulation is light, water resistant and warm enough to protect you at temperatures as low as 0°F.
The insulation is efficiently distributed throughout the bag — giving you warmth where you need it most.
Thoughtful additions like SynergyLink Connectors — which connect your  bag to your sleeping pad or mattress — and a unique design that gives you room where you need it, may lead to one of the best nights of sleeping you've had on a camping trip.
Additional features:
Size: Regular 6′, Long 6'6″
Weight: Regular 3lbs 15oz, Long 4lbs 7oz
Stuff Size: 9 x 18″
Shoulder/Foot Girth: Regular 62″, Long 64″
Price: $189.99 – $199.99
Marmot Trestles 0 Sleeping Bag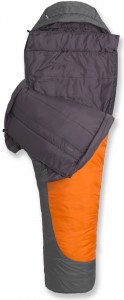 My favorite thing about the Marmot Trestles 0 Sleeping Bag is that it retails for between $140 and $150 — quite a bit less than some of the other bags on this list.Paired with the lower price is the innovation and high performance that we've all come to expect from Marmot.
The bag takes advantage of wave construction — overlapping shingles of insulation throughout the bag — of its SpiraFil 120 high loft synthetic insulation to provide warmth at temps as low as 0°F. A blend of 3-denier conjugated spiral hollow fibers and water repellent polyester, in turn, provide additional protection from the elements.
Marmot used a unique trapezoid shape for the feet of the bag that is wide in the toes and narrow in the heels. This design is more comfortable than traditional oval-shaped feet without compromising warmth.
Additional Features:
Shape: Mummy
Size: Regular 72″, Long 78″
Stuff Size: 9.5 x 21″
Weight: 5 lbs 8oz
Shoulder/Foot Girth: Regular 62″, Long 64″
Price: $139-$149
Big Agnes Whiskey Park Low-Temp Sleeping Bag
Does the Big Agnes Whiskey Park Sleeping Bag look a little big to you? That's because it's supposed to be wide and luxurious.
Weighing in at more than 6lbs, the bag is meant to "offer big guys and campers who like a lot of space supreme comfort."
The bag's synthetic Quallofil™ synthetic insulation works like down, with minimal bulkiness and despite its weight still packs down fairly easily. The bag's durable ripstop nylon shell has a water repellent finish and cotton/polyester lining.
One of my favorite features of Big Agnes bags is the way they accommodate sleeping pads. The Whiskey Park bag, for example, features a sleeve for a 25-in-wide pad so that when you roll around at night the pad stays connected to the bag.
Additional Features:
Shape: Semirectangular
Size: 78″
Stuff Size: 12  x 23″
Weight: 6 lbs 5oz
Shoulder/Foot Girth: 80.5″
Price: $179.95
Best Ultra Cold Sleeping Bags
Imagine camping in -40°F temperatures. Seems crazy right?
You might be surprised by how popular winter camping in these conditions has become. A quick search for low temperature bags for -40°F and below yield dozens of products.
Similar to the synthetic down bags, anticipate that these bags will be extra heavy but the added weight provides cozy warmth.
North Face Inferno -40 Degree Down Low-Temp Sleeping Bag
The North Face Inferno -40 Degree Down Sleeping Bag is designed for very cold high altitude conditions. 850-fill down and a waterproof shell hold in heats and keep you warm during harsh temperatures.
The bag also takes advantage of Pertex Endurance waterproof fabric to wick moisture to keep the down insulation as dry as possible.Expect to that your feet will remain toasty thanks to a vaulted ergonomic footbox that surrounds your feet in warmth.
Added features like glow-in-the-dark zipper pulls for pre-dawn mornings and an oversized, down-filled draft tube to prevent heat loss through the zipper make this a high performance bag for serious expeditions.The pricetag conveys a similar message. The bag retails for around $700.
Additional Features:
Shape: Mummy
Size: Regular 78″, Long 84″
Stuff Size: 12 x 22″
Weight: Regular 3lbs 16oz, Long 4lbs 5oz
Shoulder Girth: Regular 64″, Long 66″
Price: $698.95-$728.95
Marmot CWM EQ -40 Sleeping Bag

Similar to the North Face, The Marmot CWM EQ -40 Sleeping Bag is designed for cold with a capital C.
While you may not be heading out on any polar expeditions any time soon, the bag will still come in handy if you plan some cold camping in the heart of winter — particularly at high altitudes.
The base of the bag's insulation capabilities is its 800-fill good down, and waterproof nylon.
A 9-baffle chest section warms your core, while a 6-baffle hood envelops your head in warmth.
The bag's MemBrain technology in the nylon fabric, which reacts as the temperature inside your sleeping bag rises, provides superior warmth that is hard to beat.
Additional Features:
Shape: Mummy
Size: Regular 72″, Long 78″
Stuff Size: 9.5 x 19″
Shoulder/Foot Girth: Regular 64″ Long 66″
Price: $699.00-$719.00
Ready for a winter camping trip? Yea, I thought so…