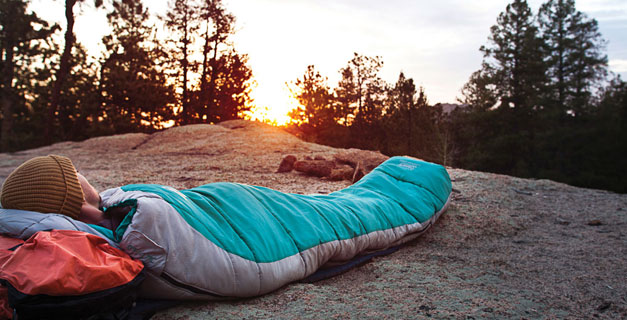 Best Sleeping Bags of 2015
With summer upon us, the most popular camping season of the year is here. In the next few months, millions of Americans will leave behind the comfort and security of their permanent dwellings to head out into the wilderness for a little bit of fun and adventure.
One item that is ubiquitous amongst campers (unless you live in an exceptionally warm climate) is the sleeping bag. No matter whether you're going on a casual camping trip with your family or heading out into the backcountry to conquer a mountain, you will want a sleeping bag that is ready to handle the outdoors. That means you'll want a durable, tough sleeping bag that can handle adverse weather and hold up through the rigors of outdoor life.
When buying a new sleeping bag, there are many factors to consider, based on the type of outdoorsman or woman that you are. Sleeping bags these days (at least high-performance bags) generally come in two different forms – down bags and synthetic bags. Both have their pros and cons, and although both are great choices, it is worth asking yourself whether you think down or synthetic material better suits your needs.
In general down bags are more compressible and lightweight, but they tend to be more expensive. On the other hand, synthetic bags are a little heavier and don't pack down quite as well, but synthetic bags are generally better equipped to handle moisture and incredibly cold temperatures. However, down has improved in recent years with DriDown technology, which aims to allow down bags to handle the elements just as well as synthetic bags, and the technology has narrowed the gap in this aspect significantly.
Essentially, you cannot go wrong with either option, but down bags are more expensive and ideal for serious ultralight backpackers, while synthetic bags are probably the better option for more casual mountaineers who don't want to spend a ton of money. That said, the differences are not so great that the majority of these bags can't suit almost anyone's needs.
Other factors to consider when purchasing a sleeping bag are weight, roominess, and temperature rating. Obviously, weight and roominess are fairly self explanatory – you want a sleeping bag that gives you plenty of room to be comfortable while taking up as little weight and space as possible when compressed. Temperature rating deals with the minimum temperatures that a sleeping bag is designed to be used in, and many bags are also rated for how many seasons they are intended for (i.e. a three-season bag would be ideal for all seasons but winter; a four-season bag is ready to handle extreme temperatures in all seasons).
So, now that you are educated on the ins and outs of sleeping bag specifications, we'll give you our five favorite sleeping bags of 2015. Happy camping!
Marmot Electrum 30 Sleeping Bag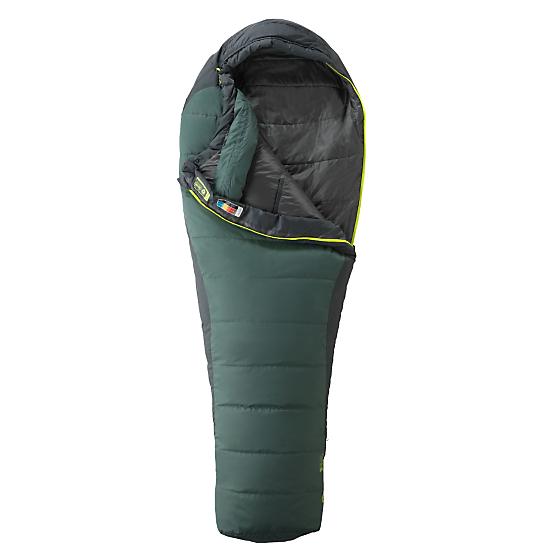 The Marmot Electrum 30 Sleeping Bag is an interesting sleeping bag, as its insulation consists of both down and synthetic materials, giving you the best of both worlds. This hybrid sleeping bag uses SpiraFil synthetic insulation on the bottom of the bag, while 650 power-fill down makes up the top part of the bag. Essentially, you lay on the synthetic material, while the down material covers you like a blanket.
The outer shell of the Electrum 30 is comprised of 30-denier nylon ripstop and 70-denier polyester, making it very durable and hard to rip in addition to being water resistant and wind resistant. The use of down mixed in with the synthetic fill helps cut weight, leaving the Marmot Electrum 30 Sleeping Bag with a fill weight of just under two pounds, so it is plenty lightweight.
As the name implies, the Marmot Electrum 30 Sleeping Bag is certified to withstand temperatures as low as 30 degrees Fahrenheit, so have no fear bringing this bag with you on any summertime camping trip, so long as you don't live in the Arctic.
For a unique, hybrid sleeping bag that will keep you warm and dry in the vast majority of conditions, take a look at the Marmot Electrum 30 Sleeping Bag here!
REI Lumen Sleeping Bag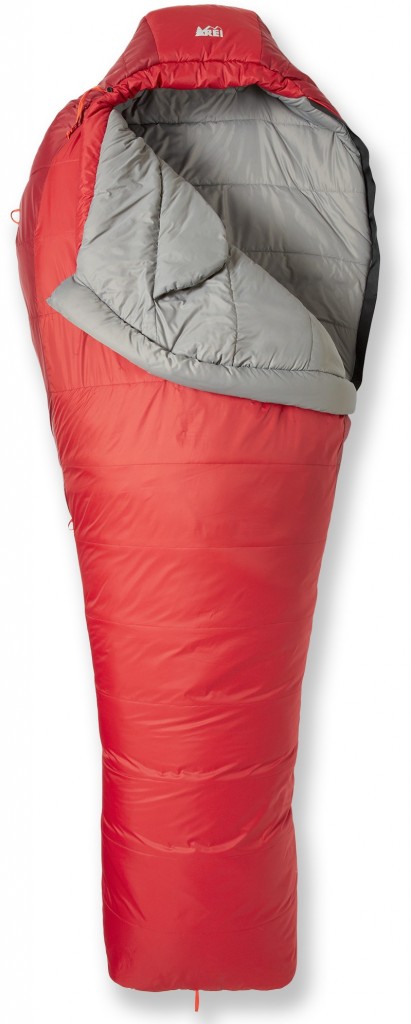 The REI Lumen Sleeping Bag is REI's best in-house sleeping bag, designed for comfort and performance alike. The Lumen is a mummy-bag, meaning the hood of the sleeping bag extends over your head, but this sleeping bag is far more spacious and less constricting than the vast majority of similarly styled sleeping bags on the market.
Made with a synthetic, polyester fill, the Lumen does a great job of not only handling cold weather, but of repelling moisture and keeping you dry. This three-season sleeping bag is rated for temperatures as low as 20 degrees Fahrenheit, so in some climates, you may even be able to get year-round use out of the REI Lumen – it does a great job when the temperatures dip below freezing.
The bag uses a shingle-like construction with many overlapping layers of insulation, which serves to prevent cold spots and distribute warmth evenly throughout your body. The Lumen also is very compressible for a synthetic bag, packing down to a 7 x 15 inch package in its stuff sack, good for an impressive carrying weight of just 2 pounds, 8 ounces. This is one of the more light and compressible synthetic bags we've tested, and you know you can trust a name like REI.
For three-plus season protection and great value at a very reasonable price of just $159, check out REI's Lumen Sleeping Bag here!
Big Agnes Lost Ranger 15 Sleeping Bag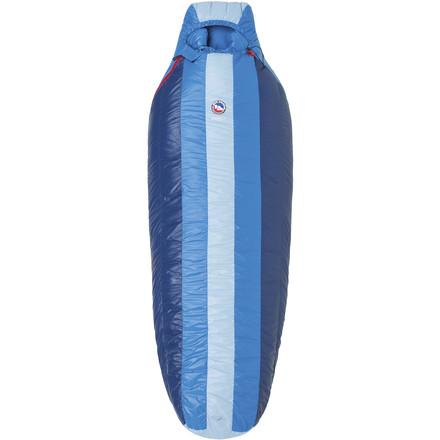 Big Agnes is generally better known for their impressive tents than anything else, but with the Lost Ranger 15 Sleeping Bag, Big Agnes has cemented its place in the elite echelon of companies when it comes to quality sleeping bags. The Big Agnes Lost Ranger 15 Sleeping Bag is a fantastic bag for cold and warm weather alike, with a 650-fill water-repellent down insulation.
This bag is incredible light, warm, and compressible with its down filling, but it uses new technology to have its down treated to withstand more inclement, wet weather as well. Utilizing a mummy-bag design, the Lost Ranger 15 has more room than any similarly-styled bag from a competitor, including the aforementioned REI Lumen. The Lost Ranger 15 is designed with extra width around the torso area, so that a camper feels more like he is laying in a bed than being constricted in a coffin. With a silk taffeta interior lining, the Big Agnes Lost Ranger 15 Sleeping Bag is also incredibly soft and comfortable, and retains warmth when you're not in the bag to warm it up – this bag feels like you're climbing into a luxurious bed, even when the temperature is frigid.
And make no mistake, the Big Agnes Lost Ranger 15 Sleeping Bag can handle frigid temperatures. With a temperature rating of 15 degrees Fahrenheit, the Big Agnes Lost Ranger 15 can handle all sorts of weather, including rain, bitter cold, and everything in between. If you're a serious outdoorsman or woman, the Big Agnes Lost Ranger 15 Sleeping Bag is a great choice and will last you for years through thick and thin. Check it out here!
NEMO Tango Solo Sleeping Bag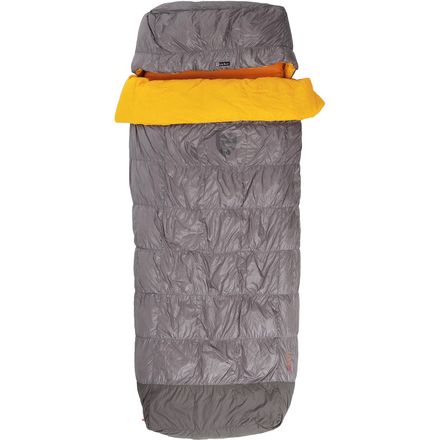 If you don't need a bag that can withstand the most freezing temperatures, but instead value comfort and lightweight performance, the NEMO Tango Solo Sleeping Bag may be the right fit for you. This bag comes with a hood, much as mummy-bags do, but don't be fooled – the NEMO Tango Solo is far from a mummy bag. Giving you a plethora of space to move around and a detachable hood, the Tango Solo is all about comfort.
With a 700-fill down insulation, the NEMO Tango Solo is also incredibly lightweight, weighing in at a featherlight 12 ounces. But this doesn't mean that the bag offers no warmth, as the high-tech down filling definitely gets the job done and then some. This bag is rated for temperatures as low as 30-degrees, so in most climates, it is still very well-equipped for three-season use, even if it won't withstand the most frigid nights in the way some other sleeping bags are able to.
The NEMO Tango Solo also has hooks that help it attach to most sleeping pads, ensuring that your tossing and turning won't land you on the cold ground during the night. With DownTek hydrophobic insulation, the bag is also waterproof, retaining its warmth should the weather fail to cooperate. For a great, comfortable bag that will help you get a great night's sleep in a multitude of different weather conditions, take a look at the NEMO Tango Solo here!
The North Face Superlight 15 Sleeping Bag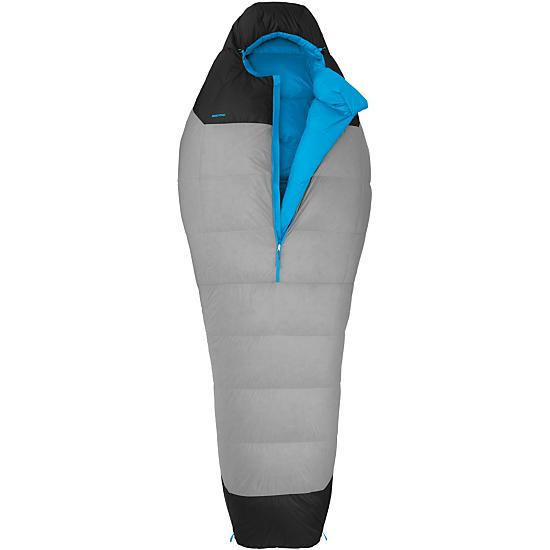 The North Face Superlight 15 Sleeping Bag tells you one obvious thing about it in its name – this sleeping bag is incredibly light. With a fill weight of under one pound, and a total carrying weight of under 2 pounds, this down sleeping bag compacts into a tiny package that is extremely convenient to bring anywhere, and is the lightest sleeping bag on this list overall. But the North Face Superlight 15 isn't just a lightweight bag; it's a super warm, super durable sleeping bag that can handle the most extreme conditions you may encounter while camping.
The North Face Superlight 15 is insulated with incredibly warm, water-resistant 800-fill down, complete with additional water-resistant Neovent Air protection around the head and feet to help keep moisture out at every turn. Rated for temperatures that get as low as 15 degrees Fahrenheit, the Superlight 15 can keep you cozy and protected on the coldest nights that most of us ever find ourselves camping in. However, the North Face Superlight 15 also has the added bonus of being well-suited for warmer weather as well, as the ventilation system on the head box and foot area allows the bag to remove excess heat and breathe when you're getting overheated on warmer nights.
This sleeping bag is not the roomiest bag we've mentioned, nor is it the cheapest, but it provides multi-season performance in a wide range of climates in a way that the majority of sleeping bags simply cannot. It will keep you toasty when it's freezing outside, and it will cool you down when the thermometer begins to climb upwards.
If you want a great, durable down bag that will keep you happy all year round, learn more about the North Face Superlight 15 here!
Now that you have our picks for the best sleeping bags of the year, go out and get the one that's right for you! Your camping trips will be much more comfortable for doing so.