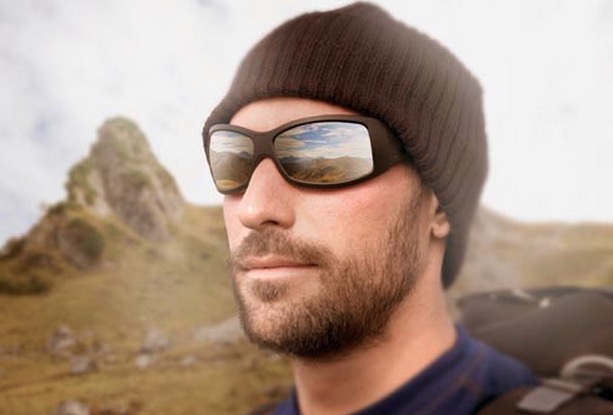 The Best Sunglasses for Backpacking and Camping
When you're out in the wilderness, your eyes are definitely going to need extra protection – both from the sun and the elements. If you head into the backcountry without a solid pair of shades to safeguard your eyeballs, you will be making a huge mistake.
When outside for extended periods of time, your eyes are exposed to a lot of harmful UV rays, and without sunglasses, all of this sun can start to do damage. This is even more important if you are out in the snow, as the UV light bouncing off of snow makes the rays doubly harmful.
To combat this problem, you will need a pair of polarized sunglasses that block UVA and UVB rays and reduce glare. However, this is not the only consideration for picking out the perfect pair of hiking or backpacking sunglasses.
If you are out in the backcountry, you will also need a pair of sunglasses that are rugged, durable, and equipped to handle dust, debris, and shock. You will want a pair of shades that are scratch and shock resistant, and that fit to your face snugly, making sure that no debris make their way around the glasses and into your eyes.
The five sunglasses featured here are built to withstand anything the outdoors can throw at them, and they will ensure that your eyes are well-protected during any adventure in the wild.
Spy Cutter Sunglasses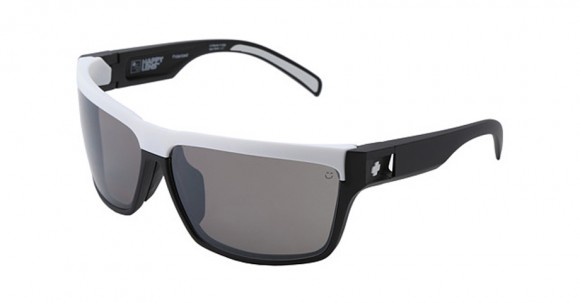 The Spy Cutter Sunglasses are Spy's most durable pair to date, and are specifically designed to help you remain comfortable and protected from the elements, with a wide, retro-inspired style that shields the entirety of your field of vision.
Using Spy's "Happy" lenses, the Cutter Sunglasses also allow for great vision clarity and depth perception, making sure that you don't sacrifice any vision while wearing them. These lenses serve to let in good, long-wave blue light, promoting balance in the body's circadian rhythm, while blocking 98% of the sun's harmful UV rays. Spy's signature Trident polarization also reduces glare, keeping your eyes free from harsh light exposure.
The Cutter's frames are constructed out of Grilamid nylon, giving you flexibility and durability for high-impact activities. The glasses also feature an ability to swap lenses in and out quickly and painlessly, should you need to.
You can learn more about the Spy Cutter Sunglasses here!
Poc Do Flow Sunglasses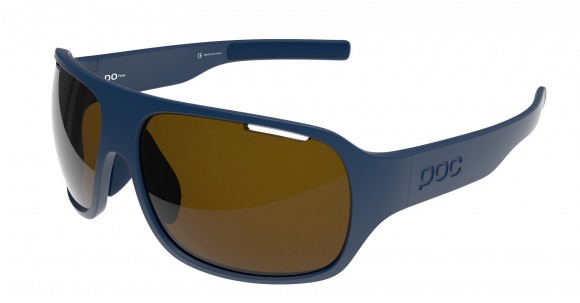 The Poc Do Flow Sunglasses were recently picked as Gear Institute's top pair of shades for outdoor activities, and we are also big fans of these excellent sunglasses.
These sunglasses are a great value at just under $170, and lack none of the necessary features for outdoor adventure. The Poc Do Flow Sunglasses are made to be incredibly lightweight and comfortable, also using Grilamid nylon technology.
With wide lenses and full-eye coverage, the Poc Do Flow Sunglasses will not limit your usual field of vision at all. These shades also feature anti-fog technology and hydrophilic nose and temple pads, ensuring that they will not start to slide down your face when you start to work up a sweat.
Naturally, the Poc Do Flow Sunglasses also protect incredibly well against UV rays, and their lightweight, flexible design allows them to withstand a little bit of wear and tear.
Check the Poc Do Flow Sunglasses out here.
Oakley Radarlock Path Sunglasses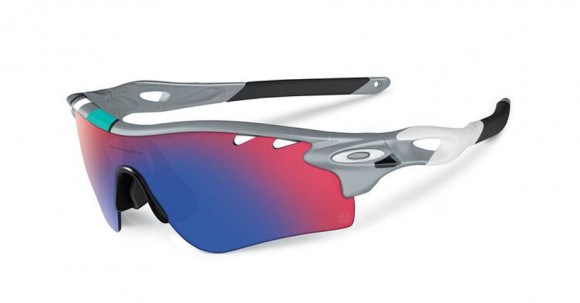 The Radarlock Path Sunglasses from Oakley are the latest in the line of excellent Oakley sport sunglasses. These shades have been called the "quintessential sport sunglasses" due to their excellent design, which is very well-suited to active, outdoor lifestyles. The Radarlock Path Sunglasses are incredibly lightweight, durable, and flexible, providing unparalleled comfort and performance.
These sunglasses also feature O-matter polycarbonate lenses, which make them virtually indestructible. The frames on the Radarlock Path Sunglasses are ultralight and will feel like you don't even have anything there.
The lenses on these shades also span pretty much your entire field of vision, and protect against 100% of UV rays.
If you're looking for one of the best pairs of shades from an industry-leading company you know you can trust, you'd be hard-pressed to find anything better than the Oakley Radarlock Path Sunglasses.
Costa del Mar Harpoon Sunglasses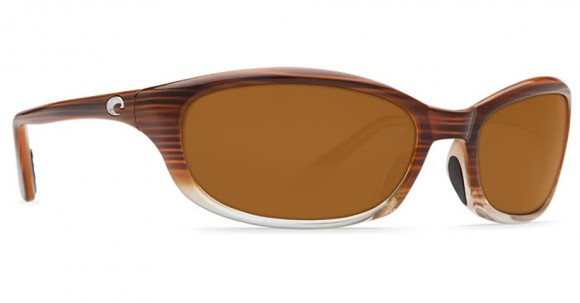 Whether you're out in the snow, trekking across blinding sand, or out on the water, the Costa del Mar Harpoon Sunglasses have got you covered.
Featuring polarized lenses that eliminate 100% of glare and 100% of UV rays, the Costa del Mar Harpoon Sunglasses are able to effectively handle situations which would be downright blinding for your unprotected eyeballs. The plastic, flexible Costa lenses come in several colors and styles, all of which are perfect for high-impact sports and harsh light.
These sunglasses are crafted with incredibly lightweight TR90 nylon, and feature an ergonomic, close wrap around your head, keeping them snug but comfortable as you move around doing whatever it is you please. The hydrophilic nose and temple pads are designed to grip even better when you sweat, ensuring that the shades stay in place during times of physical exertion.
If you like what you hear, check out more specs on the Costa del Mar Harpoon Sunglasses here!
Julbo Bivouak Photochromic Glacier Sunglasses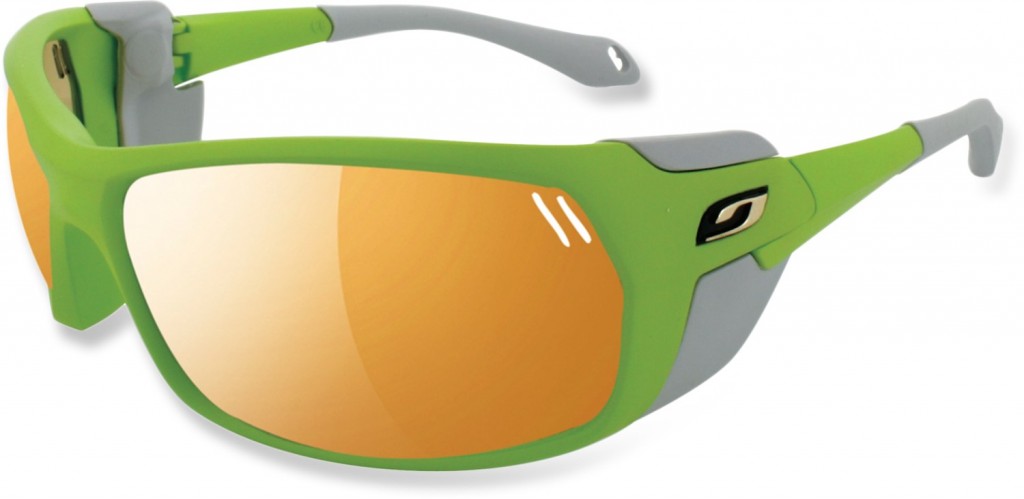 As the name implies with the Julbo Bivouak Photochromic Glacier Sunglasses, the shades feature photochromic lenses, which means that they will allow you to adjust to any lighting flawlessly – from cloudy, dreary lighting on the mountain to intense scorching sun in the desert.
The patented Zebra NTX photochromic lenses will respond to the changing light conditions as they occur, lightening in darker conditions and darkening when the light gets bright. This is a big advantage if you're on a trip outdoors where unpredictable weather and rapidly-changing conditions can be an issue.
The polyurethane lens material also ensures optimum vision clarity, and NXT lenses are all scratch resistant and impact resistant, making them ideal to wear while doing any number of strenuous outdoor activities.
The Julbo Bivouak Photochromic Glacier Sunglasses were designed with mountaineers in mind, and are up to the task of handling any conditions. If they sound like the right sunglasses for you, learn more about them here!