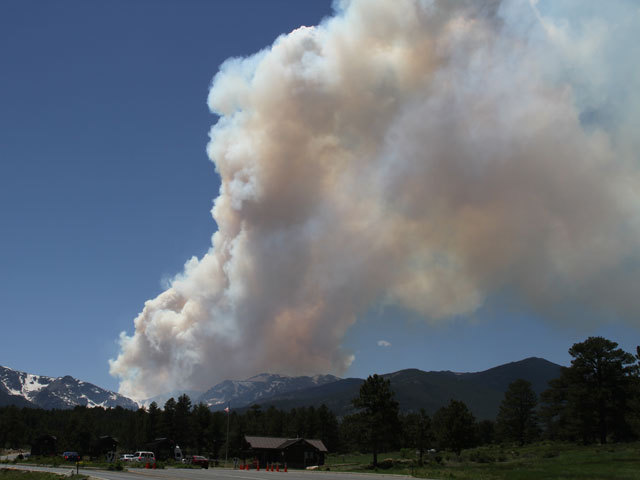 In as little as 24 hours, the Big Meadows Fire in Rocky Mountain National Park has grown to 400 acres.
Colorado has quickly become a timber box with oppressive heat, strong winds, extremely dry weather and pine beetle killed evergreens.
This is sadly becoming a familiar story as last year Colorado was ablaze from Fort Collins down through Colorado Springs.
How The Fire Began
The Big Meadows fire began Monday afternoon when lightning struck Big Meadows, which is located only 4.5 miles from the Green Mountain Trailhead. This is on the western side of Rocky Mountain National Park and only a few miles north of Grand Lake. While the East side is more popular for tourists, the west side is the place us locals like to play.
Here's a map of the area with the A marker pointing out Big Meadows, where the fire began.
What Is The Impact So Far
So far, 5 trails are closed int he area: The Tonahutu Spur Trail, Gran dLake Lodge Spur Trail, the lower Tonahutu Trail, the Green Mountain Trail and the Onahu Trail.
Normally, firefighters will let natural fires, such as this, burn out to prevent larger fires in the future. However, due to stretched resources (2 larger fires have already sprung up), our firefighters aren't taking any chances and are instead fighting this fire to prevent further damage.
Here's the big problem: Colorado is experiencing a massive pine beetle epidemic. Pine beetles are killing our evergreens at an incredibly rapid clip, causing the trees to die and be perfect fuel for our fires. Add in climate change causing us to have drier winters and hotter summers and all of a sudden you have a recipe for disaster.
The last few years we've seen very dangerous fires in 3 of our largest cities: Homes were destroyed last year in Colorado Springs and the outskirts of Fort Collins, while a fire came precipitously close to destroying homes in Boulder.
If you're hiking in Rocky Mountain National Park this weekend, be sure to stay safe and stay in the eastern portion of the park.
Photo Credit: Kris Hazelton/Estes Park News