I've backpacked across 3 continenents & in all 4 seasons & trust me: Buying the best sleeping pad for your needs is one of the 5 most important gear choices.
Need some help picking out your very first sleeping pad, or maybe a refresher before getting a new one? Here's what to look for, where to buy them, and a few of my picks for the best models out there.
The weather's getting warmer now (in some parts of the country…), and while a cold night doesn't deter certain weekend warriors among us, it's only now that most of us are beginning to pine for a night under the stars.
That's right! For those of us not pinned under the icy thumb of the Polar Vortex, it's camping time!
And that means it's time for you to pull out your gear and start making lists of what needs adding or replacing.
One of the things you really ought to consider is whether or not it's time for a new sleeping pad. And while you're at it, you might as well find the perfect one.
Buying the Right Sleeping Pad is More Complex Than You'd Think
A lot of people I talk to who aren't avid hikers and campers have no idea there's more than one type of sleeping pad out there, let alone that you should actually use one with your sleeping pad.
But there are tons of options! And YES it's important!
Depending on what type of camping you like to do, there are plenty of unique choices for you.
Cold-Weather Camping — you need a pad that offers comfort, yes, but even more importantly is killer insulation
Backpacking — you usually want a nice combination of comfort and insulation, with neither one making the pad too heavy or unwieldy
Car & Family Camping — you can have your pick, since you generally won't be carrying it too far from your vehicle
Light Hiking — you want something that's ultra lightweight above anything else
Insulation and comfort are by far the most important factors when choosing the perfect sleeping pad. But you also have your choice of style (self-inflatable, foam, air) and of course the price is a detail that can't be ignored, either!
Once you've picked out the type of pad you want, you'll absolutely want to make sure you're…
Choosing the Right Sleeping Pad Size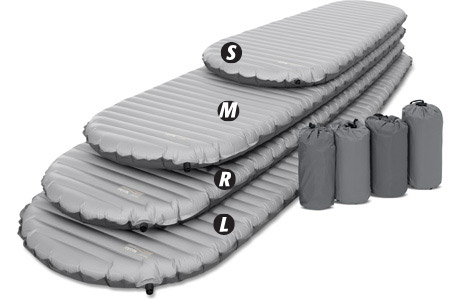 First of all, a lot of sleeping pad manufacturers will make separate models for men and women, with the latter offering more insulation at the feet and hips and sometimes even shaped differently to better conform to the female frame.
Once you've got your gender down (hopefully that didn't take too long!), it's time to move on to length and width.
In terms of length, there are three general types of sleeping pad:
Regular — these are the most popular pads, usually measuring 72″ long and capable of padding from a camper's shoulders to their feet
Long — if you're a bit taller, consider the "long" pad which generally goes up to 78″ long
Three-Quarter — Also called "short," these pads are typically about 48″ long to cover the mid-section and upper legs and are much lighter than "regular" or "long" varieties
Then you need to think about width, even though there are less options here. Pads are usually built about 20″ wide, able to keep most folks warm no matter their size. But if you're a nighttime shucker and jiver, you can find pads that are even wider, up to about 30″.
Just don't make the mistake of overlooking the size of the pad. Most folks just go for the regular-sized one because of its name ("What? I'm not irregular!"), but you're smarter than that. Find a pad that suits your needs, and maybe you'll avoid having to buy a new one next year!
Finding the Best Sleeping Pad Model for You
You can find sleeping pads at just about any retailer that specializes in outdoor gear, but if you want the biggest selection of the best models, try REI or Backcountry. I guarantee you'll find what you're looking for there.
And just in case you want a little nudge in the right direction, here's a brief peek at three of the best sleeping pads available right now.
Therm-a-Rest NeoAir XTherm Sleeping Pad ($179.95 – $219.95)
Lightweight, warm and super comfy, the Xtherm has an intelligently-designed baffling that offers over 100 internal cells and features four separate layers of cushy barriers. It's an inflatable air mattress pad good for all seasons.
This sleeping pad is designed for lightweight backpackers who aren't idiots (aka don't want to sleep on an egg crate)
Exped DownMat 7 Air Pad with Pump ($199 – $229)
Another air pad, the Exped DownMat 7 features a built-in pump, damage- and UV-resistant materials, and an un-slick coating that keeps your sleeping bag from slipping off the pad in the middle of the night.
Therm-a-Rest LuxuryMAP Sleeping Pad ($99.95 – $159.95)
Another entry from the fine folks at Therm-a-Rest, the LuxuryMAP is better suited for car and family camping because of its heavier construction, but every ounce of that goes into making it one of the most comfortable pads you'll ever catch 40 winks on.
It's also self-inflating, giving you one less chore to worry about when you make camp.
Picking the perfect sleeping pad isn't exactly hard, but it's definitely important. So make sure you spend at least a little time researching which will be the best for you. That way you can stay warm and comfy throughout the night, getting that much-needed rest to start the new day with energy and verve!
Do you have anything more to add? How do you go about picking your perfect sleeping pad? What's your favorite model?