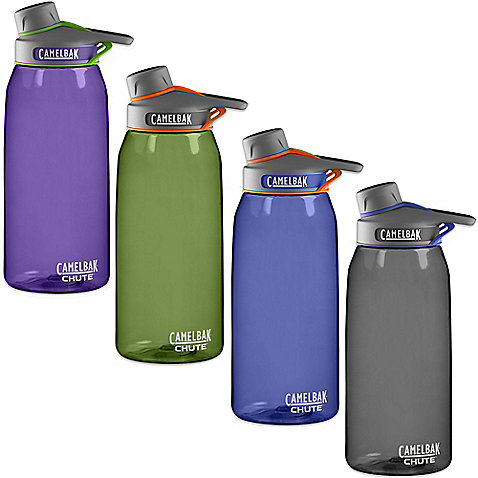 The CamelBak Chute
When you're trekking around in the great outdoors, one thing you can absolutely never be without is an ample amount of water. Hikes and backpacking trips can be much more arduous than anticipated, and if you ever get lost or injured, it becomes even more critical.
Accordingly,  it's necessary to have an excellent water bottle that keeps you hydrated and charging throughout all your excursions. On that note, I'd like to highlight one of my favorite water bottles to date – the CamelBak Chute.
The CamelBak Chute has a myriad of features that make it an ideal water bottle for use in the outdoors. First of all, the Chute holds a full liter of water, which is an amount that could sustain you for a while.
Furthermore, the Chute encourages chugging and staying hydrated with its wide, angled mouth, allowing lots of water to flow into your mouth with every sip. The trademark wide mouth also mades this bottle easy to clean, refill, and add ice at any time you may want to cool your beverage down a little bit.
The Chute features a quarter-turn lid that keeps your water from leaking when you're not drinking, and provides quick, easy access when it's time to take a sip. Like all CamelBak products, the bottle is made of materials you can trust; in the case of the Chute, a BPA-free polycarbonate.
The CamelBak Chute vs. The CamelBak Eddy
So how does the Chute compare to the more ubiquitous CamelBak Eddy? For outdoor activities, I think it's superior, but a lot of it comes down to personal preference. For people who love the bite valves that CamelBak has made so popular, the Chute might not be quite as appealing.
However, for outdoor activities in which hydration needs to happen quickly and efficiently, the Chute is the better option. The Chute allows you to drink more, and encourages you to drink more, with more water dispensed per sip than the Eddy. The Chute is designed for you to chug that water down, something your body will undoubtedly thank you for after you've been playing outside for hours on end.
The two bottles can hold an equal amount of water, but the Chute's convenience makes it more ideal for strenuous physical activity. That doesn't mean you shouldn't pick up a CamelBak Eddy for the more mundane parts of your life, when you're not out exploring the outdoors.
All told, the CamelBak Chute is a fantastic water bottle for all sorts of outdoor uses, whether you're backpacking, hiking, skiing, snowshoeing, or partaking in any other backcountry activity.
Stay thirsty, my friends.
Where to Buy
Help support Glacier National Park Travel Guide by purchasing the CamelBak Chute through one of our partners: