About Cobalt Lake Trail
Trail Highlights — Lake views, mountain vistas, waterfalls, and alpine flora
Roundtrip Length — 12 miles
Elevation Gain — 1,400 feet
Peak Elevation — 6,597 feet
Parking Lot — Yes, on North Shore of Two Medicine Lake
Difficulty — Moderate
Region — Two Medicine
Availability of Water — Yes
The hike to Cobalt Lake is a really great, loping trek that takes you a pretty good distance (12 miles, roundtrip) but won't wear you down too much if you're even moderately experienced in mountain hiking.
The elevation gain on this journey is 1,400 feet, which really isn't too bad, especially stretched out over 6 miles, but it might be too much to ask of especially young or old hiking buddies.
Your first reward of the hike is given to you before you even start! Blessed by the mountain gods for making the choice to hike to Cobalt Lake (perhaps…), you get an awesome view of Two Medicine Lake– which is where the trail begins–and the mountain masses that tower over it, including Sinopah Mountain, Flinsch Peak, and Lone Walker Mountain.
So get out your cameras before you hit the trail, because you'll have some excellent shots awaiting you from the first step.
The real trail to Cobalt Lake begins at the South Shore of Two Medicine Lake. I know this is a long hike, but if you've got the time, take a side detour down to Paradise Point, which is just a quarter-mile from the trail head. This is an awesome little beach that's perfect for taking in Two Medicine Lake and Rising Wolf Mountain.
All right, as if you haven't had enough photo ops already (and we just started!), the next mile or so back on the main South Shore trail will take you amongst a series of beaver ponds.
These are cool in and of themselves, but what makes them super cool is that moose often like to stop at these little bodies of water for a cool drink. This means that if you're lucky, you might snag a pic of one of those gigantic and glorious animals.
Another mile or so along the trail will take you to a second potential side excursion, this time to Aster Falls, another great photo opportunity.
About 2.3 miles further along the main trail, you'll run into a fantastic little suspension bridge. This thing can make newbies a bit nervous, but I guarantee you that thing is perfectly walk-able. Just keep your eyes on the prize, walk slow and steady, and stick to the middle–you'll be on the other side in no time.
When you hit the Two Medicine Pass Trail intersection after about two and a half miles of hiking, you'll want to hang a left to head towards Cobalt Lake.
Other directions will take you to the Western Shore of Two Medicine Lake or to Upper Two Medicine Lake or to Twin Falls. Lots of choices–all of which offer amazing views–but let's stick to the task at hand: Cobalt!
In another mile and a half you get to another foot bridge–this one much less nerve-wracking than the suspension guy from earlier.
Just beyond here is the awesome Rockwell Falls, which is actually two waterfalls in one. Take some pictures and, if it's a warm day, enjoy the cool spray that may find its way to the trail.
It's been a pretty gradual increase in elevation up to this point, but past Rockwell Falls, it's going to start getting a bit steeper. You'll hit a series of switchbacks next, taking you up the valley wall between Sinopah Mountain and Painted Teepee.
The higher you go, the more the terrain changes. It goes from forested to stunted–the area is now populated by dwarf trees, shrubs, and wide-open meadow lands.
After a fairly steep climb, you'll hit the top of your elevation gain. The last half-mile is a real easy saunter down to the shores of Cobalt Lake.
This beautiful body of water is situated just below Chief Lodgepole Peak. This is a great area for a picnic, a nap, a game of cards, some meditation, a deep conversation, or (you guessed it) even more picture-taking.
They should really change this hike's name to the Picturesque Trail, because every twist and turn brings you another gorgeous vista worthy of a framed photograph.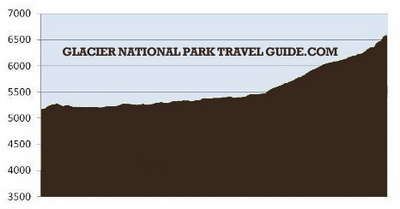 Cobalt Lake Elevation Profile
Additional Cobalt Lake Photos from My Collection
Additional Glacier National Park Hiking Info
Check out other Glacier National Park hiking trails, or head back to the hikes in the Two Medicine area.
Return home to
Glacier National Park Travel Guide