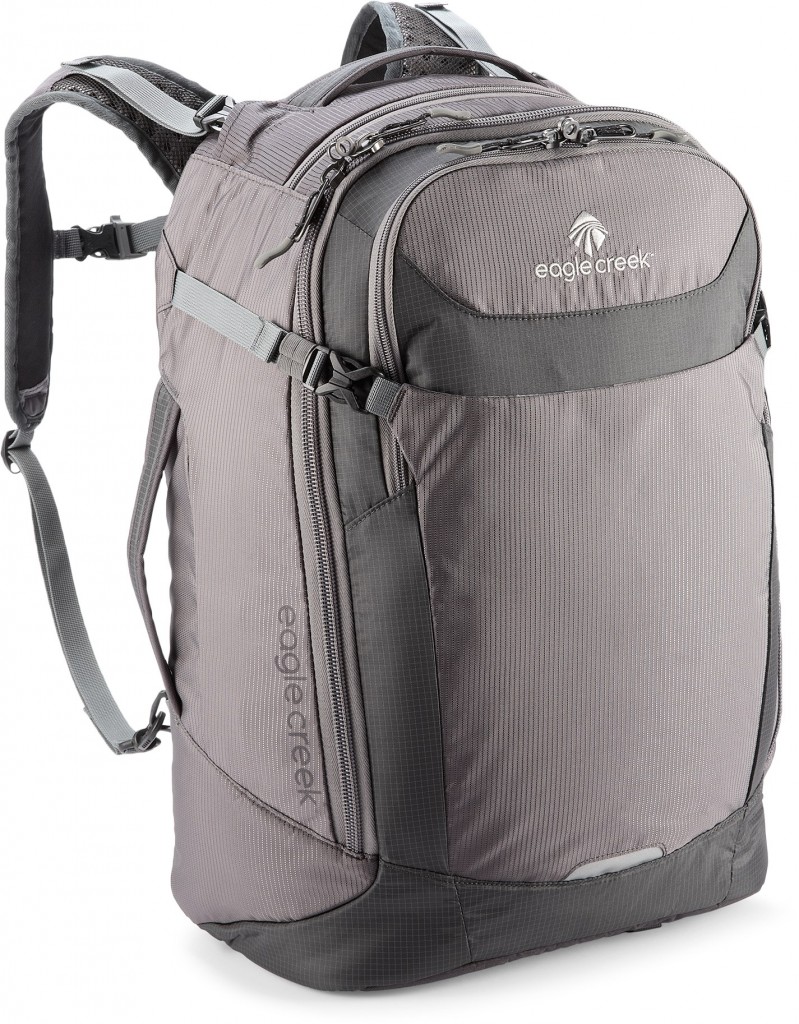 In the world of backpacks and bags, there are many different routes you can go. You can get a bag exclusively for backpacking, and you can get a backpack exclusively for day to day life. And then you can get another bag exclusively for travel.
However, if you like to go out-of-state for some of your backpacking trips, you might as well have one bag that can cover all of the different needs you might have. The EC Lync System Collapsible Wheeled Luggage from Eagle Creek is one such bag.
Eagle Creek EC Lync System Collapsible Wheeled Luggage
This bag from Eagle Creek is amongst the most versatile bags you can possibly buy, and can fit basically any need you'd ever have for a pack on any sort of trip, whether you're heading into the backcountry or into another country.
The EC Lync System bag can function both as a wheeled, carry-on piece of luggage, and as a smaller, relatively lightweight backpack. It can also be completely dissembled for incredibly compact storage when it is not in use, so the bag won't take up any of your precious closet space in between trips.
If you intend to use the EC Lync System as traditional luggage, you can accommodate plenty of stuff in the 14 x 22 x 9 interior, which can fit 43 liters of volume. That much room should be plenty for most travelers, and it all comes in a convenient, wheeled bag that is small enough to count as a carry-on on most airlines.
However, if you want to use the EC Lync System bag for camping, backpacking, or more everyday uses, the wheels and pole are collapsible, turning the wheeled luggage into a sturdy, 10.5 x 20.5 x 8 backpack. In this form, the EC Lynch System can still hold the same amount of volume, sacrificing only the superfluous features necessary for luggage when it transitions to a backpack. This allows the bag (which is under 5 pounds even when fully extended for luggage purposes) to be much more lightweight for when you need less of a burden.
Check the EC Lync out in action below:

As you can see, the EC Lync System comes with a plethora of other features that make it a great, versatile bag as well. The extra straps make the bag portable in a number of different ways, and tuck away neatly when you don't need them. The telescoping handle allows you to adjust the bag to a comfortable height at all times.
Even more importantly, the bag is made of a 200-denier nylon/200-denier polyester helix dobby/450-denier helix polyester blend, which allows it to have a very high strength-to-weight ratio. Eagle Creek products are notoriously durable, and this bag is no different. The Eagle Creek EC Lync System Collapsible Wheeled Luggage should be able to withstand whatever sort of challenges you throw at it.
No matter what you're looking for in a bag or backpack, odds are that the EC Lync System is going to get the job done. This bag's versatility is second to none, and it will serve you well whether you are traveling, backpacking, or simply riding your bike to work. The possibilities are pretty much endless.
Where to Buy
Help support Glacier National Park Travel Guide by purchasing the Eagle Creek EC Lync System through one of our partners: