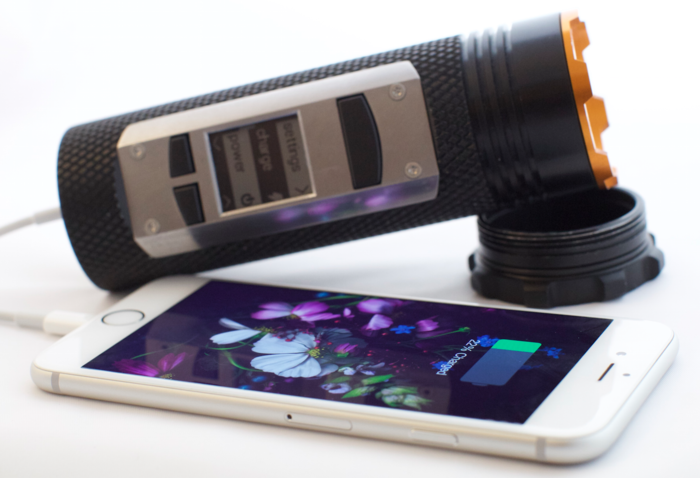 You can put the word "smart" before nearly anything these days: smartphones, smartwatches, smartwool, and so forth. But have you ever heard of a smart flashlight? Thanks to the Kickstarter-funded Fogo flashlight, this is now a thing.
If you're a little dubious about the concept of an intelligent flashlight, we don't blame you. But the Fogo is actually an incredible piece of technology that will eventually make adventures in the backcountry a whole lot easier.
Fogo: The Ultimate Adventure Gadget
First and foremost, you can tell that the Fogo is a flashlight. And when you need to use it as a flashlight, it does a very good job. The Fogo features an automatically adjusting LED beam that can put out 1,000 lumens, making it bright enough to light up the darkest nights. At only 5.5 inches in length, and in a lightweight aluminum tube, this flashlight is a great choice for the lightweight backpacker. But the Fogo is so much more than just a flashlight.
The Fogo will help you cut down on a whole host of items you'd usually bring into the backcountry with you. There is no need for a separate GPS device, as the Fogo has a native GPS system on board. The GPS system works with a smartphone app that lets you plan routes or map points of interest, via Bluetooth or USB. You can also navigate the area using the small screen on the Fogo, if you prefer. A compass is also displayed on this part of the Fogo.
If you want to communicate in the outdoors, when cell service is somewhat limited, you might want to bring a walkie talkie – but why do that when you already have a walkie talkie built into your flashlight? For $50 extra, the Fogo has an add on that turns it into a walkie talkie, allowing voice and text message communication with other Fogos. Furthermore, the Fogo will put out a distress signal to the rest of your group if its sensor detects a hard fall.
If you find yourself needed to charge your phone or other devices while camping, the Fogo has got you covered there too. The cap you can add to the Fogo provides a USB charger, so you can juice up your electronics when the battery is running low.
Finally, the Fogo also can sync with your phone via bluetooth to enable it to receive your text messages and alerts. Take a look below to see how all these incredible features fit into such a small, lightweight object: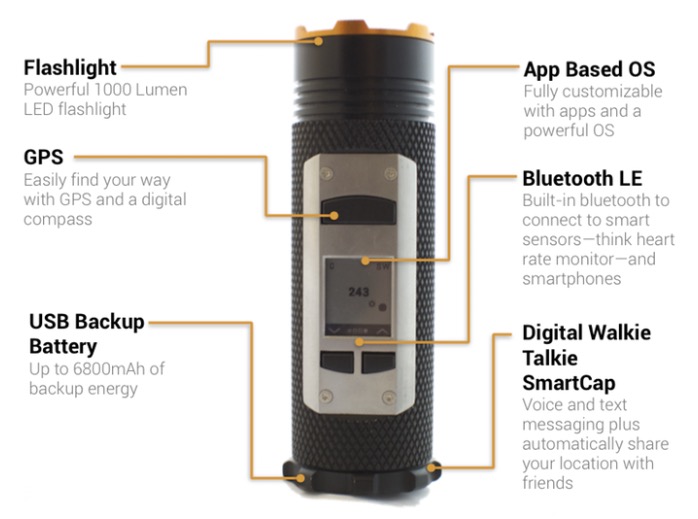 In addition to providing all of these features, the Fogo is also an incredibly adaptable tool for nearly any outdoor pursuit. It can be used as a handheld flashlight, or strapped to a bike. The Fogo is incredibly durable, and will survive all of the rigors you put it through.
The Fogo is not a reality quite yet – it's Kickstarter funding is still underway. But with a product this innovative, it seems likely that the Fogo will reach its fundraising goals.
If you want to help make this exciting new concept a reality, head on over to Kickstarter and join the cause!