A group of dedicated Montanans is about to make their dream come true: a paved bike route from Coram to West Glacier. The Gateway to Glacier Trail project was conceived three years ago and is very near to reaching its fundraising goal.
When the community-led organization gets their money, they'll be able to start construction on the 6.8-mile trail that will allow pedestrians and cyclists to cruise happily into Glacier National Park without having to worry about cars coming too fast around blind curves.
But they still have a few more dollars to raise before any ribbons can be cut.
About the Gateway to Glacier Trail Project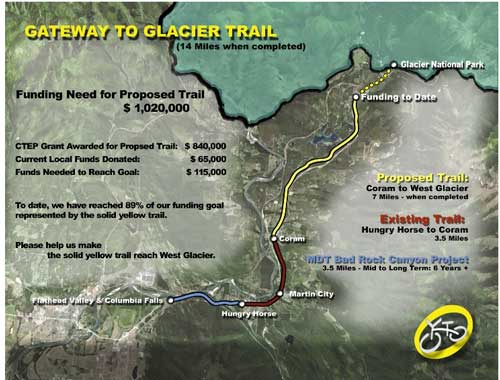 The Gateway to Glacier Trail project was officially formed in the summer of 2010 under the guidance of Valerie Parsons, a transplant from Kalispell who'd spent 17 years working on Rails to Trails projects. Folks in the Canyon have been talking off-handedly about how great it would be to have a bike path from Coram to West Glacier since the 1980's, but no one knew how to get it done until Parsons came along.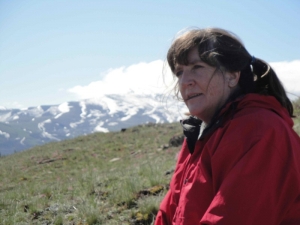 With her experience in fund-raising and dealing with county planning and zoning committees, Parsons was able to gather a volunteer team from Coram, Hungry Horse, West Glacier, Columbia Falls, Martin City and other local communities to work with her to make this daydream  reality.
The Gateway to Glacier Trail project has two phases. Phase 1 deals with the 6.8-mile trail from Coram to West Glacier.
When Phase 1 becomes a successful reality, Phase 2 will begin: a 3.5-mile extension from Hungry Horse to Bad Rock Canyon. There's already a path that exists between Hungry Horse and Coram–the Gateway to Glacier Trail will just extend it farther south and bring it all the way into GNP.
Right now, they have funding ALMOST all the way. As you can see in the map above, there's only a TINY drop left to go! (About 10%).
Parsons and the Gateway to Glacier Trail team have many reasons for wanting to build this bike path. One reason is simply to allow people to enjoy the beauty of an outdoor ride into Glacier National Park. Another reason is that local businesses may get a boost in customer patronage with the added traffic. But the most important reason of all is to make it safer for pedestrians and cyclists to walk/ride the route. Better than 12,000 cars travel along that stretch of Highway 2 each year. That's not spectacularly heavy traffic, but it's more than enough for people to be concerned with cyclist safety.
Not everyone in the community was sure Val Parsons could deliver what she promised. In an article for ConserveMontana.org, Terry Divoky recalls thinking how he wouldn't break Val's spirits, but rather "let time show [her] she was being naïve."
But with total community support, a dedicated website and Facebook page, a leader who knows her way around a fundraising campaign and a public willing to shell out a few bucks for a good cause, Divoky and his peers are seeing just how much they underestimated Parsons and the Gateway to Glacier Trail.
According to the project's website, they need a total of $1,020,000 and they've raised $905,000! UNREAL (well, not really). The dream is almost a reality, but it still needs your help and support.
How You Can Lend a Hand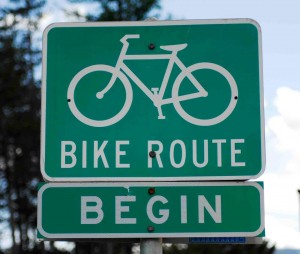 There are many ways you can help make the Gateway to Glacier Trail dream come true. If you'd like to donate your money or your time as a volunteer, check out their website at GatewaytoGlacierTrail.com. The group is a 501(c)3 non-profit organization, so your donations are tax deductible.
You can also help spread the word by liking their Facebook page and talking up the issue with family, friends and neighbors.
If you'd like to help out in a much more fun and sociable way, head to the Heaven's Peak Lodge & Resort in West Glacier on July 13. The Gateway to Glacier Trail crew will be hosting a Pints-for-Paths Brewfest fundraiser. The gathering will feature drinks from more than 10 breweries, live music, awesome food, raffles, prizes, and great fun with great people. Tickets are $15 in advance or $20 at the door and a majority of the proceeds will go directly to the project.
Everything about the Gateway to Glacier Trail project is excellent. It'll provide a safer route for pedestrians and cyclists who'd rather not drive to West Glacier and help out local businesses with increased traffic. What's not to love?
Sources:
Photo Credits: Gateway to Glacier Trail Facebook Page (Logo and Road Sign) and Terry Divoky (Portrait of Val Parsons)