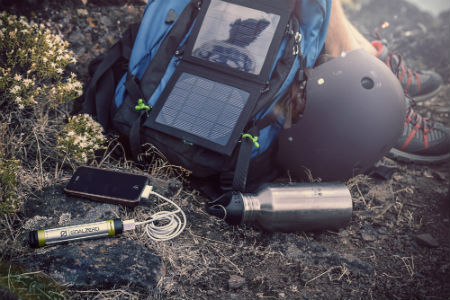 Have you ever wished for an electrical outlet when camping, hiking or climbing?
Of course you have. We all have.
Most of the products we buy to fulfill this wish don't live up to our expectations, though. There's a lot of solar-powered crap out there that does little more than drain our wallets and savings.
Wait. Turn around. Come back.
Because I'm here this week to tell you that the wish has finally been truly, totally, and forever fulfilled.
For real.
Goal Zero is a company that specializes in the creation of solar kits to take with you wherever you go. From car rides to mountain climbs, Goal Zero has a solar energy recharging machine that will fit in your pocket, in your pack, or in your car, and charge everything you need charged quickly and efficiently.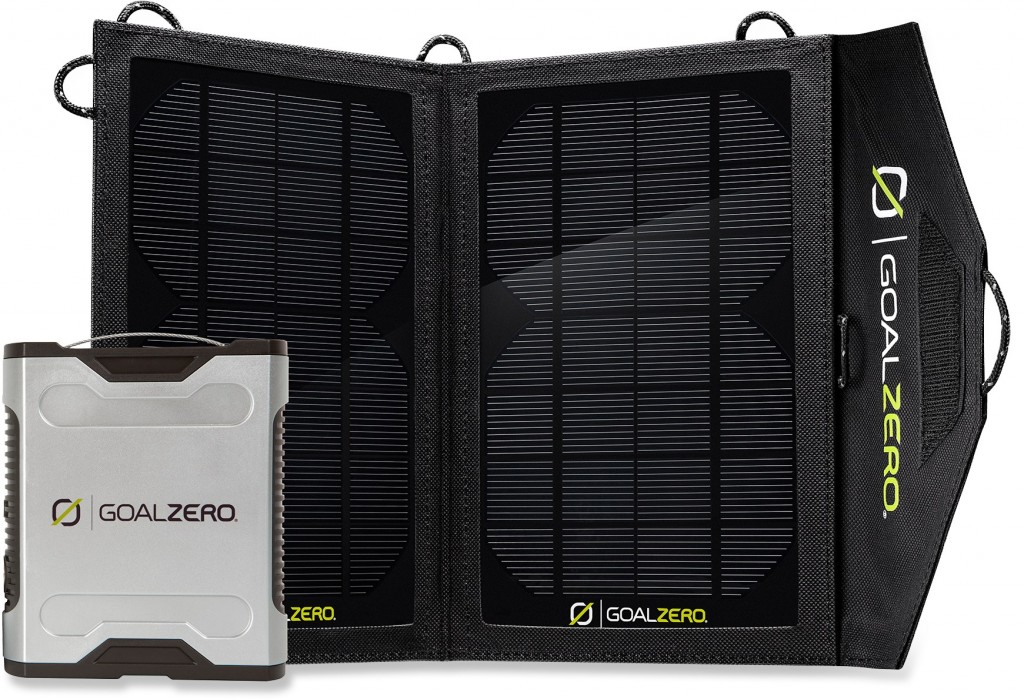 The Full Array of Goal Zero Solar Panel Kits
We've been burned so many times before by promises like this. But I'm telling you: Goal Zero won't burn you at all. It's as cool as cool can be.
The list of Goal Zero solar products is gigantic. I mean, seriously gargantuan. They have:
The full kits (like the Yeti, Sherpa, Escape, and more)
Several straight power packs (Switch, Guide, etc.)
Solo solar panels (Boulder, Nomad, etc.)
And they even offer accessories like portable speakers and USB lights.
Goal Zero is like a one-stop shopping destination for camping power. But let's zoom in on a particular product to give you a better idea of what you're getting.
Spotlight on Goal Zero Sherpa Kit
Let's highlight the Sherpa Kit, because it's perfect for backpacking and camping, especially in the sun-drenched West.
When juiced, the Sherpa kit is able to recharge any gear with AC, USB, or 12-volt connections. That means cell phones, tablets, laptops, iPods, cameras, and more.
The Goal Zero website (which has such a good-looking and user-friendly design, by the way) tells us that a fully-juiced Sherpa 50 kit will give…
1 full charge to a laptop
2 full charges to a tablet (like iPad)
3 full charges to an e-reader (like Kindle)
7 full charges to a smartphone
16 hours of life to an electric camp light (like Light-a-Life)
But you're probably thinking: Perry, that's all good and great, but these solar kits have to be charged! That's going to take forever when I get to the camp, and using my phone or laptop is what I want to do when I first get there! Come on!
An excellent point. And one that Goal Zero thought of, too.
For the smaller models like the Sherpa 50, the design of the kit allows you to attach it to your backpack so that you're charging it up during every step of your hike.
If you trek a full day, that thing is going to be more than ready to juice up your electronics by the time you make camp.
What Goal Zero Kit is Right for You
These things are super varied in size, weight, and shape, but there are certain models that are perfect for backpacking (like the Sherpa).
Others are bigger and better for car camping or for home (the Yeti), while others are even smaller and perfect for car trips or airplane rides (the Switch).
There's something for every occasion at Goal Zero. What's not to love?
Well, the only thing not to love, to be perfectly honest, is the price. These bad boys are expensive.
The Sherpa 50 Kits will run you upwards of $350 on REI, while a bigger model like the Yeti costs $1,800. Goal Zero products ain't cheap. But you know what? They ain't cheaply made, either.
These are high quality kits that do exactly what they say they do. And if you're a technology nut like me, you know how important it is to have a dependable power source on your camping trips. Well, this one is beyond dependable.
So, if you've got the money, I say go for it. It's a solid investment. If you don't have the money, I say save up for it. It's a solid investment.
Ambassadors
Goal Zero also has several ambassadors who promote their solar-powered products. You know, when they're not too busy being the baddest bad-asses in the world.
Check out this commercial with ambassador Alex Honnold, the world's most famous free-solo climber.
There isn't much to say about Goal Zero in it, but he's really free-soloing that skyscraper-sized rock. Really.
How Goal Zero Compares to the Power Traveler SolarGorilla and Solio Bolt Solar Charger
Nothing comes close to the efficiency, portability, and value of the Sherpa, Yeti, Boulder, Escape, etc. But to give you some perspective, let's pit it up against two competitors: the Power Traveler SolarGorilla and the Solio Bolt Solar Charger.
The SolarGorilla seems great for stationary campers. But it has none of the portable ease of Goal Zero.
It would be difficult to attach it to your backpack to charge while hiking, and if you carried it by its handles, it would be closed and impossible to juice up. The price is similar, but actually more expensive when you take into account its inefficiency as compared to the power of Goal Zero.
The Solio Bolt rarely works well, according to customer reviews:
While it's cheaper than the Goal Zero, you always get what you pay for. And when it comes to outdoor gear, I don't believe it's wise to skimp out. Faulty gear can make the difference between life and death in the wilderness.
Should You Splurge?
If you're an extreme wilderness adventurer and want portable power, a Goal Zero Solar Kit (particularly the Yeti), is the route to go.
I highly, highly, highly, recommend this product, from both a safety and all-around awesome perspective.
Interested in learning more?
Click here for REI's full selection of Goal Zero products.
What do you think? Would a Goal Zero kit be useful to you in the wilderness?