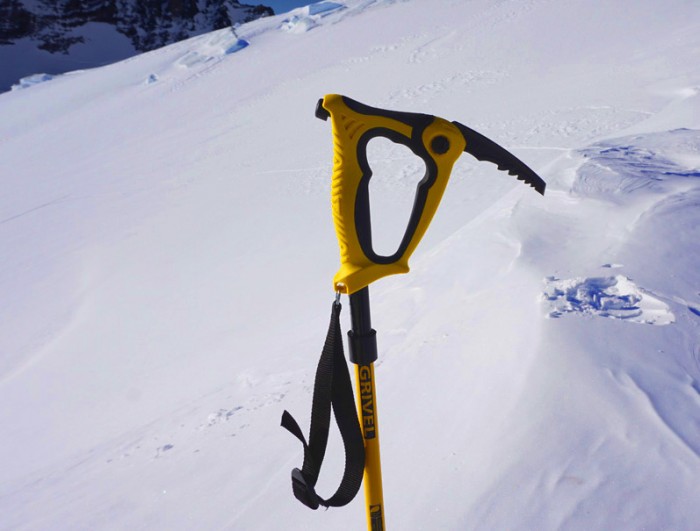 Grivel Condor Pole
If you ever head out mountaineering in areas where ice is an ever-present danger, you certainly understand the value of a quality pole. Whether you are ski-mountaineering or just hiking the icy summit of a towering mountain, there is always a use for a sturdy pole.
Another tool that you would need for these activities is an ice axe. If you start to slip when hiking around on icy terrain, an ice axe to stop your momentum can mean the difference between life and death in the mountains.
Without a doubt, a pole and an ice axe are two tools you have to have. Fortunately, thanks to the Grivel Condor Pole, you can have both in one!
The Grivel Condor is not the first pole/ice axe combo, but it does things a little differently than more traditional pieces of equipment like the Black Diamond Whippet Pole. While tools like the Whippet have an exposed ice axe, the Grivel Condor removes some of the danger of carrying around a large fixed blade. The Condor, instead, makes the ice axe blade component retractable, allowing it to fold nicely back into its knuckle guard handle.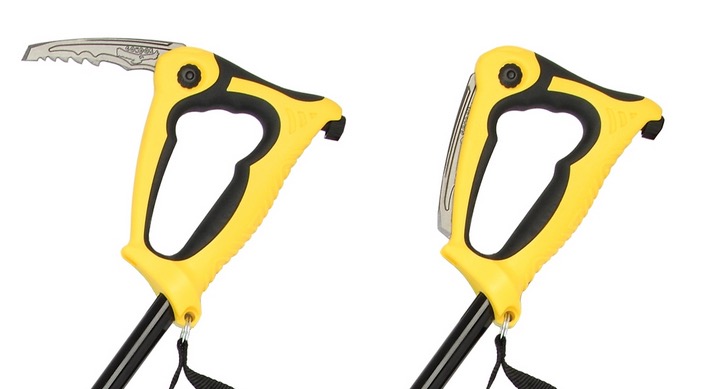 The Grivel Condor's design gives it several advantages over more established mountaineering poles like the Black Diamond Whippet. The first and most obvious advantage is the fact that with a retractable blade, you don't run the risk of stabbing yourself while the blade is tucked away. There is no reason to use an ice axe more than necessary when on the mountain, and the option to stow the blade when it is not necessary is a definite plus.
The Condor also features an ergonomically-designed handle that fits into your hands with more comfort than most of the other leading pole manufacturers. On the base of the pole, Grivel uses their patented "Saturn basket," which swivels around the pole's base, titling to match the angle of the terrain below. This pole is also telescopic, extending from 84-135 cm, and is twisted to lock into place at the desired height. The Condor is also just as light as the Whippet, as the Condor tilts the scales at just under 16 ounces.
If you're a mountaineer who finds himself on icy peaks with regularity, the Grivel Condor is likely a great choice for you. This pole is versatile, durable, and equipped for both hiking and ice climbing, and it could be a life saver if you ever find yourself sliding down the mountain.
You can learn more about the Grivel Condor and buy your own here!