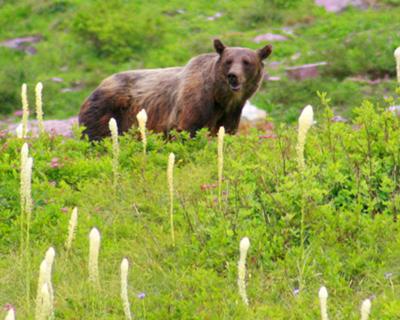 Grizzly near the Grinnell Glacier trail, Glacier National Park; August 2008
In August of 2008 my hiking partner spotted a grizzly while we were on the Grinnell Glacier trail in Glacier National Park, just below a waterfall that cools hikers off on hot summer days.
The bear was off the trail about 50 yards away and was busy digging and overturning rocks. It wasn't paying any attention to us. We stopped to watch and to allow time for a ranger-led hiking group behind us to catch up (safety in numbers and all that).
The bear didn't react to our presence and never posed a threat, although a couple of impatient dads put their young sons at risk by continuing to walk down the trail towards the bear rather than wait for it to move on.
---
In 2004, I was hiking alone on the heavily wooded St. Mary Lake trail in Glacier. Although I was making noise, the dense forest seem to swallow my periodic shouts of, "Yo, bear!"
I rounded a bend and my heart jumped into my throat as I saw a bear scampering down the trail away from me. All I saw was its hind end and I was unable to determine if it was a grizzly or a black bear. The bear jumped off the trail about 200 feet away and disappeared into the brush.
My heart continued to pound as I moved cautiously down the trail, shouting loudly and beating the vegetation with my trekking poles. I never saw the bear again.
---
In 2006 I was on the Highline Trail near its junction with the Grinnell Glacier Overlook spur trail in Glacier National Park. I heard shouting above me and looked up to see a grizzly sow and her cub foraging among the rocks near the trail.
Three hikers descending from the overlook were yelling at the bears in an unsuccessful effort to move them away from the trail. Instead, the bears ambled right onto the trail and forced the hikers to retreat over a low ridge, where I lost sight of them.
After reaching the chalet I was able to spot the hikers with binoculars. They were detouring well off the trail to avoid the mother bear and her cub.
---
Also in 2006, I saw half a dozen grizzlies in a single day, all in the Many Glacier region of the park. These included a couple of bears grazing high above the Grinnell Glacier trail, several in the far distance on the slopes behind the Swiftcurrent Motor Inn, and a sow and cub on the opposite shore of Fishercap Lake, where I'd gone in hopes of seeing moose.
None of these sightings were anywhere close enough to pose an immediate danger.