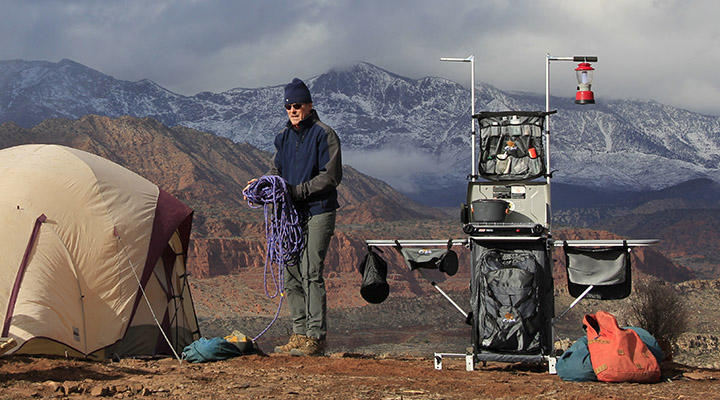 When I saw this story on the wire, my jaw dropped to the ground and I salivated over this uber camp kitchen by Grub Hub. This baby has been in the making for 8–yes, EIGHT–years and it's finally patented and ready to hit US shelves. Basically, if you're a car camper and love cooking **raises hand**, this seems like an invention that you can't live without.
Considering we recently added a little tot to our family, we'll be doing a lot more car camping lately. And that means I'm probably gonna buy one of these bad boys when they're released.
Grub Hub Camp Kitchen Overview
OK — first off, this camp kitchen has more room than the Weber grill we use in our backyard. Seriously.
Here's the nitty gritty on the Camp Kitchen:
9 square feet of table space (WHAT?!? Really. It's time for me to throw my Weber on Craigslist and use this in my backyard)
It supports almost any 2 burner camp stove
A paper towel holder
Collapsible kitchen sink (are you freakin' kidding me?)
Storage for your gear beneath the camp stove area
A raised tower to keep all your kitchen accessories within arms reach
It's portable and moves like a rolling suitcase in a steel cage
But since you know we love our video gear reviews, here's Grub Hub's owner speaking about the Camp Kitchen:
Will I Buy the Grub Hub Camp Kitchen?
I think so. It's $380, which isn't chump change. Before, when it was just Allyson, Lennon (our dog), and myself, it was no problem being creative with our cooking space. Plus, we did more backpacking than car camping.
But now with the little rugrat around, backpacking has been put on hold for car camping. I could see the use for the Grub Hub Camp Kitchen, but I don't know if I can justify the price.
Learn more about the Grub Hub Camp Kitchen at GrubHubUSA.com.
Or you can purchase it at Amazon.com.
What about you? Do you think the Grub Hub camp kitchen is worth it?