Don't destroy your knees – purchase hiking poles. Trekking pole reviews, disadvantages, benefits, and how to choose the best hiking trekking poles.
Everything I Know About Hiking Poles
The benefits are numerous. And I can only think of 2 drawbacks: weight and size.
However, by purchasing the best, lightest, collapsible, and most compact trekking/hiking pole, you only reap the advantages.
For years, I never even considered purchasing a Nordic walking pole. In fact, I occasionally laughed at hikers trekking with two poles.
However, for my most recent Glacier National Park vacation, I opted to read many trekking poles reviews and realized that I was foolish. Once I purchased my walking sticks, I never looked back.
Many ask, why use them? Think for a few seconds about the last stream you crossed, or snowbank you traversed… difficult, right? With hiking poles, your stability and balance are increased, making these traverses a piece of cake.
That's reason enough. But if you need to know additional advantages of hiking poles…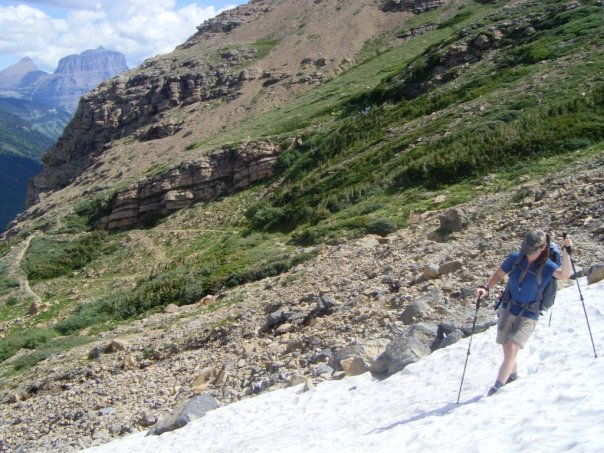 Balance while traversing snow banks is a major benefit of poles
Joint Protection – While hiking downhill with poles, anti-shock reduces impact on your knees
Endurance – While climbing a mountain pass, your shoulders and forearms bear more pack weight, increasing your endurance
Rhythm – Hiking staffs help you establish a rhythm
Tent Poles – Ultralight backpacking tents use hiking staffs as tent poles. Way cool.

 
Frankly, you're hard pressed to find many drawbacks, but the few disadvantages are significant. One of the most apparent is cost. With the exception of a Walmart hiking staff or a generic walking stick, poles cost $100. The best hiking poles can cost upwards of $200.
The next disadvantage is weight. If you read trekking pole reviews and decide to purchase antishock to lessen the beating your joints take while hiking, your poles will weigh quite a lot. If antishock isn't important to you, Komperdell are super lightweight, negating this disadvantage.
Finally, there is the disadvantage of carrying large walking poles. However, this is only perceived by hikers that don't use nordic walking poles. All of the best hiking poles these days are compact and collapsible.
When reading trekking pole reviews, you need to consider a few aspects in deciding how to choose your hiking staff: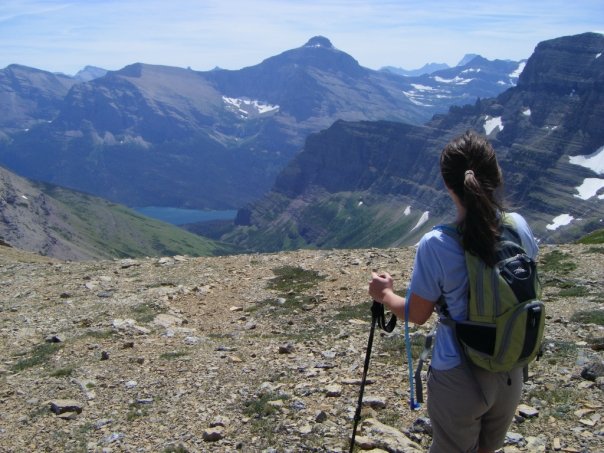 Soaking up the views atop Siyeh Pass
Antishock or Standard – Antishock are more expensive and weigh more. However, they are beneficial for those with weak knees or hips
Grip – Pure preference. Does cork, rubber, or foam feel best?
Locking Mechanism – You adjust the height of your walking poles to best meet the terrain (uphill is shorter, downhill longer, and flat in-between). Leki hiking staffs are a Super Lock System, which is a pain to adjust. Black Diamond poles are FlickLock, while REI and Komperdell make a DuoLock, which is easiest to use and dependable
Surprisingly, there is a method for using Nordic walking poles. Height needs to be adjusted properly and there's an ideal placement of pole tips while hiking.
It's not rocket science though. After just a few hours of hiking with poles, you will be an expert on how to use your trekking poles.
Black Diamond is one of the most reputable hiking staff brands. When you purchase a Black Diamond, you know you are purchasing quality.
Read any Black Diamond pole review and you'll only find people that rave about them. Black Diamond uses a FlickLock mechanism, making it easy to adjust the height of trekking poles, have anti-shock models, and have models with both soft foam and cork grips.
While I did not purchase Black Diamond Nordic walking poles in the end, they were my second choice.
Read my reviews of Black Diamond hiking poles .
Leki Hiking Poles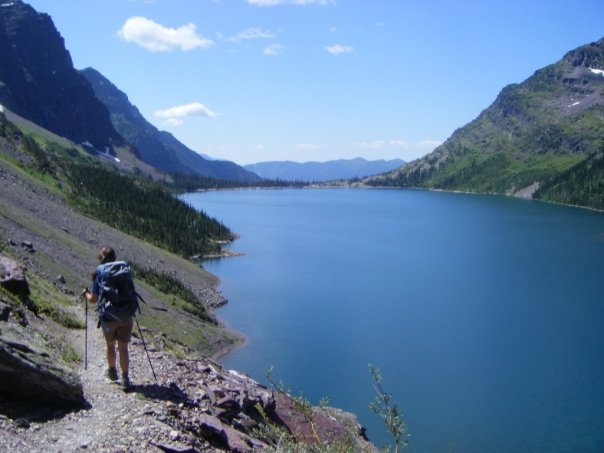 Allyson hikes toward Ellen Wilson Lake in Glacier National Park
Equally as popular as Black Diamond are Leki walking sticks.
Their grip is unquestionably the most comfortable.
However, the locking mechanism of Leki walking poles is a Super Lock System. This involves twisting and turning as opposed to just flipping a switch.
This process can take a few minutes and frankly, is a major pain, highlighting the disadvantages of Leki.
Still, many individuals believe Leki is the only brand worthy of consideration when purchasing nordic walking poles.
Read Leki Pole Reviews.
Best Trekking Poles
The choices out there for hiking poles are endless. Do you need casual hiking poles? For winter hiking? How about mountaineering?
Then, you have to decide if you want lightweight, antishock, ultralight weight, ones that are super compact… AHH!!!
My wife and I spent hours in REI trying to figure out the right trekking poles for us. So, I wrote this article up on choosing the best trekking poles
Komperdell Trekking Hiking Poles
Komperdell is a lesser known brand in America. However, their quality equals that, if not surpasses, Black Diamond and Leki Nordic walking poles.
The disadvantage of Komperdell poles is that no models are anti-shock. If you are choosing walking sticks based on anti-shock to relieve the stress on your joints and hips, try Black Diamond or Leki models. Additionally, Komperdell poles are not as compact and collapsible as other models.
However, if you don't need antishock mechanisms and don't mind strapping your walking sticks to the side of your backpack when not in use, Komperdell hiking staffs are the best for hiking and trekking.
Can't decide on what hiking poles to get? Want to learn more about antishock trekking poles?
Check out a reader's concern about Black Diamond antishock trekking poles and learn how to choose the best antishock hiking poles for you.
You'll find a detailed comparison of Black Diamond Trail Shock and Elliptic Shock trekking poles to aid you while shopping for your hiking poles.
Return home from
Hiking Poles – Ratings and Reviews to Glacier National Park Travel Guide