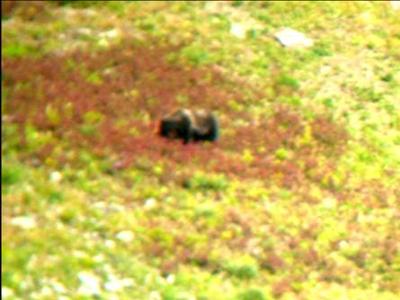 The Grizz
On the second day of a backcountry trip in Glacier, we shared our area with a Grizzly.
Our route was a shuttle from Goat Haunt to Kintla Lake via the Boulder Pass trail, with stops at Brown Pass, Hole in the Wall, Boulder Pass, and both Kintla Lake campgrounds.
We had been thoroughly drilled by the Rangers upon picking up our permits that there was bear activity at the Hole in the Wall area and to be appropriately aware.
Our first night at Brown Pass was uneventful beyond the simply amazing environment that is Glacier… our second proved to be somewhat more interesting.
We were approaching the area of the spur trail to Hole in the Wall when we ran into a small group of backpackers coming from the opposite direction. They informed us that they had just seen a grizzly bear down in the HITW basin feeding on roots. They said he was just above the spur trail to the campsites.
"Great" we thought. I asked (more or less wishing), "Was it a small guy?" to which they responded "Oh no he was a pretty BIG fella". Again we thought "Greeeaaat".
So now we have a choice to make. Skip right on by the best damm campsite on our trip or suck it up and go on down the spur trail into the basin. We nervously chose the latter option and followed the trail slowly, all the while careening our necks in every direction searching for the "BIG FELLA". Clap city my friends.
The whole way down we saw nothing. I mean we looked everywhere and saw nothing until we ran into a nice big pile of SCAT maybe two or three days old. Problem was it's located dead center in the path from the campsites to the food prep area. We're all thinking that someones staked their claim here and it's not us.
Some time passes on and we've still seen nothing of this bear. We start going about our business setting up camp etc. when finally my buddy Jeff asks, "Is that a rock up there or is it moving?"
So we look and about 1/4 mile up the basin there's this black spot with two bumps on it.
This thing is motionless for maybe 15 seconds and we're thinking "Rock"–and then it starts moving!!!
It's amazing how these things can blend with the surroundings.
A break out of the binoculars confirms that its a lone grizzly bear, weighing in at around 500-600 pounds. We really must have walked right past him… how we did not see him I will never understand.
We spent the night watching him (one of us at all times) roll around in some huckleberry patches while we prepped our food / bathed / etc. We were hoping that the distance between our campsite and his feeding area would grow as the evening went on, but of course this is not what occured.
We lost track of him at sundown with him having closed the distance but still at a theoretically safe range. Needless to say, the sleep was extremely light that night with counter assault bear spray close at hand.
In the AM we were informed by our partner that the Grizzly Bear was up, but now he was feeding right next to the spur trail out of the basin.
What you need to understand here is Hole In The Wall is in a hanging cirque and that spur trail is the only way out.
So there was nothing we could do again but go about eating, breaking camp, and waiting him out. We certainly were not going to try and pass him.
This is where the natural order of things came into play. Once we had totally policed up our areas and geared up we went to the edge of the campsite to check the grizzly bear. It's about 9 AM now and right in line with our plans not to hike until mid morning, so as to not disturb the prime foraging period.
And that's when the grizzly bear simply got up on the trail and walked out of the basin for us!
Now he still had two ways to go… left, which meant we would be following him to our next stop… or right, which meant our dues had been paid and it was someone elses turn to have one of the most remarkable encounters with wild life possible.
He went right.