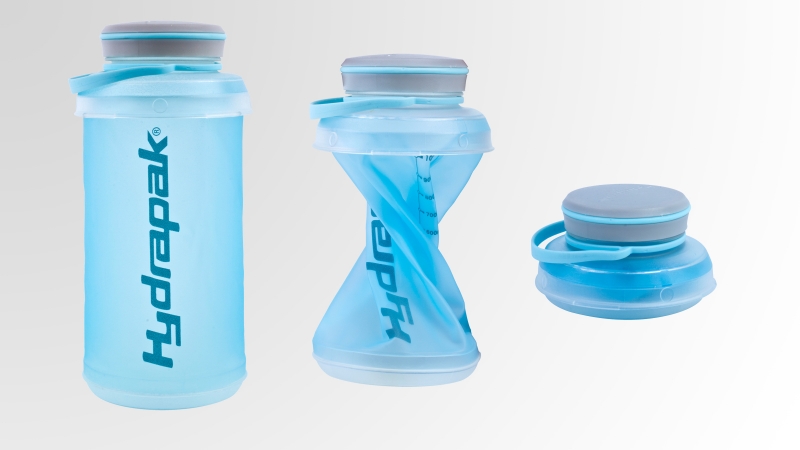 Hydrapak Stash Water Bottle
When looking for a water bottle these days, you have a lot of different options. You can go with big, hydrating bottles like Nalgenes, or you can opt for featherweight, highly compressible bottles that are little more than tiny rolls of plastic. However, until now there as not been a water bottle that can fit both of these descriptions. Meet the Hydrapak Stash Water Bottle.
The Hydrapak Stash Water Bottle tows the line between flimsy, compressible plastic and hardened, molded plastic with ease. Thanks to new technology, this water bottle is able to look and perform both like a Nalgene and like a Vapur water bottle (and its similar competitors). This allows you to carry the water bottle and drink like you would from a traditional bottle, but when you're done, you can pack it down and roll it into a tiny, easily-packable parcel.
This works in an incredibly simple way, yet one that nobody has thought of previously. By utilizing a hard top and bottom, the Hydrapak Stash stands up and maintains its integrity like other soft bottles simply cannot. However, the Stash is every bit as adept at compacting down as these other soft plastic "bottles," as the soft space in between the top and bottom is easy to compress. Take a look in the video below.

As you can see, getting the Stash into both upright and compressed position is incredibly easy and efficient. When broken down, the Hydrapak Stash Water Bottle measures just 2 inches in height and weighs under 3 ounces. Needless to say, the water bottle will not be taking up any additional space or weight in your backpack when you are not using it.
However, when fully extended, the Hydrapak Stash is no slouch at holding an impressive volume of water either. The bottles come in different sizes, but the one demonstrated in the video above is capable of holding one liter of fluid, which is plenty at one time. BPA-free and PVC-free, you don't have to worry about any chemicals ruining the taste or quality of your beverages, either.
The Hydrapak Stash Water Bottle is also dishwasher safe and naturally antifungal, so you don't have to worry about the bottle getting nasty through repeated use. It is also built to last, with RF welded construction that creates superior bonds at a molecular level. This ensures that the bottle – event though thin and lightweight – will not be susceptible to tears and leaks. In fact, Hydrapak even offers a lifetime warranty against leaks due to faulty products, so they're willing to stand behind their impressive technology.
All told, the Hydrapak Stash Water Bottle is an excellent water bottle for ultralight backpacking, hiking, and many more outdoor activities. With its excellent, unique performance, this water bottle is one of the finest around today. You can buy the Hydrapak Stash Water Bottle here!
Help support Glacier National Park Travel Guide by purchasing the Hydrapak Stash Water Bottle through one of our partners: