The Katadyn Gravidyn Drip Water Filter treats large amounts of water in remote areas.
See if a Katadyn TRK Drip Gravidyn Water Filter
suits your next adventure
As far as I can tell, I probably won't have to use this gravity powered water filter at any time in the near or foreseeable future.
That's not because it's a bad product, or I would prefer to use another brand, it's just because it doesn't suit my needs.
If it did, though, I would pick one of these up in half a heart beat (assuming I had an extra $200 burning a hole in my pocket).
Katadyn Gravidyn Review
The Katadyn TRK Drip Gravidyn is designed for long-term water filtration at places like mountain ascent base camps, construction sites, camps, or homes without running water. It doesn't work very quickly, but it also doesn't require any physical pumping for the water to be cleaned.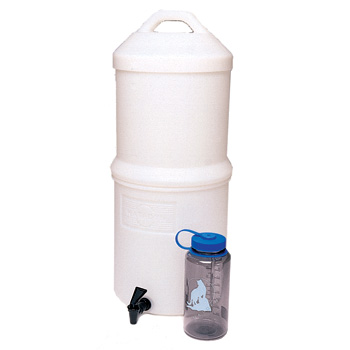 The Gravidyn Drip Water Filter
As the name suggests, the Katadyn Gravidyn drip water filter
uses the mighty and all-encompassing Powers of Gravity to work.
Or, to put it into less dramatic words: it's a drip filter.
My apartment has running water, however, and I don't think I'll be spending too much time at any construction sites in the comings months (at least I hope not). So this drip water filter really isn't for me.
While I do my fair share of hiking and climbing, I'm not climbing Everest;
Instead, I usually backpack for 2-3 days or stay at front-country campgrounds that have potable water, so the Katadyn TRK Drip Gravidyn Water Filter isn't ideal for me.
But people who do have need for a more permanent filtration system should definitely consider buying this product.
Online reviews for the Katadyn TRK Drip Gravidyn are astronomically good. Even if you only trust half of the reviewers on these websites, it still looks like filter worth owning.
Let's take a closer look at the ins and outs of the Katadyn Gravidyn drip water filter.
Spotlight on the Katadyn TRK Drip Gravidyn Water Filter
First: the technology. The Katadyn Gravidyn drip water filter features three ceramic and carbon filters to treat your water. Thanks to a tiny pore-size (a miniscule 0.2 micron), these babies keep out all bacteria and protozoa super effectively.
This big guy isn't a fast filter, though, and is capable of making just 4 liters of clean water per hour.
But at a base camp, construction site, or house, this rate of speed doesn't seem as important as when you're hiking on the trails.
The life span of the Katadyn TRK Drip Gravidyn Water Filter
is around 39,000 gallons.
This is a fantastic perk of using the ceramic filter elements (which only need to be cleaned once or twice a month).
According to the various website reviews, people have been using the Katadyn Gravidyn everywhere from Hawaii to Suriname, and everyone is just as pleased as punch with it.
Not having used the Katadyn TRK Drip Gravidyn Water Filter myself, it's impossible for me to champion it with any great authority.
But I can say that I trusted many of the reviews I've read and would recommend that you at least investigate the Katadyn TRK Drip Gravidyn further if it suits your need.
Because it seems to me like a wicked great machine.
The Katadyn Gravidyn Drip Water Filter in a Nutshell
Here's a list of specs for the Katadyn TRK Drip Gravidyn Water Filter for those readers with shorter attention spans (like me!) looking for a simple bulleted list:
Practical for campsites, base camps, construction zones, and cabins with no running water
Good for between 1 and 6 people
Drip filter: no pumping necessary
Uses 3 filters that are extra strong thanks to being made from carbon and ceramic/li>
Output of 4 liters per hour
Life span of approximately 39,000 gallons
Measures 17.7 x 9.8 inches
Learn more about the Katadyn Drip Water Filter
.