A Kelty Child Carrier will keep your kid safe and protected. Learn more with Kelty baby backpack and child carrier reviews.
If you are a new parent and an avid outdoorsman or woman, a Child Carrier is the perfect way to combine your old love with your newest love.
Just because your child is too young to hike, does not mean you cannot enjoy the outdoors together.
In fact, living in Boulder, Colorado, a city full of backpackers and young parents, you see Kelty Child Carriers everywhere.
There is a plethora of child carriers and child camping gear on the market.
Baby Backpack Reviews
No piece of backpacking equipment is as essential for enjoying your Montana vacation (or any National Park vacation) as a Kelty Child Carrier.
The reason I recommend Kelty over other brands is because: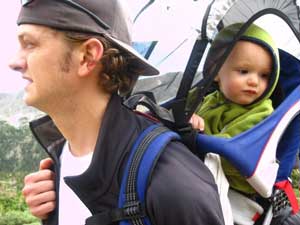 My friends Tony and Elise's son, Aiden, enjoying the ride in a Kelty Child Carrier
Holds more weight than other brands (50 lbs)
Lightweight, aluminum frame
Easily adjustable hip belt and shoulder straps
Adjustable child harness for your growing boy or girl
Rear view mirror
Sun, mosquito & rain protection for your child
If you are looking to continue enjoying the great outdoors with your young child, a Kelty Child Carrier
is for you.
For discount child camping equipment, try last year's baby backpack
model and save that extra cash for other necessities.
Advantages of Child Carriers
There is no reason to forsake your love of nature because of a newborn. Parents across America are purchasing child carriers and exploring wilderness and National Parks with their child. Even though a child carrier may be expensive, consider this: how much would other entertainment, or a babysitter, cost?
In addition to saving money in the long run, a child carrier allows you to:
Instill a love of nature in your child at a young age
Make memories and take photographs that will last a lifetime
Keep your child safe and secure in the wilderness
Top 3 Kelty Child Carriers
Kelty is by far your best bet when it comes to child carriers, but they have several models to choose from. How to decide which to buy? Here's a look at the three best Kelty child carriers to help you make up your mind.
Kelty Pathfinder 3.0 Frame Child Carrier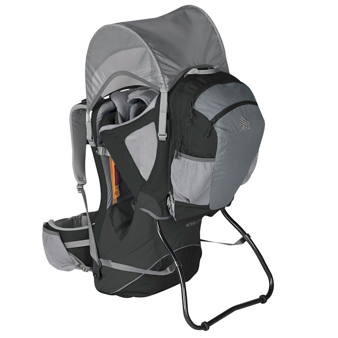 Comfort is important to the adult doing the carrying, but it's also important for their young passengers. The Pathfinder takes both parties into consideration, offering a truly easy ride for everyone involved. It also has features to make life simpler for us mommies and daddies (I can hear you breathing a sigh of relief), like a removable day pack, water bottle pockets, and a pad for diaper changing. It's the Cadillac of child carriers and provides a level of luxury you'd never have thought possible.
Rundown of Best Features:
Supreme comfort with padded seats, height-adjustable seating area, and a five-point harness
Plenty of storage pockets
Versatile construction with a zip-off day pack
Where to Buy
I'd recommend buying the Kelty Pathfinder from one of these retailers:
REI
Backcountry
MooseJaw
Amazon
Kelty Journey 2.0 Frame Child Carrier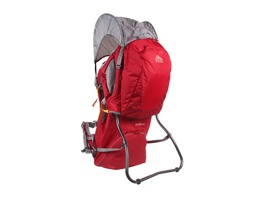 The Journey's fully-padded design is a great comfort to little ones as they take in nature from their back-row seats. The position of the child is lowered in the Journey, too, making it easier to haul and allows you to start hiking with them in it earlier than the Pathfinder.
Kelty is masterful at creating fully-loaded child carriers and the Journey is no exception with its auto-kickstand, hydration sleeve, and toy loops for attaching those favorite teddy bears or action figures.
Rundown of Best Features:
Auto-kickstand means you can rest even if your kiddo has nodded off
Two storage compartments for diapers, snacks, toys, and other essentials
Low-position seating for safety and comfort
Where to Buy
I'd recommend buying the Kelty Journey from one of these retailers:
REI
Backcountry
MooseJaw
Amazon
Kelty Tour 1.0 Frame Child Carrier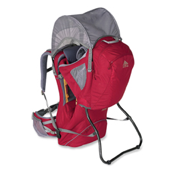 The Kelty Tour is a more stripped-down child carrier model, but comfort and safety are still key ingredients. You get less special features in the storage department, but you also get to spend about a hundred dollars less. In my opinion, I'd rather pay the extra hundred bucks and get convenience features. It's tough enough hiking with your child. Spend the extra dough and make your life easier, right?
Rundown of Best Features:
Far cheaper than the other models
Kickstand for versatile use
High-end harness and leg-secure construction for comfort and safety
Where to Buy
I'd recommend buying the Kelty Tour from one of these retailers:
REI

Backcountry
MooseJaw
Amazon
Other Child Carrier Options
While I believe Kelty makes the best in child camping equipment, another item on the market has been receiving rave reviews and is worthy of consideration.
The Deuter Kid Comfort III
can hold almost as much weight as the Kelty Baby Backpack but has additional advantages: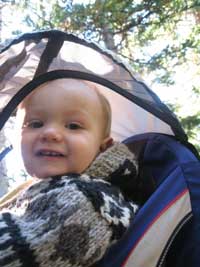 Aiden's all smiles in the Kelty Baby Backpack
Large storage pockets for additional backpacking equipment
Integrated sun roof
Hydration bladder compatible
The additional features come with a price though, the Deuter Kid Comfort III is nearly 100 dollars more expensive than other brands.
To save money, consider last year's model, the Deuter Kid Comfort II
, which is priced comparably with Kelty brand.