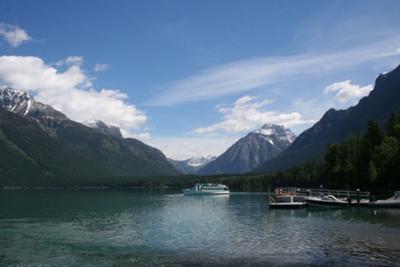 View from Lake McDonaldLodge
I really enjoyed our four-day stay at Lake McDonald Lodge on the west side of the park. I loved hearing about the history – built in 1913 as a hunting lodge it has amazing log architecture.
It's in a great location on the lake with all kinds of activities to do, from Red Jammer Bus Tours on the Going-to-the-Sun road, horseback riding, hiking, or taking a tour of Lake McDonald on the DeSmet – one of the park's historic boats.
There's a rushing stream next to the lodge; when we were there in late June, the fishing where the creek meets the lake was good. Apgar Village is nearby with a lot of visitor services like rowboats and kayaks.
Here is a video overview of Lake McDonald Lodge that we filmed along with our neighbors during our stay.
Comment from Perry
Glad you enjoyed Lake McDonald Lodge so much, Jerrie!
It's definitely one of the most peaceful hotels in Glacier National Park.
Thanks for another amazing video!

Join in and write your own page! It's easy to do. How? Just click here!
Simply click here to return to Glacier National Park Hotel Reviews
Lake McDonald Lodge – Loved the Room, Food & Experience!
Alex
Lake McDonald Lodge is a fantastic hotel and a great example of the "national park experience".
We had a fabulous view of the lake from our room. Although the bathroom was small, the room was comfortable and a nice size.
I didn't really mind about the bathroom because I know that this is unavoidable in an old hotel. T
The dining room had delicious food and our waiter, Victor, was wonderful. I recommend the salmon!
The main lodge has a beautiful fireplace and stuffed animal heads. The whole goat that was stuffed was really cool.(and by whole, I mean the whole body)
I really recommend Lake McDonald Lodge and don`t forget the dining room!

Join in and write your own page! It's easy to do. How? Just click here!
Simply click here to return to Glacier National Park Hotel Reviews