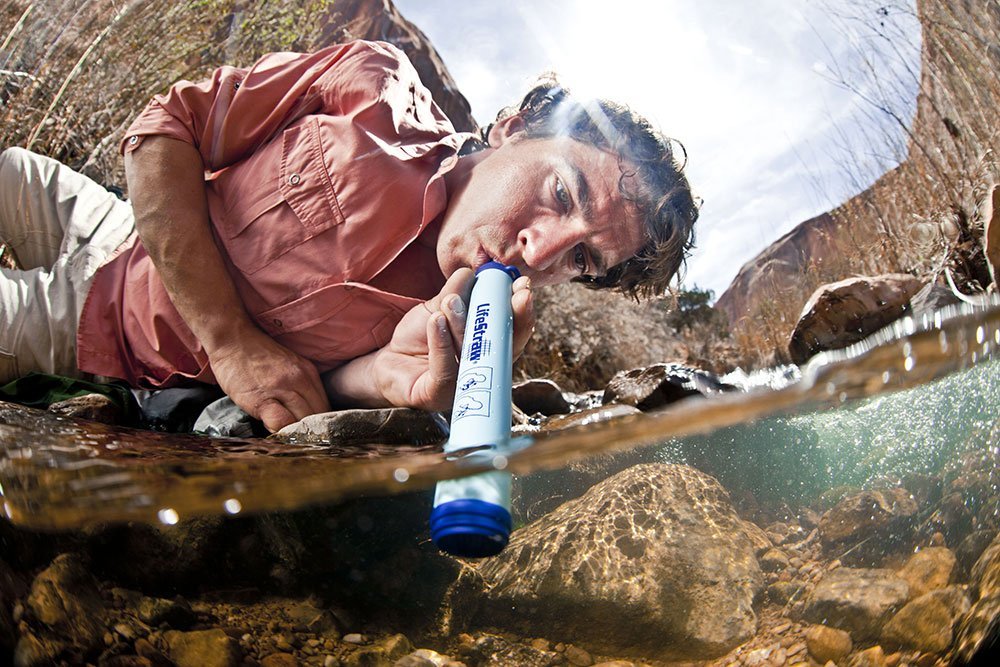 LifeStraw is a lightweight, compact, powerfully effective water purifier from a company with a conscious. And while it's the most lightweight filter for backpackers, LifeStraw knows that clean drinking water isn't just a necessity for campers and hikers, it's essential for everyone.
Since its creation in 2005, the LifeStraw has become a must-have water purification tool for people worldwide. Folks from all walks of life, whether they're Colorado mountain climbers or third-world children, are embracing the thirst-quenching and life-sustaining power of the LifeStraw.
Having a water purification device among your gear is essential when you hit the trails for an extended period of time. You should do yourself a favor by choosing one of the smallest, lightest, and most trust-worthy products out there.
And I'll tell you right now: the LifeStraw fits that bill (and only costs $20!)
Where Did the LifeStraw Come From?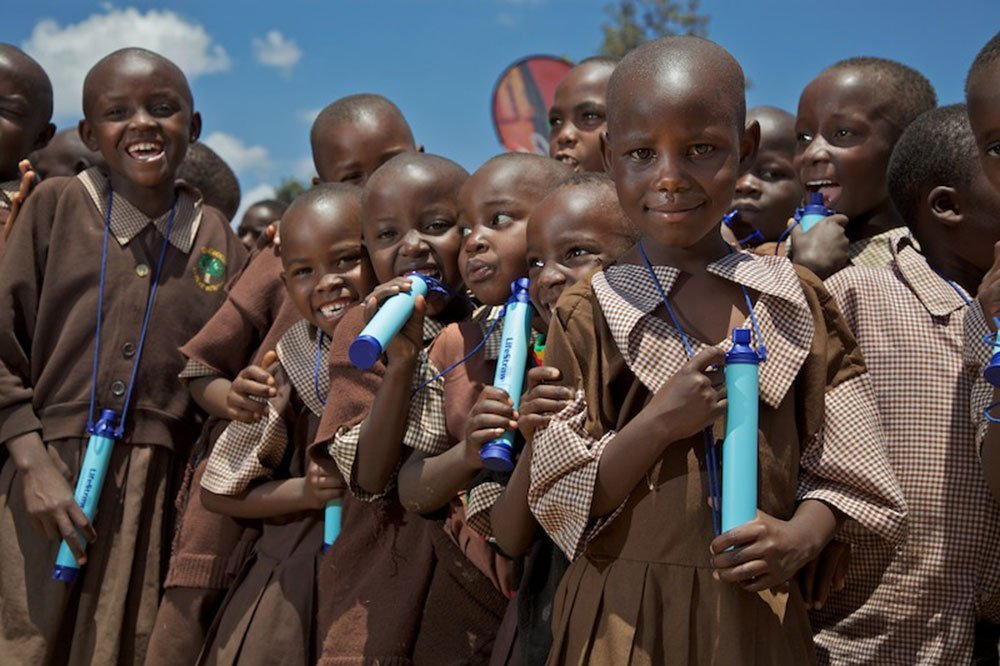 The LifeStraw was designed by Vestergaard Frandsen in Switzerland for folks who live in developing nations. The company roots its corporate mission in the ideals of social responsibility, which the LifeStraw fits into perfectly. The products are distributed in humanitarian crises like the earthquake in Haiti and the recent floods in Pakistan and Thailand.
But they aren't just for when disaster strikes–they're for everyday life, as well. For each LifeStraw sold in North America, one school-aged child in a developing country will be able to drink clean water for a year. Vestergaard Frandsen donates LifeStraw Community purifiers for schools when their products are sold elsewhere.
This is good work from a socially conscious company. But what's even better is the fact that the product truly works. And works well. It makes an ideal hiking and camping accessory because of the forethought put in by the designers to make it super light and compact as well as powerfully effective.
And I don't think it hurts that it's available for less than $20.
LifeStraw Filter: Features and Tech Specs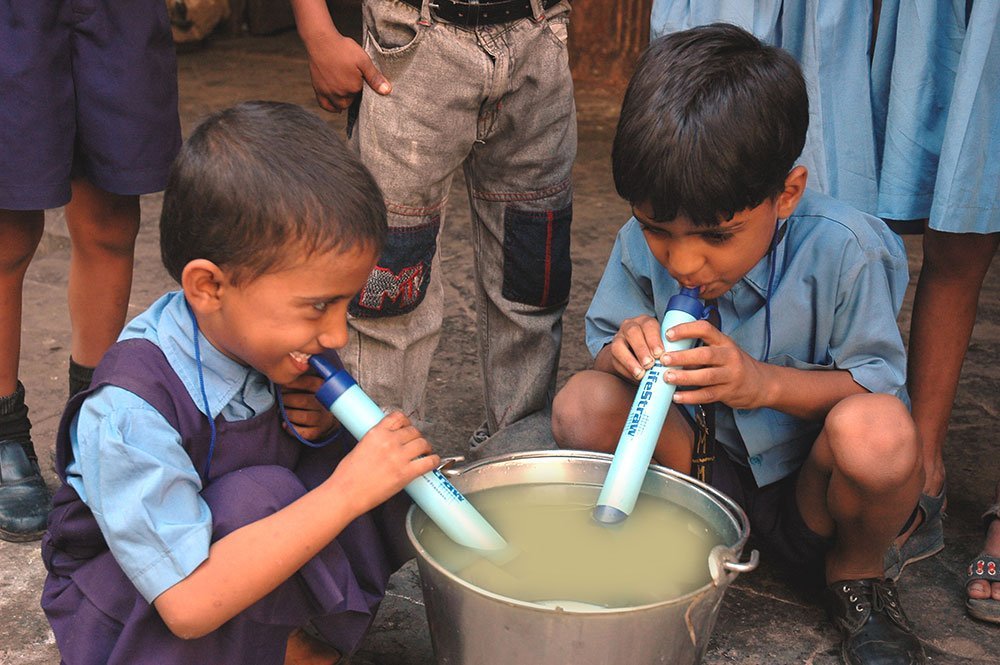 But let's get down to the nitty gritty–what exactly does the LifeStraw have to offer?
The dimensions and tech specs are music to the ears of hikers like me who try to keep pack-weight to an absolute minimum:
Length — 9 Inches
Width — 1 Inch
Weight — 2 Ounces
Material — Durable Plastic
But there are some other stats here that are just as impressive, if not more so. First of all, the LifeStraw was designed to remove 99.9999% of waterborne bacteria and 99.9% of parasites. Just a few of the long list of nasty bugs this little guy takes care of for you include:
Salmonella
Giardia
E.Coli
Cholera
Crypto
How it works is just like a normal straw. You suck up the water from the mouth piece and it passes through fibrous filters that clean out the nasty business found in unsanitary water sources like lakes, rivers, ponds, and even mud puddles.
No chemicals are used in the filtration process, just physical means. If you can use a straw at a fast food joint, you can use the LifeStraw anywhere.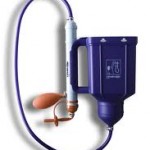 One of the best things about this little guy is that it's able to clean up to 10,000 liters of water before it needs replacing. That averages out to about one year for a single user. And at just $20, I'd say that's a very affordable annual investment.
There's also a larger LifeStraw Family model (pictured to the right) that's able to filer 18,000 liters and take care of 99.99% of viruses found in unfiltered water.
It's a product that won't weight you down, won't take up too much room, and won't wear out for a good long time.
Is the LifeStraw a Worthwhile Purchase?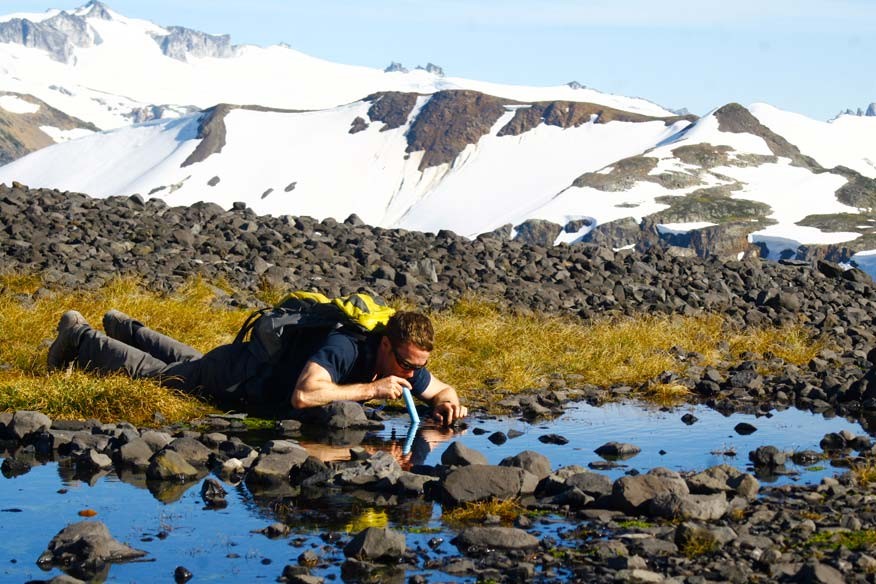 Bottom line: should you buy it?
Obviously it's an amazing tool for folks who live in parts of the world where clean drinking water is a rare commodity. But what about folks who need a portable filter while trudging around the Rockies? What about people looking for a purification tool for recreational means?
Well, honestly, there are a lot of products out there on the market that will treat you right. A LOT of products. But maybe not so many that are as unobtrusive, lightweight, and effective as this. And definitely not many that come at such a great value.
Using the LifeStraw can be a bit of a chore, as it takes a lot of effort to filter a little amount of water. But that's nothing new. All water filters take time to do their work. If you own a Britta then you know what I'm talking about.
The LifeStraw is no worse than most of the high-end products on the shelves right now, and a WHOLE lot better than many of them.
The final decision is obviously yours, but if I were you, I'd plop my $20 down for a LifeStraw immediately. In fact… I already have!
Where to Buy
And for those who need to see the LifeStraw in action, here's a great video:
Do you own a LifeStraw? How has it worked for you? If you don't own one, what's your favorite brand of water filter and why? Let's give the folks who are new to this a few things to think about!