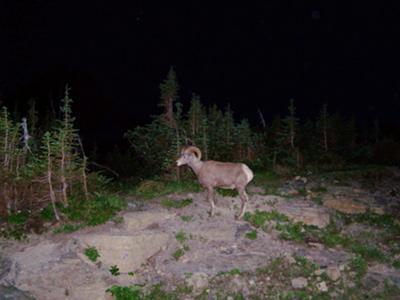 My family and I visit Glacier National Park every year and we love it dearly.
One year we went to the Swiftcurrent Motor Inn to have our annual dinner there. We love going there because the food is great and we get souvenirs at the gift shop next door.
Luckily for us, most every year we see Grizzlies on the mountain top above the Inn and it is a spectacular site!
Well, like every year, there is some sort of construction happening on the Going to the Sun Road, from the previous winter's avalanches and other things.
Well there was a curfew or deadline that year I remember. The road closed at 10 pm until around 6 am the following morning, so workers could work on the road without any cars flying by.
We had our campsite in West Glacier and were all the way past Many Glacier Hotel.
Well, this time at SwiftCurrent, there was a mother bear and her cubs.
It was amazing and we stood there with our binoculars just gazing at this beautiful site. We got some Huckleberry taffy and sat on the sidewalk with the other spectators and just watched.
We were at a good distance until a ranger came and told us we had to leave. We didn't realize that we were watching the bears for an hour.
It was around 8:30 pm, and we realized we had to hustle to make it back to West Glacier or we were going to be stuck. As we drove back, I enjoyed seeing all the raw wildlife and breath taking mountain scenes.
No matter how many times I venture up to Glacier from Chicago it never gets old. People wonder how I enjoy going to the same place year after year for a vacation, I just say…because Glacier is heaven to me.
It has even influenced me in my studies, making me want to become a history major for college in the fall.
As we pulled up to the passage to cross over the construction, there was a man in a truck and he got out and walked over to our truck saying, "Sorry you can't pass through now."
We understood and we turned around and headed the other way. Driving in Glacier at night, on a cliff is scary because it is pure, pitch black.
We decided to just sit in the parking lot of Logan's Pass Visitor Center and wait it out. We had blankets and pillows in the car so we just got prepared to sleep in the park.
As we were dozing off, I hear a noise. My dad said it was just some animal and not to worry about it. I agreed and ignored it and put my iPod headphones on and tried to catch some sleep.
But then I heard it again, and again. It sounded like something was smashing into something. My dad turned the truck on and our headlights came on.
Outside the truck were a few Big Horn Sheep. Two of them were fighting, one of them was right outside my window and one was checking out other parked cars in the parking lot.
We assumed one of the sheep was a female because we thought they were fighting over the female. And the other one seemed to be licking the car!
It was awesome seeing nature so up close and personal! They didn't even know that we were watching them. Eventually they went away, and we were able to snap some pictures.
My dad was tired of waiting so he decided to take the highway back to West Glacier. That was a night none of us will ever forget.
Being stuck in Glacier National Park was quite an experience and I will always remember it. I also hope that there are more to come as well.