About Piegan Pass Trail
Trail Highlights – Spectacular mountain and glacier views, plentiful wildlife, including mountain goats and ptarmigan.
Roundtrip Length – 8.8 miles
Length to Many Glacier – 13 miles
Elevation Gain – 1,890 feet
Peak Elevation – 7,600 feet
Parking Lot — Yes
Difficulty – Strenuous
Region – Logan Pass
Availability of Water – No
The trail to Piegan Pass is on Going-to-the-Sun Road at the Siyeh Bend Trailhead, a little over two miles east of Logan Pass. There's parking on the left side of the lot at the Siyeh Bend transit station. The trailhead is on the north side of the road next to Siyeh Creek.
Another option is to begin your hike at the Piegan Pass Trailhead at the Jackson Glacier Overlook. This is a more rigorous route, which is longer and steeper, so we're going to direct you to start at Siyeh Bend Trailhead, which is a less strenuous climb.
Hiking the Piegan Pass Trail
You'll follow Siyeh Creek for the first portion of the trail. At about 1.1 miles you'll be the Piegan Pass Trail junction, where you turn left. From here, you'll travel through a dense forest of spruce and fir for about 2.4 miles until you reach the junction of Siyeh Pass. At this point, you stay to the left to continue to Piegan Pass.
At about 2.8 miles, the trail leaves the forest, emerging onto a rocky area on the slope of Mount Siyeh. You'll be rewarded with awesome views of Blackfoot Glacier and Jackson Glacier to the south and Piegan Glacier to the west below the summit of Piegan Mountain. Keep your eyes peeled for mountain goats and ptarmigan from here on out. You'll also have a nice view of Piegan Pass.
You'll be hiking up the south slope of Cataract Mountain on the final mile of your trek, with a fantastic view of Piegan Mountain and Piegan Glacier to the southwest.
At 4.3 miles you'll reach your destination on the saddle between Piegan Mountain and Cataract Mountain, with spectacular views of the surrounding mountains and the valley below, including the Garden Wall, Pollack Mountain and Many Glacier Valley. You'll also see the impressive sight of Mount Gould with its 3,000 foot vertical face. Relax and reward yourself with a snack and a drink as you gaze at the incredible view.
My Experiences Hiking Piegan Pass
I hiked Piegan Pass during my first summer working in Glacier. My friend Carol and I packed our day packs and had a great hike!
I had hiked Siyeh Pass before, so I knew what the first part of the trail was like. What I wasn't ready for were the INTENSE winds at the top of Piegan Pass.
Siyeh Pass wasn't windy at all, but Piegan almost knocked me over a few times!
Overall, I truly loved the hike. Hiking through Siyeh valley and along Siyeh creek is one of my favorite areas of Glacier. When you reach the pass, you have two options:
Eat a nice lunch and turn around (aka an 'in and out hike').
Continue onto Many Glacier
I personally recommend continuing your hike to Many Glacier. Entering and hiking through the 'belly' of Glacier is a phenomenal experience. It's important to remember to always bring bear spray on a hike, but especially any hike toward Many Glacier as that is prime grizzly habitat.
The only drawback of hiking to Many Glacier Lodge is that you then need to get back. There aren't any shuttles that bring you from Many Glacier to Going to the Sun Road.
You can opt to spend a night at Many Glacier (make sure you get a permit for your car from the Rangers). Or, you can head back with my favorite form of transportation in Glacier: hitchhiking.
That's how Carol and I got back to our car. To hitch from Many Glacier back to Siyeh Bend Trailhead, you'll generally need two rides. One from the hotel to the Park's entrance at St. Mary. And then one from St. Mary to your car.
I know many people are scared of hitchhiking, but it's a great form of transportation throughout Glacier and I definitely recommend it. Hop in the back of a truck and have some fun!
Piegan Pass Trail Elevation Profile & Photos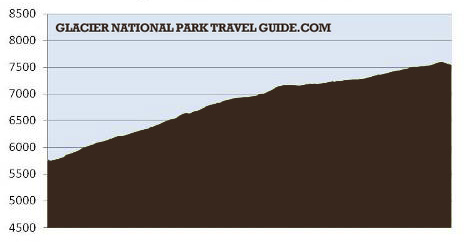 Piegan Pass Elevation Profile
Additional Glacier National Park Hiking Info
Check out other Glacier National Park hiking trails, or head back to the hikes in the Logan Pass area.
Return home to
Glacier National Park Travel Guide