Medicine Grizzly Lake Trail
Trail Highlights — Lake views, mountain vistas, alpine flora, and possible wolf and grizzly sightings
Roundtrip Length — 12 miles
Elevation Gain — 625 feet
Peak Elevation — 5,650 feet
Parking Lot — Yes
Difficulty — Easy
Region — Two Medicine
Availability of Water — Yes
The name of the game for this awesome hike is: be prepared. It's an easy-going trek, without much of an elevation gain and some really spectacular sights, but there are also some real dangers.
As the name suggests, the area you're hiking to here, Medicine Grizzly Lake, is a hotspot for Glacier's grizzly bears. So, it's super important that you carry bear spray, hike in groups, and be sure to make plenty of noise going around blind curves, so that you don't startle a bear into attacking you (learn more about preventing grizzly bear attacks).
Honestly, sightings are pretty rare, so don't forgo this journey because you're scared of bears. The hike is totally worth the chance of seeing a grizzly, and if you're prepared, there's not much risk involved at all.
The other name of the game for this hike should be: keep you camera handy. Two Medicine is one of the absolute best regions of Glacier for taking photos. The views are simply unforgettable–though they'd sure be easier to remember if you captured them on your cameras!
The hike to Medicine Grizzly Lake begins at Cut Bank, which is located just about 15 miles north of East Glacier by car. There's a small parking lot just beyond the park ranger outpost–leave your car here and begin your quest at the Pitamakan Pass trailhead.
The first leg of the journey will offer you some incredible views of Bad Marriage Mountain and Mad Wolf Mountain–strange names, but beautiful masses!
The Cut Bank Creek greets you just about a quarter mile from the trailhead and will stay with you for a healthy portion of your trip. Because of your close proximity to an mountain water source, you may have the opportunity to see plenty of wildlife while the creek is babbling next to you. In fact, just a short while after meeting Cut Bank Creek, you'll see a flat section of land that's overpopulated with willow trees–in here, you may very well spy a moose or wolf or two.
There's not much of an incline with this trail, but you still get to see plenty of different types of terrain. There are forested sections, wide-open meadows, and fields of wild berries. There is no specific section in which to watch out for grizzlies–the whole trail is a potential bear site–so just be sure to stay alert and be prepared while you meander through this national park paradise.
After about 4 miles of hiking, you'll reach an intersection with Triple Divide Trail. Hang a right here to make your way to Medicine Grizzly Lake. This part of the route runs pretty much parallel to Atlantic Creek all the way to the lake at the end of the trail.
Just beyond the junction with the Triple Divide Trail, you'll run into the Atlantic Creek Campground, which has four sites that you can take advantage of if you'd like.
A little under a mile later, you come to the junction with the Medicine Grizzly Trail. Hanging a left will take you the rest of the way to the lake, which is where you're heading. If you were to continue on straight, however, you could climb to the top of the Triple Divide Pass, which is a very difficult climb of nearly 2,000 feet.
But on to the lake!
Before you get there, you're going to make your way through an astoundingly beautiful meadow, just blanketed with gorgeous wild flowers. This is a good spot to take some pictures of the local flora, as well as the lake beyond, which is now in view.
The lake itself is mighty impressive, sitting in a bowl beneath the Continental Divide with mountain peaks towering above–including Mount James, Triple Divide Peak, and Razoredge Mountain. These are some really amazing mountain masses, and they also feature countless waterfalls tumbling down their sides.
An easy hike, a potentially dangerous hike, and an ultimately rewarding hike: Medicine Grizzly Lake is a place you'll never forget.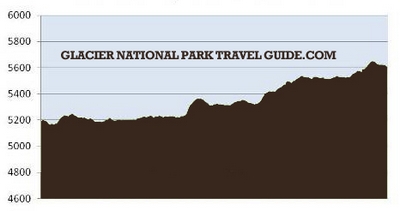 Medicine Grizzly Lake Elevation Profile
Additional Glacier National Park Hiking Info
Check out other Glacier National Park hiking trails, or head back to the hikes in the Two Medicine area.
Return home to
Glacier National Park Travel Guide