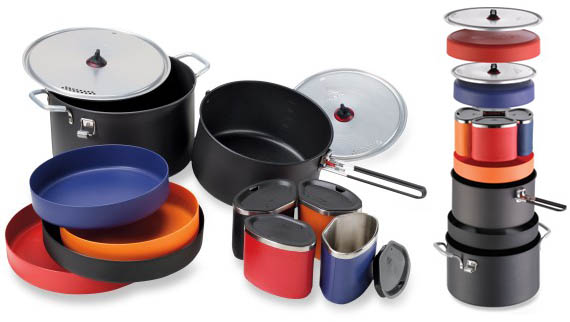 MSR Flex 4 System Cookset
Eating in the backcountry can be a bit of a pain in the butt. You can either skimp on "real" food, opting for snacks and protein shakes and energy bars, or you can bring cooking supplies, which can be clunky, cumbersome, and take up an unfortunate amount of space and weight.
However, most of these problems can be avoided if you get some quality cooking gear for your backpacking excursions. If you're planning an extended trip into the wilderness, you're not going to want to subsist on pseudo-food – you're going to want to be able to cook up some quality meals, even while you're miles from a real kitchen.
Ideally, you want your outdoor cooking supplies to have a few key qualities. Most importantly, you'll need a cookset that is lightweight, as lugging around a bunch of heavy pots and pans will make your stay in the backcountry less enjoyable in a hurry. You also want to make sure that the cooking supplies you get are easy to pack – compact, collapsible items are usually best. Finally, you want a cookset that is easy to use, and easy to clean. You want to save as much time and hassle as you can when you're outdoors and on the go.
With all that said, one of the best cooksets on the market right now is the MSR Flex 4 System Cookset. This versatile, efficient cooking system is one piece of equipment you will want to bring on your camping and backpacking trips time and time again.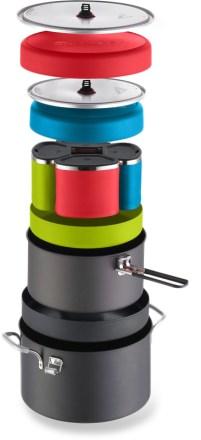 The MSR Flex 4 System Cookset provides all the cooking supplies you would need to create a wide range of meals in the great outdoors, and it does so without weighing you down or adding too much bulk to your supplies.
With a stackable, nested design, the MSR Flex 4 System Cookset features 4 stainless steel mugs, 4 deep-dish plates, 1 small pot, and 1 large pot. All of these items stack on top of each other, locking together into a manageable 12-inch by 6.5-inch tower. Once stacked, the total weight of this cookset is only 3 pounds, 10 ounces, which shouldn't make your life too difficult.
In addition to the awesome way that the MSR Flex 4 System Cookset compacts, the cookware items include some important features that make life in the backcountry easier. For example, all of the equipment included in the set is stick-free, making cleanup much easier. Furthermore, the set, which can feed four people, is also color coded, so you and your backpacking buddies wont mix up drinks and plates with each other. You can also detach pieces of the cookset as you see fit, so if you're on a solo trip, you can bring only what you need, while still keeping a stackable design.
While the MSR Flex 4 System Cookset is not self cleaning, it's stick-proof design means that with a little bit of water, you can rinse most of the leftover gunk from cooking off with ease. This will allow you to use the dishes several consecutive nights without having them get too grody.
All in all, the MSR Flex 4 System Cookset is a great, versatile set of cookware for camping or backpacking. It will provide all your needs for meals in the outdoors in a lightweight, compact package, that is efficient for cooking and carrying.
For a standard retail price of $159.95, the MSR Flex 4 System Cookset can be your outdoor kitchen for years to come, so check it out today!
Where to Buy
Help support Glacier National Park Travel Guide by purchasing the MSR Flex 4 System Cookset through one of our partners: