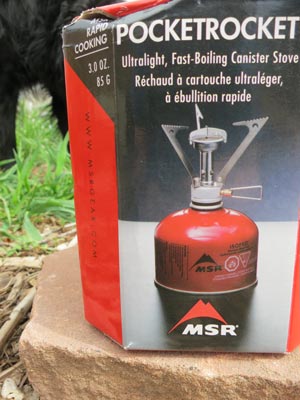 I've been dying to get my hands on the MSR Pocket Rocket for years. I've salivated over it since a couple I went backpacking with in Glacier showed me how epic it was.
A few years back, this backpacking stove was at the cutting edge: Uber lightweight… 3.5 minutes to boil water… Sleek and sexy. It was all the rave.
And it still is.
Thankfully, I finally got to test one out. Sadly, since my wife and I have a 5 week old baby, the testing was done in our backyard and not the backcountry.
Regardless, I got to use and abuse this stove. Put it up to manufacturer guarantees. Cut out the bullshit and focus in on what's real, what's fake, and whether or not you should buy it.
OK? You ready?
Disclaimer: Massey's Outfitters
sent me the Pocket Rocket to review. I do not get to keep the stove and am sending it back to them tomorrow. Them sending it to me does not influence my opinion in whatsoever. Also, there are affiliate links in this article… What does that mean? Well, if you click to Massey's here and then buy something, I get a small commission. And it costs you nothing extra. Managing this website and writing awesome content is a major element of my family's income and your support is greatly appreciated (and helps put food on the table).
Table of Contents
My MSR Pocket Rocket Review
Let's get this out of the way: The MSR Pocket Rocket is a backpacking stove. It's not a front country stove.
Yes, you can use it while camping in the front country, but I'd personally recommend splurging on a more elaborate stove, like this Coleman, for front country camping.
Why? The luxurious features are left out. It's a single burner and designed to be ultralight. While it works wherever you're camping, it is designed for the backcountry.
Click HERE to Read My Advice on Buying the Best Backpacking Stove For Your Needs
With that behind us, we can focus on what matters with respect to the Pocket Rocket.
When you're buying a backpacking stove, only 3 things matter:
Weight — You'll be lugging this into the backcountry. Every ounce matters.

Time to Boil — How long will it take you to boil 1 Liter of water? The longer, the greater PITA it is.
Size — How much space will it take up in your backpack?
In all 3 areas, the Pocket Rocket excels.
It weighs 3 ounces. Yes, you read that right. 3 ounces. If you include the red container it comes with, then 4.2 ounces (the video review below that I filmed misstates this).
Now, this isn't the lightest stove on the market… In fact, the Snow Peak LiteMax and the MSR MicroRocket are both lighter. So are alcohol stoves (click here to read my guide on buying alcohol stoves).
But the above stoves each cost $60 while the Pocket Rocket costs $40.
Feature Comparisons
You know what? Let's just throw it into a table and compare the Pocket Rocket vs other lightweight, backpacking stoves so you can see the numbers for yourself in a clean format:
| | | | |
| --- | --- | --- | --- |
| Spec | Pocket Rocket | MicroRocket | Snow Peak LiteMax |
| Weight | 3 OZ | 2.6 OZ | 1.9 OZ |
| Average Boil Time | 3 min, 30 sec* (inaccurate) | 3 min, 30 sec | 4 min, 25 sec |
| Dimensions | 4.1 x 2.1 x 2 | 5 x 4 x 3.5 | 3 x 2.7 x 1.3 |
| Price | $39.95 | $59.95 | $59.95 |
In every area except price, the Pocket Rocket loses. In fact, MSR loses all around to the Snow Peak, which really surprises me.
But is spending an extra 20 bucks worth it to drop 1.1 OZ? To some, yes. To me, no. I'm an ultralight backpacker, but I'm not obsessive. Here's a picture of the Snow Peak LiteMax: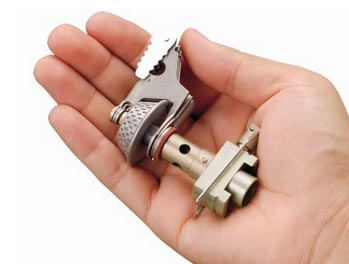 And here's a photo of the Pocket Rocket:
They are both tiny. But the Snow Peak might actually be too tiny for my taste. Also, the Snow Peak comes with a felt case…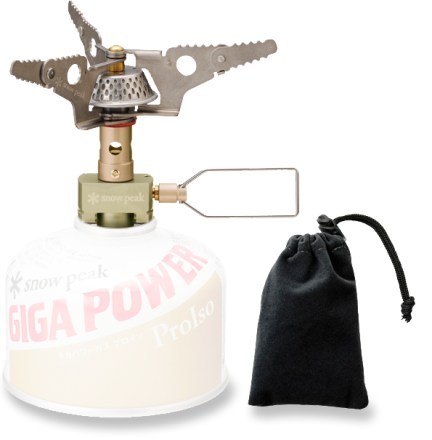 … Whereas the Pocket Rocket has a hardshell case. This hardshell case adds an extra 1.2 ounces, but it protects your investment.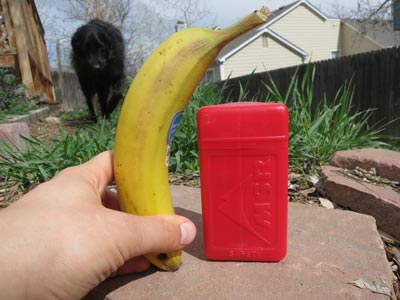 That right there is the deal breaker for me. While on the surface the Snow Peak seems better, the Pocket Rocket is better. And to spend an extra 20 bucks on saving .4 ounces and buying the MicroRocket? Well, that's up to you, but I wouldn't.
Other Important Features
1. This stove is compatible with any brand of self-sealing canister fuel. This means you can bring the stove to Europe and pick up fuel there and not worry about compatability.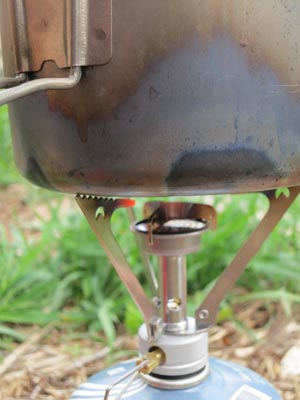 2. The protective travel case. Sure, it adds weight, but it will protect your stove from harm. One of the worst things that can happen while backpacking is your stove breaking. If it's not protected properly, it very well could.
3. The serrated pot-supports are epic. This prevents the pot from shifting while on top. As I noted in the video review below, I still found the pot on top to be a little wobbly, but it's important to mention that my pot is about 10 years old and very warped.
Boil Test
Let's take a step back to boil time. As you can see on REI, MSR states the Pocket Rocket boils 1 Liter of water in 3.5 minutes.
Awesome, right? YES!…
…
If it was true.
Unfortunately, after testing it out, this is not the case. It took 5.5 minutes for 1 Liter of water to boil. The video review below is proof…
And so are these photos that I took while testing the boil time: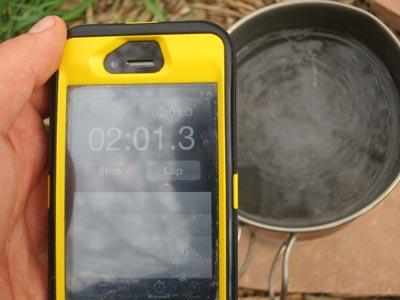 Water boiling test at 2 minutes… As you can see, the water is beginning to simmer. Looks promising…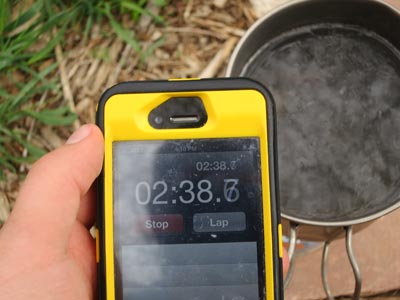 At 2:38, the water is simmering even more. I really think it's going to hit boil in 3.5 minutes…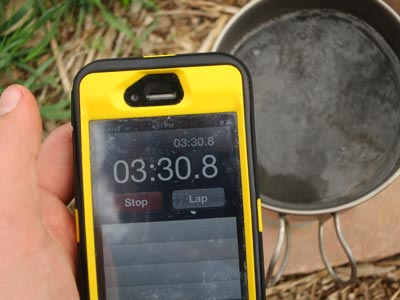 This picture is a little misleading. It actually looks like the water is boiling! Sadly, that's not the case. We had some big bubbles, but it wasn't a rolling boil.
And if you're purifying water via boiling, you need a rolling boil to ensure all bacteria is killed off. A few bubbles won't cut it.
The minor bubbles continued until: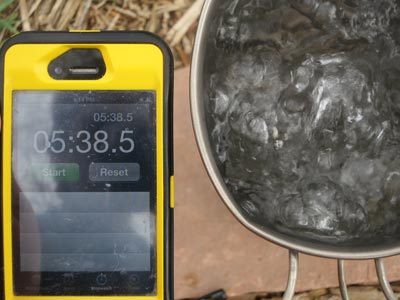 That's right. 5 minutes and 38.5 seconds. A far cry from 3.5 minutes.
Is this a deal breaker? No. But I hate advertisements that aren't accurate (**cough cough LIE cough cough**).
Return to the Top

Video Review
Here's an unboxing of the MSR Pocket Rocket, as well as a video demonstration of the above boiling test.
Final Thoughts
Overall, the MSR Pocket Rocket is a phenomenal backpacking stove. Lightweight, durable, small and it still boils 1 liter of water in under 6 minutes. That's pretty darn good.
For me, it's the best all-around stove for your money on the market. Spending 60 bucks or more on a backpacking stove (the Snow Peak Lite Max) in the name of cutting 1.1 OZ is ludicrious.
Save your money. Buy this amazing little pocket rocket and all your needs will be met for the next decade.
Where to Buy
Hey! Wanna help me out?
This entire website is only possible thanks to you and your support! If you follow one of my links to REI, Backcountry, Massey's, Amazon etc. and then purchase anything,  I get a small commission.
Best parts? It doesn't cost you anything extra and it helps put food on my family's table.
I'd recommend buying the MSR Pocket Rocket backpacking stove at one of the following locations:
What are your thoughts? Do you own the Pocket Rocket? How do you think it stands up to the competition?