Down jackets are inherently connected to the meat industry.
The down feathers used to fill the world's top performing down apparel were plucked from a bird that eventually ended up as someone's dinner.
This is unavoidable.
What can be controlled, however, are the conditions and treatment the animal received before it's feathers were plucked.
Patagonia Down Jackets Backed By Strict Supply Chain Protocol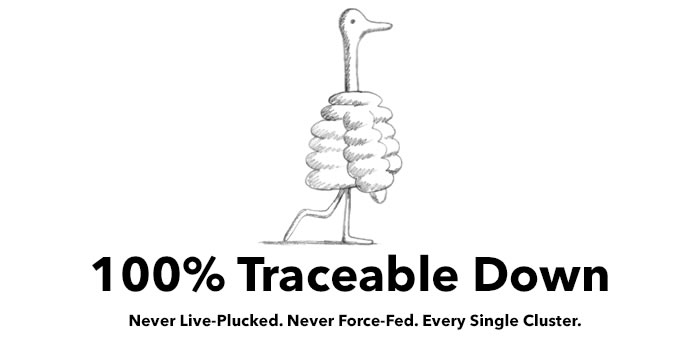 Outdoor companies are becoming increasingly concerned about the source of their down insulation.
As it has done in the past, Patagonia is leading this movement by adopting strict protocol in its supply chain that prohibits inhumane treatment such as live plucking and ensures other animal welfare standards are upheld.
The result is a line of down apparel that consumers can feel more comfortable about wearing.
Patagonia Traceable Down Supply Chain
The main focus of the Patagonia Traceable Down supply chain is to ensure that down is harvested from geese and ducks who are not force fed nor plucked for their feathers while they are still alive — which are both common practices in the meat industry.
Patagonia also ensures that the down is harvested from birds that are used for their meat, not simply plucked for the sake of a jacket.
Third party auditors recruited every step of the way ensure that these standards are upheld, and Patagonia ensures that its Traceable Down never mixes with conventional down.
The company hopes other companies will join them in adopting safeguards in its supply chain to assure animal welfare.
Check out the entire Patagonia Traceable Down Supply Chain for more information. Or, check out the video Patagonia released outlining the complex issue:
Patagonia Fall 2014 Down Apparel
Patagonia says all down included in its Fall 2014 line was sourced through the company's new Traceable Down standards. Future products will be held to the same — if not stricter — standards before reaching consumers.
One of my favorite items in the Fall 2014 line is the Patagonia Down Sweater.
A 100% recycled ripstop shell and lining fabric with a durable water repellent finish protects from rain and snow.
800-fill-power European Traceable Down stabilized with quilted-through construction, meanwhile, insulates from the cold.  And the jacket compacts down small enough to fit into the jacket's interior chest pocket, which has an attached carabiner clip-in loop.
The Patagonia Down Men's Sweater and Patagonia Women's Down Sweater are available at REI for $229.
Want to learn more?
Check out the links to one of our partners to learn more about Patagonia Traceable Down apparel.
What do you think? Is Patagonia doing enough to ensure their down insulation was sourced responsibly? Let me know, I would love to hear your thoughts.