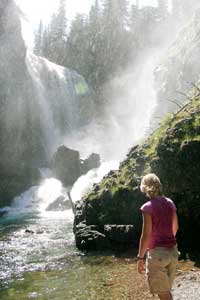 Dawn Mist Falls
Do you know if these Glacier National Park hiking trails will be open in mid to late June 2009? I am concerned about snow.
Please mind that I have never been to Glacier… We are doing a 3 day backcountry hike and are looking to cover about 30 miles.
Thank you!
Alison
ANSWER
Hi Alison, and thanks for your question.
Unfortunately, there is no rigid answer. Backcountry campgrounds and trails may or may not be open–it is subject to the amount of snowfall.
Even if they are open, during that time of year you must be prepared with ice axes, a good map and GPS to ensure your safety, should snowfall force you off trail.
I once backpacked Gunsight Pass in late June. The trail up to Gunsight was snowcovered and the next pass, Lincoln Pass, was also snowcovered. We were forced off trail and into very dangerous situations. Honestly, it was miserable, frightening and an experience I will never forget (nor wish to undergo again).
That said, this is my prediction:
Red Gap Pass is at 7,500 feet. It probably will be too dangerous to cross. However, you can still explore that area.
Park your car at Swiftcurrent Motor Inn and hitchhike to Chief Mountain Customs (hitchhiking is safe and easy in the park). Or, you can take the Glacier National Park shuttle. I personally prefer hitching.
Backpack from Customs down to Elizabeth Lake (9.3 miles) or Helen Lake(13.6), where you will set up camp for the night. Along the way, you must stop at Dawn Mist Falls (the picture I posted was taken there).
Next, you can hike up to Ptarmigan Tunnel, which is a broad, safe trail that you will be totally safe even if snow exists. You finish your hike back at Swiftcurrent Motor Inn, which is approximately 10 miles from Elizabeth Lake.
If you wish to make it a 3 day trip, your itinerary can be something like this:
Customs > Cosley Lake Campground (10 miles)
Backtrack 3 miles from Cosley Lake and Continue onto Helen Lake (10 miles)
Backtrack from Helen Lake to Elizabeth Lake and climb Ptarmigan Tunnel (15 miles)
Hope that helps! So you know, I offer 7 day, customized trip itineraries for $19.95
Also, do you have a copy of Hiking Glacier and Waterton Lakes National Parks
? If not, I highly recommend it. Also, be sure to buy the second edition. It is far superior to the 3rd.
If you have any followup questions, feel free to post them!
Best regards,
Perry
Comments for Red Gap Pass & Ptarmigan Trail
Average Rating





Click here to add your own comments

Join in and write your own page! It's easy to do. How? Just click here!
Simply click here to return to Do you have a Question About Glacier National Park?