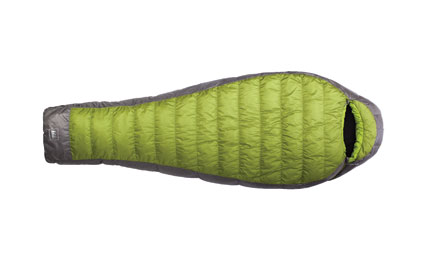 REI's Flash products are perfect for quick trips up the mountainside when the last thing you want is heavy gear dragging you down.
We own a few: 2 REI Flash Daypacks and an REI Flash Backpacking Backpack. But these were the Flash gear of yesteryear… Now, REI has re-designed their Flash series to meet the needs of people like us: Outdoor lovers who love backpacking, want something lightweight, but not ULTRALIGHT, and want something comfortable (That's essentially what they told me when I met with them at Outdoor Retailer's 2013 Summer Market).
REI makes some truly fantastic camping, hiking and climbing gear–stuff that not only rivals the top competitors in the market, but actually raises the bar for future manufacturing. They're an immense force of nature in the world of outdoor gear.
But I don't think I've been as interested in anything they've put out in recent years as I am in the Flash line. I love to get up to the Rockies for a nice week-long camping trek–it's one of my favorite things in life. But I've also got a lot of responsibilities back in "civilization" and often find myself unable to take those extended trips. So I "settle" for a quick jaunt now and then.
And for these shorter trips, I need gear that's going to be easy to use, light on my back and able to keep up at my pace. The REI Flash gear does exactly that. There are a few new Flash products available–so new they don't even have customer comments on them yet!–so I wanted to show them to you right away.
I'm not saying they're going to get sold out or anything like that, but if you're in the market for a new, lightweight pack or bag, then you really do need to look at these first!
REI Flash Sport 15 Pack for Women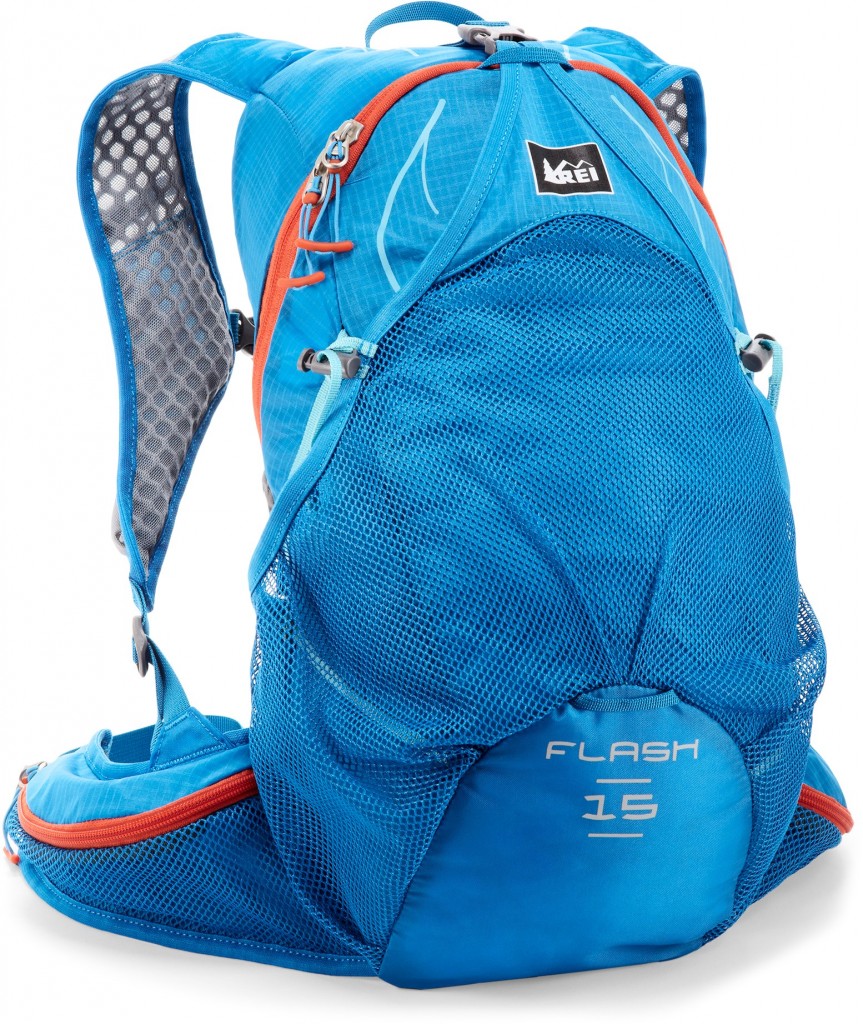 The official REI web page for this pack calls it "streamlined," but I think that's a bit of an understatement. The Flash Sport 15 Women's Pack weighs in at just a hair over a pound and is designed to mold perfectly to the contours of your body. You might even think of it as just another part of you when you wear it; it's that comfy and form-fitting.
It also features a shoulder harness of stretch-mesh, allowing your body to breathe beneath its "weight."
And with an ability to support your hydration system (up to 3 liters), you might not even take this beauty off at all during a quick hike–unless you need to reach your cameras or a few snacks, that is.
Quick Specs:
Weight — 1 pounds, 1 ounce
Size — 18″ x 9.5″ x 7.5″
Material — Ripstop nylon
Volume — 15 Liters or 915.4 inches cubed
REI Flash 22 Pack
The REI Flash 22 Pack weighs in at the exact same as the Sport 15, but it offers a lot more volume, making it a decent size-upgrade if you plan on carting around a bit more than Sport 15 users.
It also features stretch-mesh on the shoulder harness and hydration system compatibility.
The hip belt and sternum strap are incredibly comfortable to wear snug throughout the day, but if you're finding that they get in your way, you can bet that REI has your back–they're both detachable.
The organization design on the 22 Pack is also incredible, offering 3 exterior pockets, one top lid zipper pocket and even two daisy chains for hanging extra gear off the front.
Both the Flash 22 and the Sport 15 are phenomenal day-trip packs.
Quick Specs:
Weight — 1 pound, 1 ounce
Size — 16″ x 10″ x 8″
Material — Polyester taffeta and ripstop nylon
Volume — 22 liters or 1,343 inches cubed
REI Flash True Blue Sleeping Bag

This ultralight, ultra-comfy Flash sleeping bag is perfect for single-night camping trips when you don't want to be carting around every bit of gear you own–when you want to move as quickly as you please.
The bag is filled with 700 duck down on top and Primaloft Sport on the bottom for the very best in warmth and coziness.
The design of the bag is fantastic, too, especially for such a lightweight construction. The hood is contoured, there's an insulated muffler for your face and drawcords at the hood and neck, all made to keep the warmth from escaping in the night.
Basically, it's a simply beautiful sleeping bag.
Quick Specs:
Weight — 1 pound, 10 ounces
Lining Material — Nylon taffeta
Insulation Material — Down
Temperature Rating — 29 degrees Fahrenheit
REI Flash Swedish Blue Sleeping Bag for Women
The specs and features of the Swedish Blue model are almost exactly the same as the True Blue, but with one major difference: this bag is made specifically for women.
The mummy-shape design of the bag is constructed to fit a woman's body much more comfortably than the other model, with increased room at the hips and smaller shoulders.
You might be asking if those things are really all that significant. The answers is YES. When a bag doesn't fit you properly, there's much more opportunity for heat to escape. But when you're snug as a bug in a rug (or a sleeping bag, I guess), you stay warm and cozy a lot longer.
It's light, it's comfy and it's built to last. What else do you need?
Quick Specs:
Weight — 1 pound, 11 ounces
Lining Material — Nylon taffeta
Insulation Material — Down
Temperature Rating — 32 degrees Fahrenheit
REI Flash: Final Thoughts
There are several other packs to choose from in the Flash collection, but the two above definitely stood out to me when I was looking at them up close. And the sleeping bags are just fantastic.
And did you see those prices?
If I hadn't seen the figures on the website, I would have pegged the backpacks at prices upwards of $150, but not one of them is over $70. That's a great deal. Maybe even a steal.
REI consistently raises the bar for how gear should be designed for casual outdoor enthusiasts. You know, ones like us that love hiking, climbing and backpacking but still need to maintain a 'real job' during the week. Us Weekend Warriors.
And the Flash series kills it. Definitely worth picking up wit your upcoming dividend check…