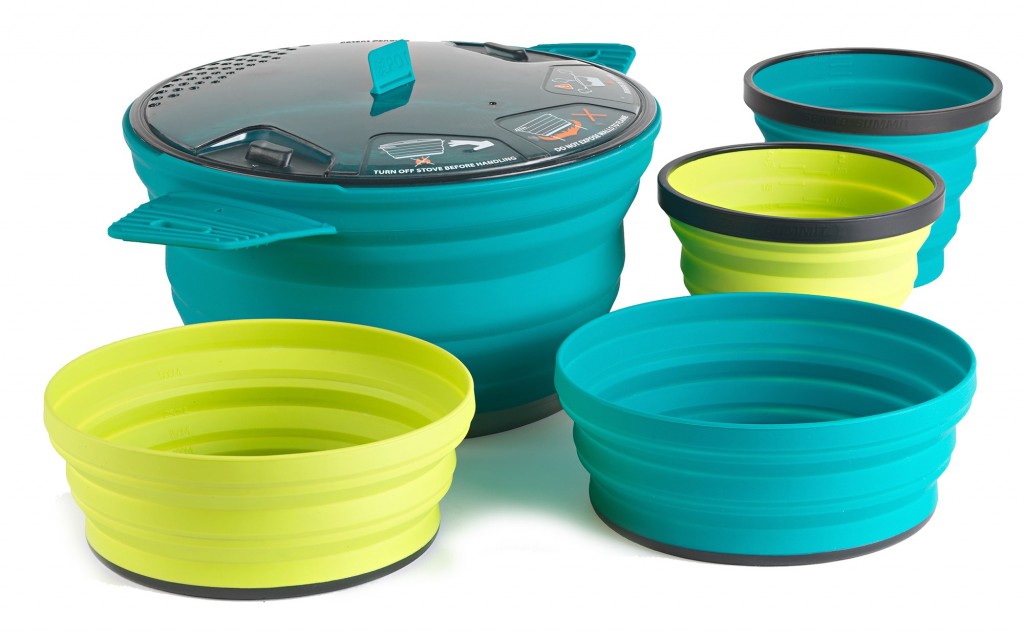 Sea to Summit X Pot 5-Piece Cookset
For serious backpackers, conserving space in a pack is one of the highest priorities. And while many items pack down easily to conserve space, cooksets are usually some of the bulkier, space-eating items, prompting many mountaineers to skimp on outdoor kitchen equipment to save valuable room in their backpacks. However, thanks to the new Sea to Summit X Pot 5-Piece Cookset, backpackers no longer need to make the choice between having quality cooking supplies and saving pack space.
The Sea to Summit X Pot 5-Piece Cookset debuted at last summer's Outdoor Retailer Trade Show to rave reviews and plenty of awards, as this collapsible, silicon cookware allows unprecedented performance for the space it takes up. The Sea to Summit X Pot 5-Piece Cookset collapses down and reduces bulk in a way that no other outdoor kitchen supplies currently can, saving valuable backpack space while still allowing you plenty of cooking flexibility.
While the entire Sea to Summit X-Series of cookware is made of silicon and designed for packing, the Sea to Summit X Pot 5-Piece Cookset is the most versatile of the lot, with the ability to serve several people and cook a variety of meals on the go. The set includes a 2.8-liter X-Pot, two 22 fl. oz. X-Bowls, and two 8.3 fl. oz. X-Mugs. Of course, you can bring fewer items in the set if you don't need all of these supplies on a given trip.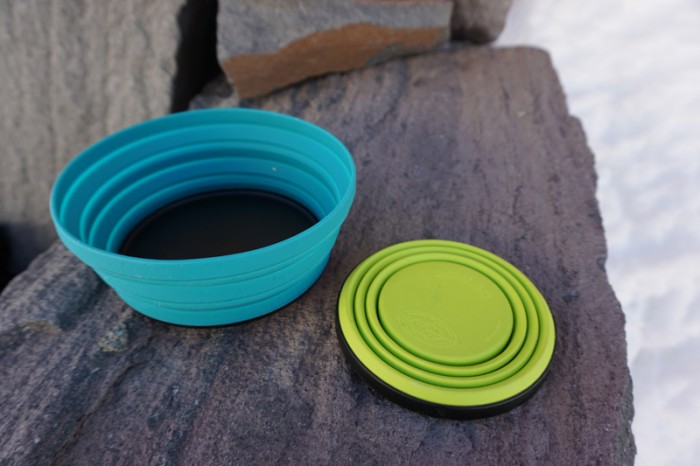 Cooking is done in the X-Pot, which at 2.8 liters offers plenty of capacity for the majority of meals you wish to make. It is designed to fit over a small camping stove or burner, and despite its lightweight construction, the pot can withstand extreme heat with its 6063-T6, hard-anodized aluminum base, which also allows for quick boiling times and excellent heat retention.
The X-Pot also includes a built-in strainer, and the bottom of the pot is composed of a nylon material that allows for cutting and chopping. At 9 ounces, the X-Pot is easily the heaviest item in the set, which is really saying something. Each X-Mug weighs just 1.6 ounces, while the X-bowls tip the scales at just 2.8 ounces apiece.
The silicon material used for the X-Bowls and mugs, as well as the sidewalls of the X-Pot, is not designed to be exposed to an open flame, but nonetheless, can withstand temperatures of up to 300 degrees Fahrenheit, so you won't have to worry about these items failing in the face of high temperatures. When compacted down, both the mugs and bowls measure an absurd 0.5 inches in thickness, ensuring they take up no space.
The X-Mugs are designed to nest inside of the X-Bowls, which in turn collapse and nest into the X-Pot, much like matryoshka dolls. When all items are fully collapsed, the entire set weighs just 1 pound, 5 ounces, and measures 14 x 8 x 2.5 inches, with room to give when other items in your pack press against it. The entire set takes up less space in your bag than most pots, period, freeing up a tremendous amount of room for other essentials, while ensuring you're not skimping on convenient cooking supplies that will make your life easier.
If you want the ultimate outdoor kitchen, all in a package that won't take up an inch of unnecessary space in your bag, check out the Summit X Pot 5-Piece Cookset today!
Where to Buy
Help support Glacier National Park Travel Guide by purchasing the Sea to Summit X Pot 5-Piece Cookset through one of our partners: