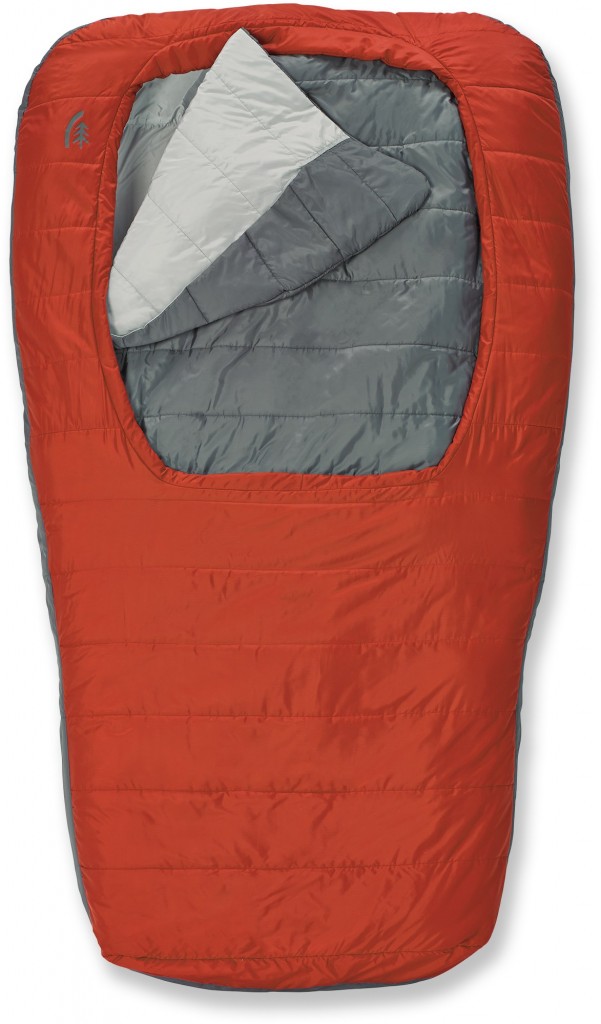 Sierra Designs Backcountry Bed Duo
When sleeping in the outdoors, some of us toss and turn and get a generally crappy night's sleep due to discomfort, cold, and so forth. For many of us, feeling like we're sleeping in a bed at home is one of the biggest things missing from a camping or backpacking experience. Being poorly rested can result in making your entire trip much less enjoyable, as you deal with fatigue, soreness, and irritability.
Thankfully, the Backcountry Bed Duo from Sierra Designs is here to give you the greatest sleep you've ever had in the great outdoors. You can't get closer to feeling like you're home in your bed than you can with the incredibly comfortable Backcountry Bed. This is the perfect sleeping bag/quilt for your summer camping, and you can currently save big on this awesome product during the REI Anniversary Sale right here!
Instead of functioning like a sleeping bag or a quilt, the Backcountry Bed Duo straddles the line somewhere in between. This "sleeping bag" has absolutely no zippers, drawcords, or rip-and-stick materials that can interrupt a good nights sleep and be uncomfortable. Instead, the Backcountry Bed – which can accommodate two adults if you are a fan of cuddling – opts for a design that is akin to a traditional comforter found on your bed, which drapes around you, giving you that cozy, homey feeling.
Of course, the Backcountry Bed Duo is much more rugged and advanced than a comforter, though. Constructed of either a 30-degree DriDown and the 40-degree synthetic insulation, the Backcountry Bed Duo weighs just four pounds, and can easily pack into your backpack, while providing solid insulation from the elements and wind. The Duo is not made for freezing arctic nights, but it is rated to protect you against temperatures as low as 30 degrees Fahrenheit, so it is an excellent choice for any summertime camping.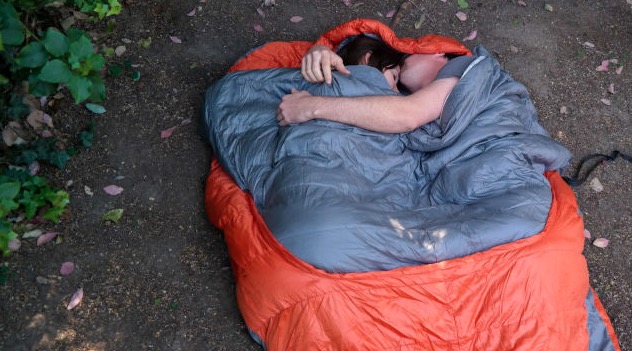 In addition to all of the other great features, the Backcountry Bed Duo features sleeves for two sleeping pads on the underside of it, ensuring that you are protected and cushioned from the ground as your body is enveloped by the comfort of the bag's design. The Duo also is rated as waterproof, and the durable construction ensures that the insulation remains strong as ever even when wet, so if you are hit with rain, you will still be just fine.
On warmer nights, you can flip the comforter outside of the Backcountry Bed Duo and tuck it back for extra ventilation. When in this setup, the Duo provides  insulated arm pockets to still make sure that your hands do not freeze. Indeed, the Backcountry Bed Duo can accommodate you with the utmost comfort no matter what the summertime weather is doing.
If you want an extremely comfortable outdoor sleep system that allows you to rest in any position and feel like you are home in your bed, you can't go wrong with the Backcountry Bed Duo! Learn more here.
Where to Buy
Help support Glacier National Park Travel Guide by purchasing the Sierra Designs Backcountry Bed Duo through one of our partners: