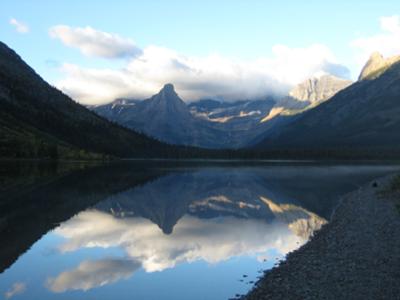 A picture I took from the Cosley Lake Campsite looking back at the trail.
There are some amazing views of Stoney Indian (barring the fog) as you start the steep ascend up the trail. After reaching the top, you start to head down the trail and are met with spectacular views of the waterfalls, streams, and mountain gardens.
After a mile or two you reach an unbelievably pictureque view of Cosley Lake at about 5000ft elevation – perfect for taking pictures.
You continue your descent down into the lush forests – serene but also frightening if you're hiking around sunset.
When you arrive at Cosley Lake Campsite, the views back toward the trail will absolutely blow your mind.
It's fun to trace your steps back and put the hike in perspective. You realize how unaware you were of all the beauty and majesty that was around you.
Cosley's really great for some pictures or a nice, refreshing dip.
Easy – Moderate difficulty.
Click here to add your own comments

Join in and write your own page! It's easy to do. How? Just click here!
Simply click here to return to Your Favorite Glacier National Park Hikes.