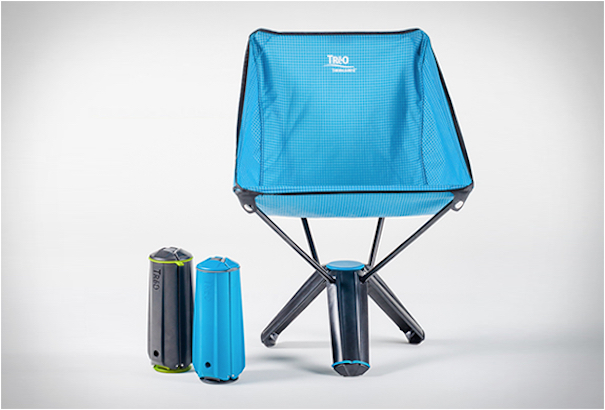 Therm-a-Rest Treo Chair
When camping and backpacking, it's always nice to unwind at the end of the day by sitting in a comfortable chair around the campfire, making food, having a beer, or just relaxing as the night sets in. However, even the lightest folding chairs are sometimes annoying to bring along when you're backpacking light, as their poles can still take up valuable space.
In all the attempts we've seen in trying to create the ideal camping chair, the Therm-a-Rest Treo Chair might be the closest thing to perfection. In terms of lightweight design and portability, it's unlikely any chair can do better.
The Therm-a-Rest Treo Chair features a tripod-like base and a nylon sling that can support up to 250 pounds in a comfortable, ergonomic design. However, the tripod base does more than just support your weight – it actually serves as a sort of canister in which you pack up the "seat" of the chair when you are done sitting and ready to move.
Check out the Treo's awesome features in the video below!

When packed into its holster, the Therm-a-Rest Treo Chair measures just 11 inches in length and tips the scales at a featherweight 2 pounds. These features serve to make the Treo the most portable camping chair in the world, and it isn't very close.
Just because the Therm-a-Rest Treo Chair compacts into a bite-sized package doesn't mean it is lacking in comfort, though. The Treo is equipped with a durable nylon and aluminum frame that supports your body in all the necessary places, and the base utilizes no-skid feet that allow it to remain sturdy and stable in all conditions. You can sit in lightweight comfort on dirt, sand, grass, and more, without having to worry about falling.
Due to the simplistic design, the Treo is also incredibly easy to set up and break down, so it won't cost you any time you could spend relaxing.  All things told, the Treo will do nothing but make your life easier while you are backpacking or camping.
If you're interested in the nicest, most efficient camping chair around, check out the innovative Therm-a-Rest Treo Chair today!
Where to Buy
Help support Glacier National Park Travel Guide by purchasing the Therm-a-Rest Treo Chair through one of our partners: