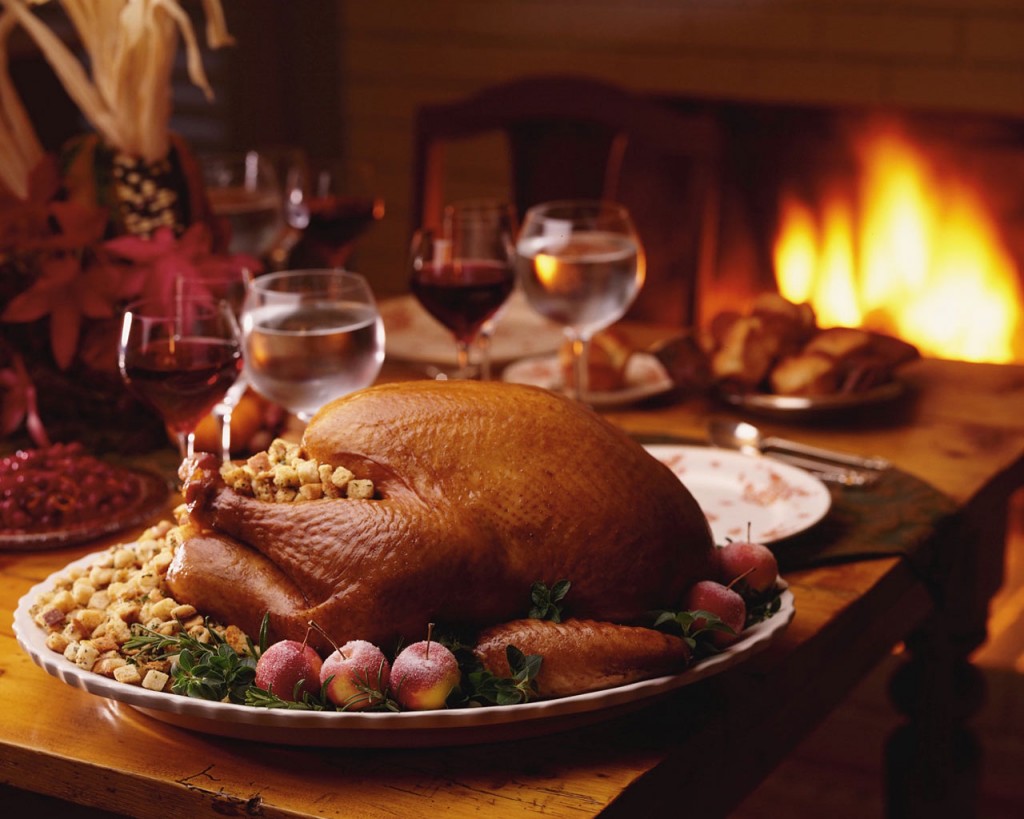 Top Rocky Mountain Outdoor Thanksgiving Activities
Thanksgiving is about friends, family, food and — most importantly — tradition.
Traditions are, inherently, hard to change. Regardless of how you have always celebrated the holiday, however, it is possible to add some new activities to your Thanksgiving itinerary without sacrificing tradition or time with friends and family.
The Rocky Mountains are a year-round playground, so what's the point in wasting a day inside when you could be out playing?
Here are the top four outdoor Thanksgiving activities to try out this year. Who knows, maybe they will become as engraved in your family Thanksgiving traditions as stuffing or pumpkin pie.
Thanksgiving Day Turkey Trots
Have a healthy, festive start to your Thanksgiving day with one of the various Turkey Trot morning 5Ks held in communities across the Rocky Mountains.
These casual, family friendly races are often free or far more affordable than similar events and typically benefit some sort of local charity. An awesome excuse to get outside AND a good Thanksgiving deed for the day? That is what I calling winning.
The Best Turkey Trot 5Ks in the Rocky Mountains
Colorado's Louisville Turkey Trot
Time: 7:30am-8:45am
Cost: FREE with a non-perishable food donation
Benefiting: local Colorado food banks
Montana's Whitefish Turkey Trot
Time: 9am
Cost: $12-$15 (non-perishable food donation suggested)
Benefiting: North Valley Food Bank
Time: 9am start
Cost: $20-$35
Beneffiting: Boise Rescue Mission and City Light Home for Women and Children
During the race, you may need a few gear items to get you to the finish line. Cold-weather specific running gear is particularly important for a late November road race like this.
To keep you warm, wear a sweat-wicking baselayer. For especially cold weather, try one with a fleece lining like.
For men and women, try the Marmot Frequency Hybrid Jacket.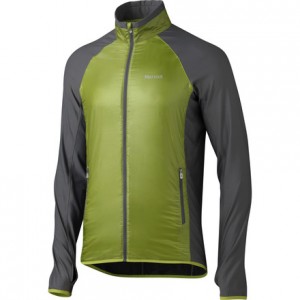 Product details:
Best Late November Rocky Mountain Hikes
Who says you can't give thanks on the top of a mountain?
Thanksgiving is a great time to embark on an epic Rocky Mountain hiking trip. You probably don't want a full-day excursion, but a moderate 2-3 hour hike may be just the thing you need to fully appreciate all you have.
It can be hard to find a hike safe enough to tackle this late in November, but there are several Rocky Mountain trails that are normally maneuverable on Thanksgiving Day.
One of my favorite Thanksgiving Day hikes is Horsetooth Mountain in Fort Collins, CO. This 5 mile out and back trail lies near Horsetooth Reservoir just outside of the city.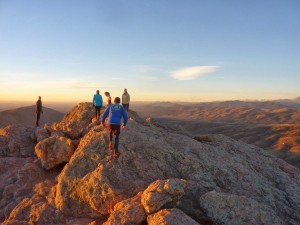 The moderately difficult hike takes you alongside a waterfall before reaching the peak's large Horsetooth-shaped rock. From there, adventurous hikers can scale the rock and are awarded an unbeatable view of the eastern plains.
Hike Details:
Hike time: 3 hours
Elevation gain: 1,396 ft
Kid and dog friendly
The only complication with Thanksgiving hiking is, obviously, that most Rocky Mountain states have already expereinced some — if not a lot  — of snow.
This can leave trails icy and dangerous. To help stabilize your footing, Yaktrax work amazingly.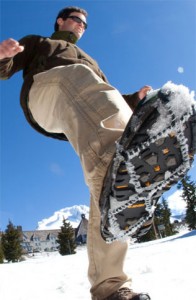 A lightweight traction device is easy to use, affordable and effective. Get the Yaktrax Pro Traction Cleats from Amazon for as little as $17.50.
 Cook Your Thanksgiving Meal Camping Style
There is something about camping food that just tastes better to me.
This may be, in part, because I often enjoy it when I'm famished from a long day of backpacking or hiking. But I genuinely believe that food cooked over a camping stove or on the fire has a special flavor that you just can't achieve inside.
This got me thinking that if a regular old camping meal is so good, how would a full Thanksgiving dinner cooked at camp taste?
I looked it up and there are actually dozens of Thanksgiving camping recipes out there.
Here are my favorite:
1. Blanched Greens Salad with Lemon and Honey Dressing
2 cups kale, 2 cups baby spinach, 2 cups broccoli, 1 tbsp honey, 1/2 cup lemon juice, 1 orange
Boil water on your camping stove, whisk together lemon and honey, blanch veggies in boiling water and add them to lemon juice and honey.
Zest orange over veggies and toss ingredients together.
12-14 lbs turkey
2. Campfire Pumpkin Pie
Ingredients for the crust:
2 1/2 cups all-purpose flour, 1 tsp salt, 1 tsp sugar, 2 sticks unsalted butter
Ingredients for the filling:
2 cups pureed pumpkin, 1 1/2 cups light cream, 3 large eggs, 1 cup brown sugar, 1 1/2 tsp ground ginger, 1 1/2 tsp ground cinnamon, 3/4 tsp ground nutmeg, 1/2 tsp salt, 1/4 tsp ground cloves or allspice
Prepare your crust, mix your filling and add to crust, bake in dutch oven or pie iron in campfire.
Check out more detailed recipe instructions here.
Best Camping Stove and Dutch Oven for Thanksgiving Camping Dinner
Along with a solid fire, you will need a top-of-the-line camping stove and Dutch oven to cook a successful Thanksgiving camping meal.
Try the Lodge Logic Camp Dutch Oven, available at REI for $34.95.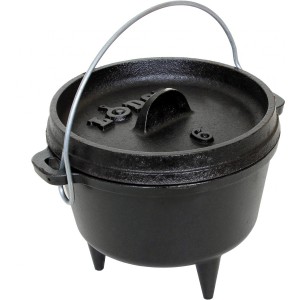 For the stove, my favorite is the Camp Chef Everest 2-Burner Camp Stove, available at REI for $109.95.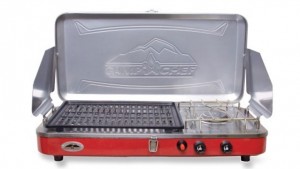 The Best Outdoor Hammocks for a Post-Thanksgiving Nap
For a lot of people, myself included, napping goes hand-in-hand with eating on Thanksgiving.
My new favorite Thanksgiving nap spot is outside, in an awesome camping hammock.
Bring along a cozy blanket or a sleeping bag and Thanksgiving hammock naps may soon become your favorite part of the entire day.
My favorite camping hammock is the ENO DoubleNest Hammock.
Big enough for two, this lightweight hammock hangs between two trees and is so simple to use that even in a Tryptophan daze, you can set it up easily. Get the ENO DoubleNest Hammock from REI for $69.95.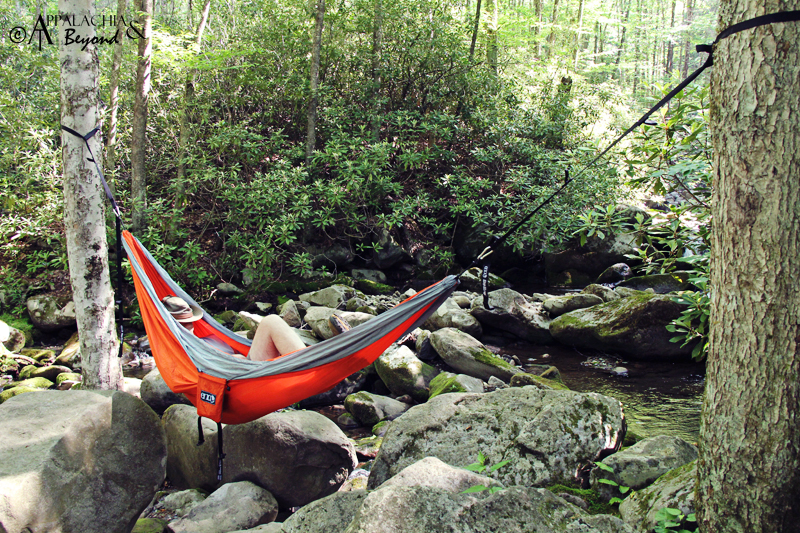 Happy Thanksgiving everyone! Tell us about your Thanksgiving adventures in the comment section. Love to hear how everyone celebrated!