On my first backpacking adventure in Glacier National Park, I had no ultralight backpacking gear.
I did not even own any lightweight backpacking gear, let alone ultralight.
My backpack was a 6 pound Kelty Coyote, my tent weighed about 7 pounds–I even brought a tarp to place under my tent in case it rained.
Needless to say, my backpacking supplies were not up to par with the intensity of Glacier National Park's wilderness.
Now, years later, I am proud to say I understand the benefits of backpacking ultralight and with the exception of my tent, all my equipment is lightweight or ultralight backpacking gear.
Backpacking Ultralight: Benefits, How-to & Supplies
Along the way, I made many stumbles and mistakes in the ultralight hiking gear I purchased, how I packed my backpack and how much food I brought.
Luckily, I now understand the secrets of backpacking ultralight and am here to share my wisdom with you.
Upgrading to Ultralight Backpacking Gear
It does not take a genius to realize the benefits of backpacking ultralight: the more lightweight and ultralight backpacking gear you own, the less weight you carry into the wilderness and the more energy you have.
Every ounce counts.Still, upgrading all your gear to lightweight backpacking gear costs a hefty penny. So, you need to understand the order in which to upgrade your backpacking supplies: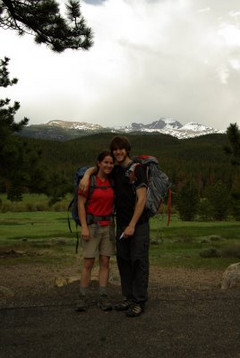 Backpack – Ultralight backpacks instantly shave 3-6 pounds off your load. Nowadays, with Granite Gear and Osprey backpacks, you can go lightweight and remain comfortable.
Tent – I know, I broke this rule, but the tent I use is my girlfriend's and we're broke. But upgrading to an ultralight backpacking tent can lighten your load by 4-5 pounds.
Clothing – Lightweight outdoor clothing, including hiking pants, shirts and boxers will repel sweat, protect you from the sun, and can be worn numerous times without getting smelly.
Sleeping Pad – Go with a 3/4 Sleeping Bag Pad from Thermarest
Camping Utensils – Titanium cookware is the way to go. Lightweight, durable and quick cooking, titanium pots and pans are a worthy investment
Stoves – Ultralight backpacking alcohol stoves are lightweight, cheap and require less fuel to carry with you
Lightweight Backpacking Gear – Do it Yourself?
Hardcore enthusiasts rave about building their own ultralight backpacking gear to sustain them in the wilderness. My opinion? All the power to them, but homemade lightweight backpacking gear & supplies may not hold up against extreme weather conditions.
These days, brands like Osprey, Mountain Hardwear, Granite Gear, GoLite, & Thermarest exist that make durable, comfortable, lightweight backpacking gear and supplies. Sure, you can build it yourself and save money, but it may fall apart in the elements.
The only exception in my mind is an alcohol stove, which can easily be made and perform better than other brands, except in windy conditions.
In the end, it's a trade off–Is the money you save really worth it when more comfortable, higher quality, affordable options exist?
By upgrading one hiking gear piece each year, you will be fully outfitted in ultralight backpacking gear in no time.
How Light is Backpacking Ultralight?
Ultralight backpacking gear snobs will say that your pack weight cannot exceed 15 pounds, otherwise you are not backpacking ultralight. I say that is false.
Lightweight backpacking gear is expensive. In the end, only you can determine the best pack weight for you. Once there, you can call yourself an ultralight backpacker.
With all my gear packed, my pack weight is around 22-24 pounds. But let me tell you a secret: I bring a Pentaxk10d DSLR camera with me into the backcountry **GASP**
That, along with a lens, adds an additional 3-4 pounds–I haven't calculated it. Don't care, to be honest. Taking breathtaking photos in the backcountry is a luxury I want to have.
In the end, only you can decide the luxuries you want and do not want with your backpacking supplies. Try lowering your pack weight with ultralight backpacking gear, until it makes you happy. Because that's all that matters.
More Ultralight Backpacking Gear Information
Solo Tent – Are you a solo backpacker? In that case, you need an ultralight solo tent to meet your needs.
Ultralight Backpacking Tents – For the rest of us, lightweight backpacking tents for 2-3 people are necessary to become ultralight. Please take a look at my recommendations on the best, 3 person backpacking tents.
Backpack – Nothing is more important in your ultralight backpacking quest than reading reviews of ultralight backpacks.
If you'll be backpacking, you'll need a water filter so you drink clean water free of parasites and bacteria. Check out the backpacking water filters I own and my recommendations
Alcohol Stoves – Although these are not necessary, alcohol stoves are lightweight and lower your pack weight in both necessary fuel and stove weight. Take a look at my recommendation for the best backpacking stove
Cookware – Purchase titanium cookware to drastically cut down on your pack weight.
Sleeping Bag – While pricy, an ultralight sleeping bag will shave a few pounds off your pack weight. Read about the best lightweight sleeping bags.
Ultralight Fishing – Enjoy fishing in the backcountry? Learn about ultralight fishing, including lightweight tackle and fishing rod reviews.
Clothing – Lightweight clothing keeps you safe and reduces the need for extra clothing in your pack
Lightweight Tripod – For the photo enthusiasts out there, a lightweight tripod is essential to capturing the light during early morning sunrises and sunsets in the backcountry.
Return home from
Ultralight Backpacking Gear to Glacier National Park Travel Guide